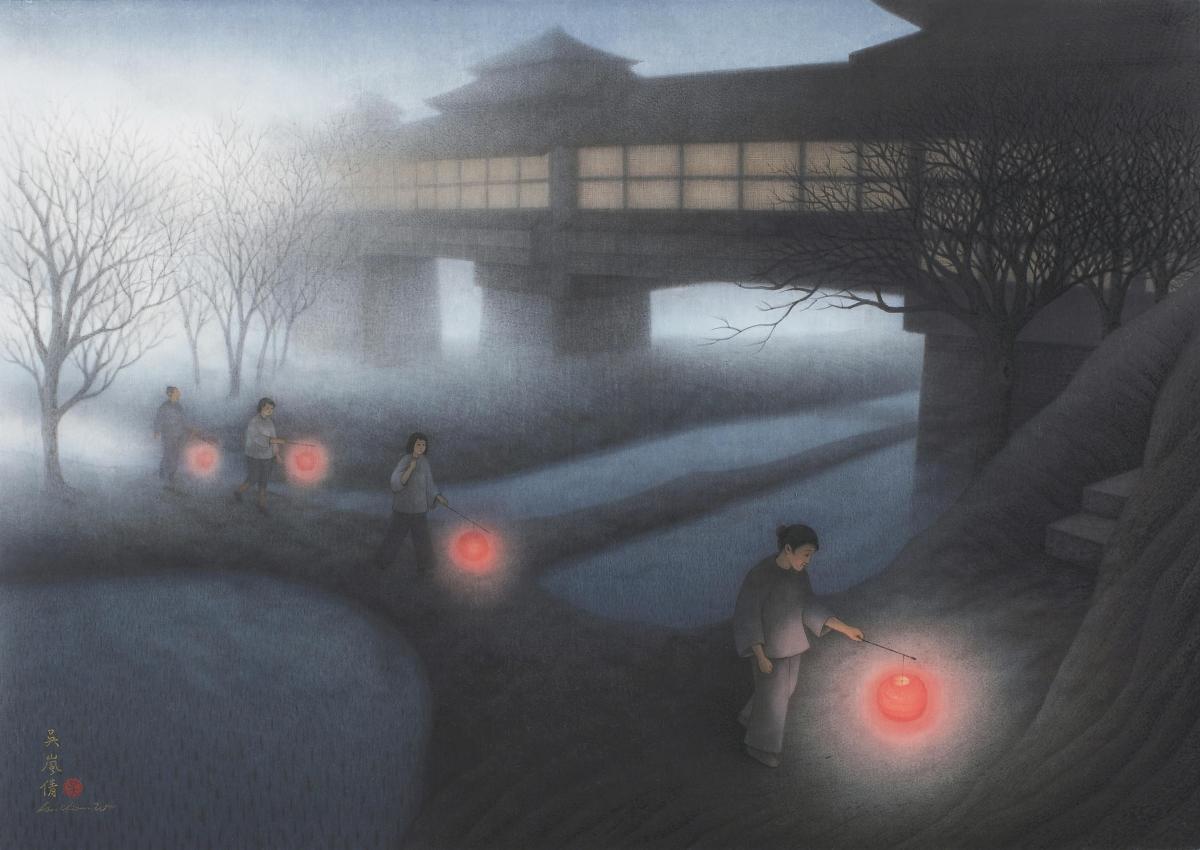 Price on application
The BADA Standard
Since 1918, BADA has been the leading association for the antiques and fine art trade
Members are elected for their knowledge, integrity and quality of stock
Our clients are protected by BADA's code of conduct
Our dealers' membership is reviewed and renewed annually
Bada.org is a non-profit site: clients deal directly with members and they pay no hidden fees
Click here for more information on the BADA Standard
Wu Lan-Chiann.
A New Dawn, 2013.
Ink, pigment on paper.
While her paintings are distinctly contemporary in execution, Wu Lan-Chiann blends traditional Chinese and Western modes of representation into an authentic style. She has successfully adapted the tools of Chinese painting for her own expressive aims which can be seen in her use of colour. Wu frequently leaves little ground that remains blank in her paintings. While one of the most distinguishing factors of Chinese painting is the presence of large untouched areas, she treats her works instead as windows through which the viewer can access a space that is homogeneous in its extent and continuity, a feature generally not found in ink painting.
The use light allows the artist to accent colour, to emphasise the two-dimensional design of a painting, and to accentuate space. Light is a metaphor for human resilience and the love, hope, and strength that all humans harbour. In her words, light is 'the innate strength that we all share, which helps us endure difficult phases in our lives.'
Born and raised in Taiwan, Wu holds a BFA from the Chinese Culture University, Taipei and a MA from New York University's Fine Art Department. She studied painting with He Huaishuo, Ou Haonian from the Lingnan School of Painting and Arnold Mesches, an American figurative painter. She is a grant recipient of the Durfee Foundation, the Hakka Foundation, and the Taiwanese American Art Council. She has exhibited in Taiwan, Japan, USA and the UK and her paintings have been acquired by the Nelson Atkins Museum and the Princeton University Art Museum.
The BADA Standard
Since 1918, BADA has been the leading association for the antiques and fine art trade
Members are elected for their knowledge, integrity and quality of stock
Our clients are protected by BADA's code of conduct
Our dealers' membership is reviewed and renewed annually
Bada.org is a non-profit site: clients deal directly with members and they pay no hidden fees
Click here for more information on the BADA Standard