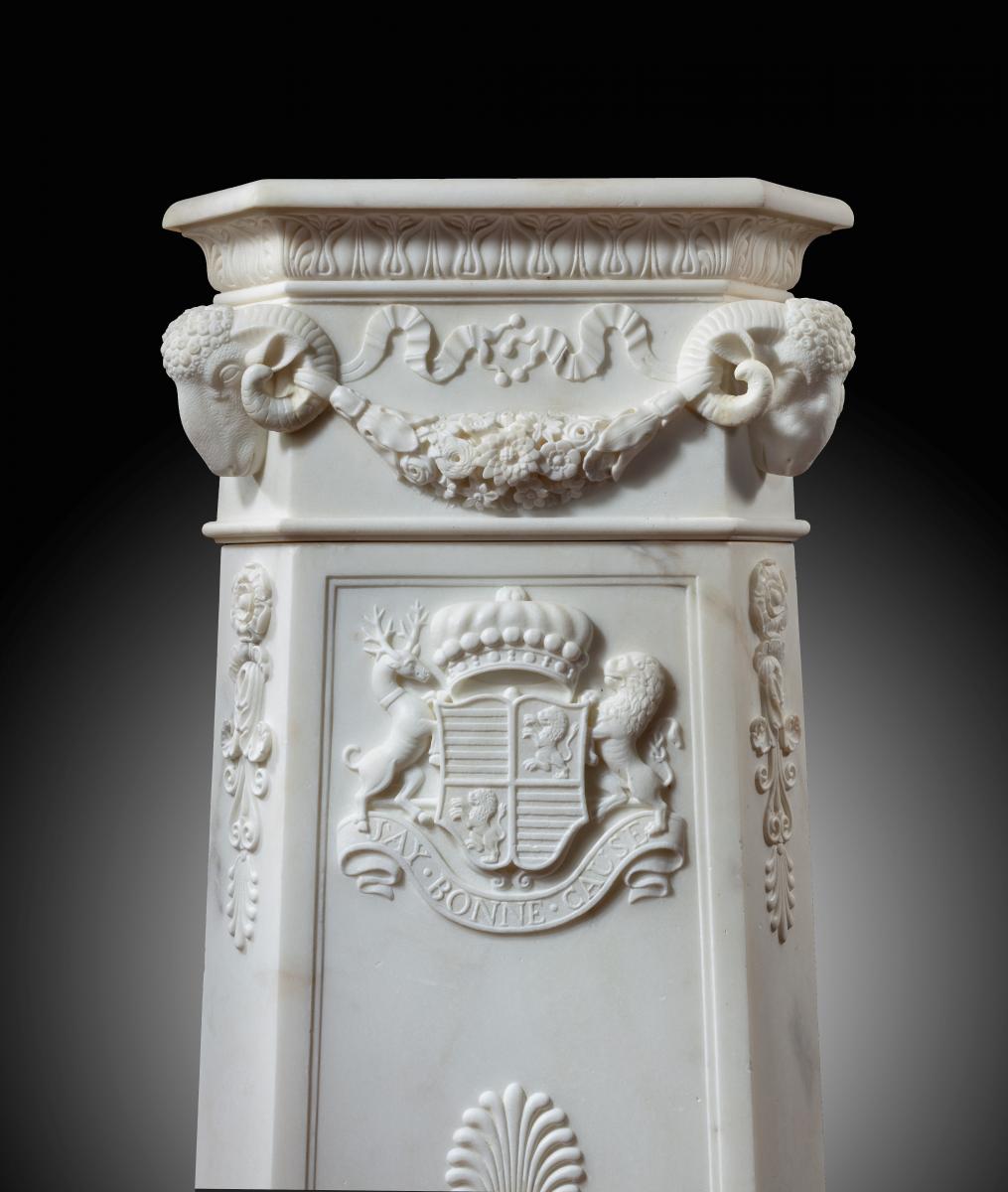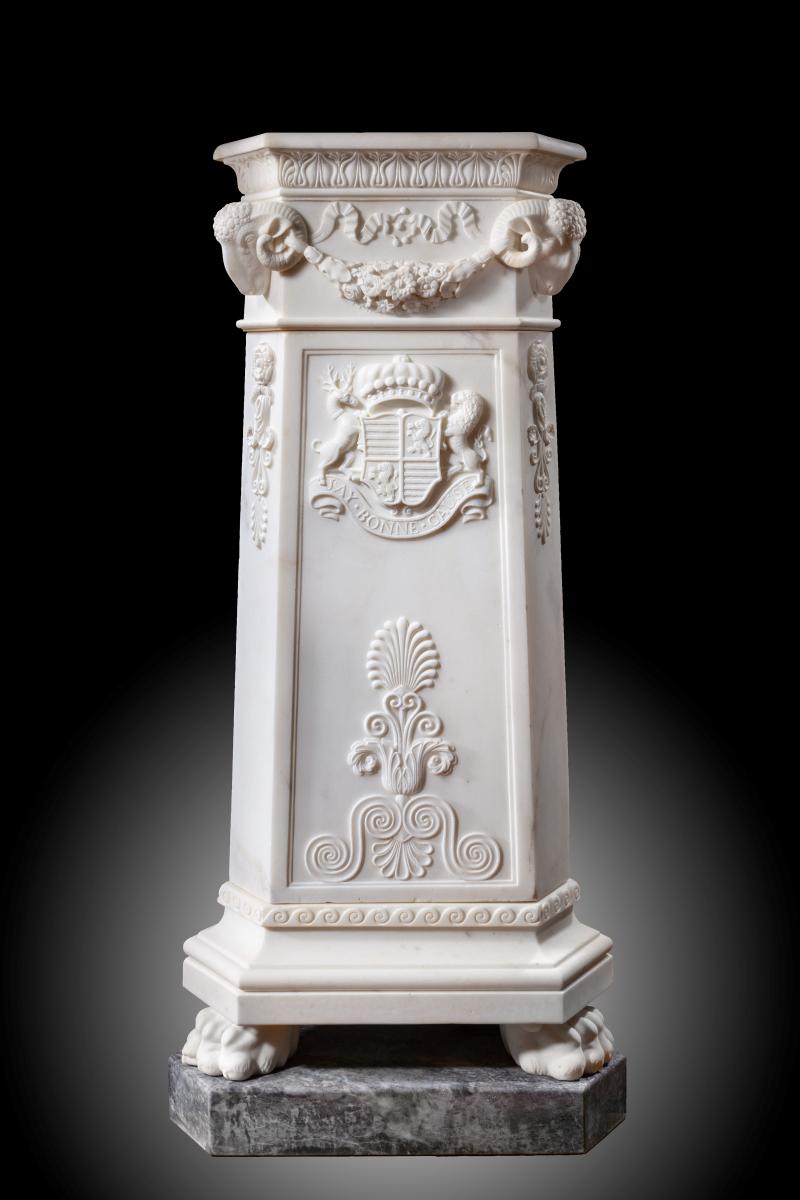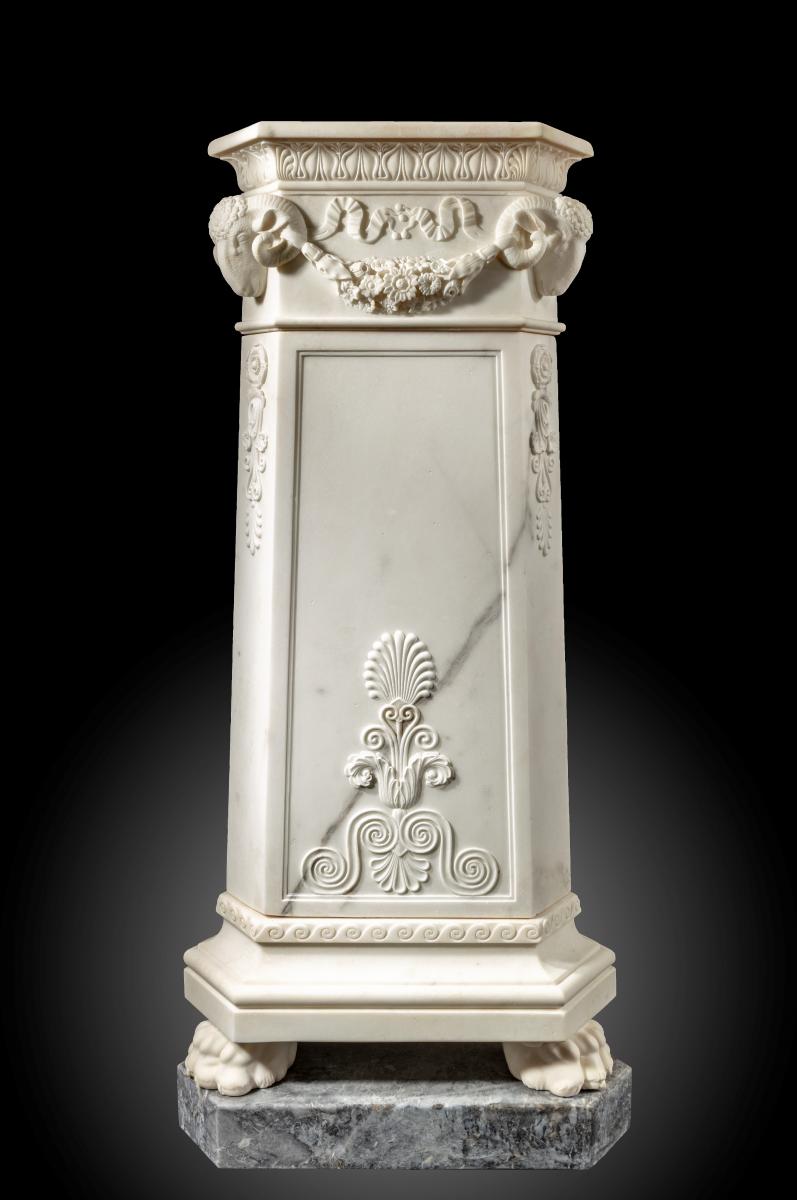 Price on application
This object includes complimentary, Insured Shipping / Delivery within the UK
The BADA Standard
Since 1918, BADA has been the leading association for the antiques and fine art trade
Members are elected for their knowledge, integrity and quality of stock
Our clients are protected by BADA's code of conduct
Our dealers' membership is reviewed and renewed annually
Bada.org is a non-profit site: clients deal directly with members and they pay no hidden fees
Click here for more information on the BADA Standard
Neo-Classical Carrera Marble Pedestals Lorenzo Bartolini (1777-1850).
ITALY, 1820-28.
Provenance: Commissioned by Thomas Thynne, 5th Viscount Weymouth (1765-1837), son of the Marquis of Bath of Longleat, in Florence. Offered for sale, unsuccessfully, as part of Viscount Weymouth's collection of 'Costly Objects of Taste and Vertu' on 18th April 1828. Remained in the Collection of Viscount Weymouth at Shanks House, near Wincanton, Somerset. Purchased at the Wheatley sale of 'The Valuable Library of the Late Right Hon. Lord Viscount Weymouth' on Saturday 24th June 1837, Lot 1086, by Mr. Brown. Acquired by Mr or Mrs Hayes Burns between c.1894-1914 for their collection at North Mymms Park, Hertfordshire (NB. Mrs Hayes Burns was the sister of J. P. Morgan).
Of triangular tapering form, incorporating the arms of the Thynne family of Longleat, near Bath
Thomas Thynne, 5th Viscount Weymouth, was born in Bath in 1796. As the eldest son of the Marquess of Bath and his wife, Isabella, he would have expected to inherit Longleat and the rest of the family estates. At the age of 24, however, Thomas eloped with Harriet Robins, the daughter of the local toll road keeper, and was never to become the 3rd Marquess of Bath. They travelled to Paris
in 1820, and travelled extensively Italy; in total they were away for eight years. During his extended Grand Tour Thynne acquired a substantial collection of Old Master paintings, sculpture and works of art including works by Rembrandt, Caracci, Canaletto and Reni to name a few, together with silver, French furniture, a collection of snuff boxes, and much more.
In Europe Thynne met the celebrated Florentine sculptor Lorenzo Bartolini; a favourite of Napoleon and his family. The young Grand Tourist evidently admired his work, as he purchased Bathing Venus and busts of Emperor Napoleon and Lord Byron from him, as well as commissioning this pair of pedestals incorporating his coat of arms. With the rams' heads, the lion paw feet and carved anthemions, the sculptor embraces the enduring fashion for neoclassical motifs drawn from antiquity, and his delicate interpretation of the draped floral swags is particularly accomplished. Very similar swags can be found on the pedestal for one of Bartolini's masterpieces, 'The Campbell Sisters Dancing a Waltz' which was made in Florence in 1822 and is now in the collection of the V&A. Interestingly, in a photograph of Bartolini's studio taken between 1850–1857 - which was unaltered since his death - (Collection Fondo Fagnani Cardi Rimini) there is a pedestal with a seemingly triangular form and similar mouldings.
On his return to England in 1828 he rented Shanks House in Cucklington, (now Somerset) and decided to offer some of the items he had acquired in Europe for sale, through the auction room of George Robins in Covent Garden. Robins described the collection as Costly objects of taste and vertu, collected with infinite care and judgement, and aided by proverbial liberality, during his residence at Rome and Florence. The pair of pedestals failed to reach their high reserve and remained in Thynne's collection at Shanks House until his premature death in 1837.
We would like to thank Christopher Coles for his assistance with cataloguing these pedestals.
Dimensions
Width: 56cm; Height: 130cm; Depth: 48cm
Price on application
This object includes complimentary, Insured Shipping / Delivery within the UK
Open Monday-Friday 9.30-1, 2-5.30; Please telephone for weekend and evening opening
The BADA Standard
Since 1918, BADA has been the leading association for the antiques and fine art trade
Members are elected for their knowledge, integrity and quality of stock
Our clients are protected by BADA's code of conduct
Our dealers' membership is reviewed and renewed annually
Bada.org is a non-profit site: clients deal directly with members and they pay no hidden fees
Click here for more information on the BADA Standard