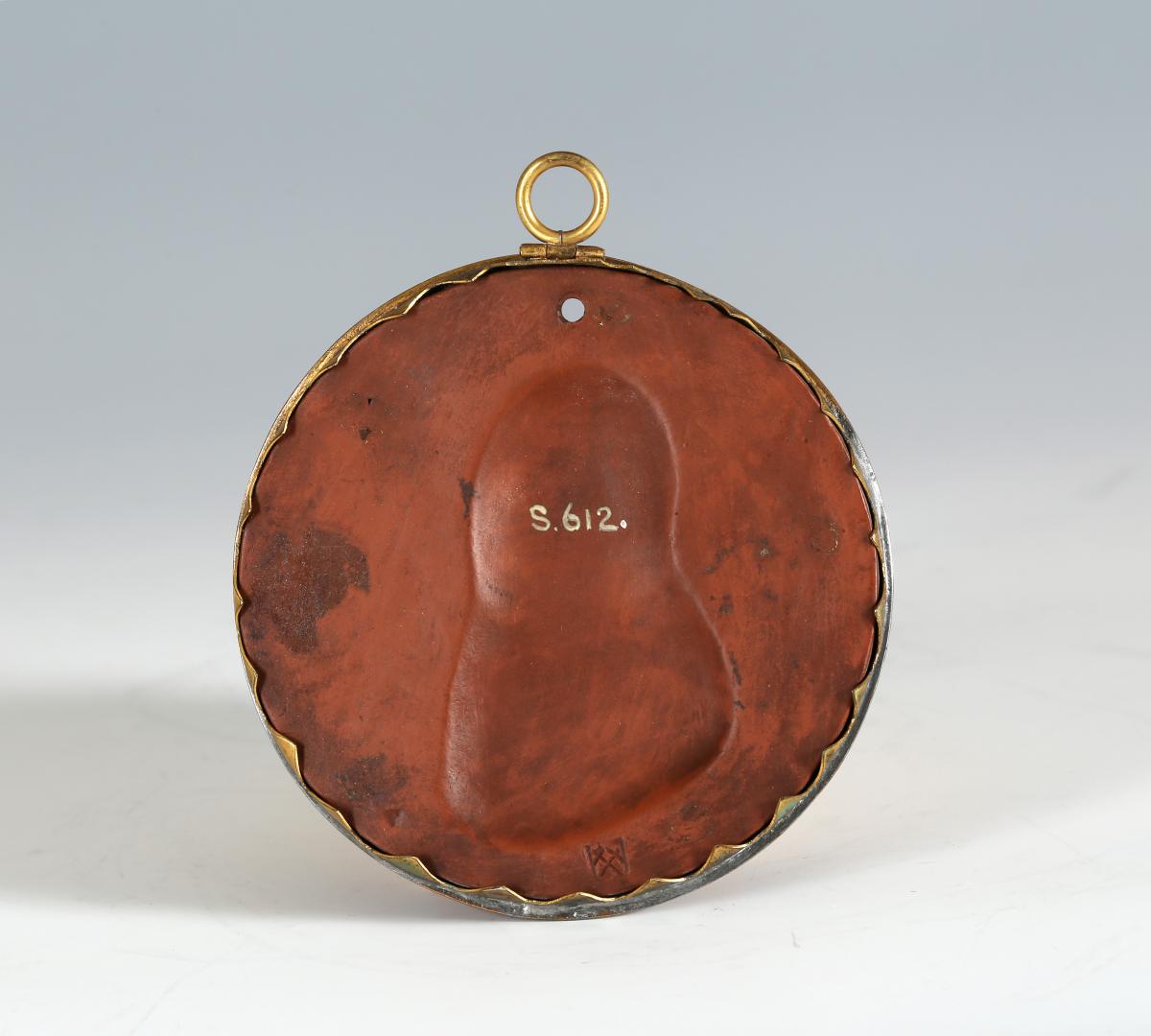 Price
£28000.00
The BADA Standard
Since 1918, BADA has been the leading association for the antiques and fine art trade
Members are elected for their knowledge, integrity and quality of stock
Our clients are protected by BADA's code of conduct
Our dealers' membership is reviewed and renewed annually
Bada.org is a non-profit site: clients deal directly with members and they pay no hidden fees
Click here for more information on the BADA Standard
Of Electoral Crown Prince Friedrich Augustus of Saxony
Circa 1710-13

Impressed crossed swords in a square
Painted Lady Charlotte Schreiber Inventory mark 'S.612.'
Moulded facing to the right and set against a polished ground, pierced for suspension and held in a lightly gilt bronze frame.
Friedrich Augustus (1696-1763) was the only legitimate son of Augustus the Strong and is seen here as the Electoral Crown Prince. He later became Elector of Saxony as Friedrich Augustus II and King of Poland as Augustus III.
A number of other examples of these rare medallions of royal figures are recorded including Augustus the Strong, Tsar Peter the Great and Frederick IV, King of Denmark.
Henry Prachter, in Keramos no.148, discusses an example in a private collection and identifies it as Friedrich Augustus. He illustrates an engraving by Martin Bernigeroth of 1710 from which it might have been taken. He discusses the Franks example in the British Museum which had previously been identified as Johann Georg of Sachsen-Weissenfels.
Klaus Boltz established that all Böttger stoneware was fired before 1713 so it is interesting that this medallion and others of this series have the crossed swords mark impressed, the painted crossed swords mark was only introduced on porcelain from around 1724.
On 3rd June 1878 Lady Charlotte Schreiber was in Berlin and records in her journal that after putting her name down at the Palace to enquire after the health of the Emperor who had suffered an assassination attempt, she records buying "a good Medallion portrait of Augustus the Strong in Böttger ware". Our medallion is in an identical frame to her Augustus the Strong which has a consecutive inventory number and was sold in the same Stansted Park sale, and so was presumably bought at the same time.
Lady Charlotte Schreiber's British ceramics were left to the Victoria and Albert Museum whilst her continental collection was either sold or left to her children.
Condition:
No damage or restoration. The gilt metal frame is probably of later date.
Provenance:
Lady Charlotte Schreiber Collection, acquired in Berlin in 1878
Her daughter, Blanche, Countess Bessborough
Thence by descent to Eric, 10th Earl of Bessborough, Stansted Park, Rowlands Castle, Hampshire, Sold by Sotheby's, 5 October 1999, lot 261
Sir Jeffrey Tate and Klaus Kuhlemann Collection
References:
Other examples of this plaque are in The British Museum, the gift of Sir Augustus Wollaston Franks, (Franks 10); Friedenstein Castle, Gotha (M. Eberle, Das rote Gold (2011), no. 14); the Ludwig Collection, Bamberg, Goldchinesen und Indianische Blumen (2010), no. 4; and the Arnhold Collection, New York (M. Cassidy-Geiger, The Arnhold Collection of Meissen Porcelain 1710-50 (2008), no. 3, now in the Frick Collection, New York
Henry Prachter, 'Eine reliefplatte aus rotem Bottgersteinzeug mit dem portrat Frierich August II von Sachsen also Kurprinze', Keramos, no. 148, April 1995, pp. 37-44
Montague J. Guest (ed), Lady Charlotte Schreiber's Journals, (1911), vol. II, p. 139
Literature:
M. Cassidy-Geiger (ed.), Fragile Diplomacy (2007), p. 7, fig. 1-15, cat. no. 18
Exhibited:
New York, The Bard Graduate Center, Fragile Diplomacy, 15 November 2007-10 February 2008, no. 18
Dimensions
10.6 cm diameter with frame
The BADA Standard
Since 1918, BADA has been the leading association for the antiques and fine art trade
Members are elected for their knowledge, integrity and quality of stock
Our clients are protected by BADA's code of conduct
Our dealers' membership is reviewed and renewed annually
Bada.org is a non-profit site: clients deal directly with members and they pay no hidden fees
Click here for more information on the BADA Standard