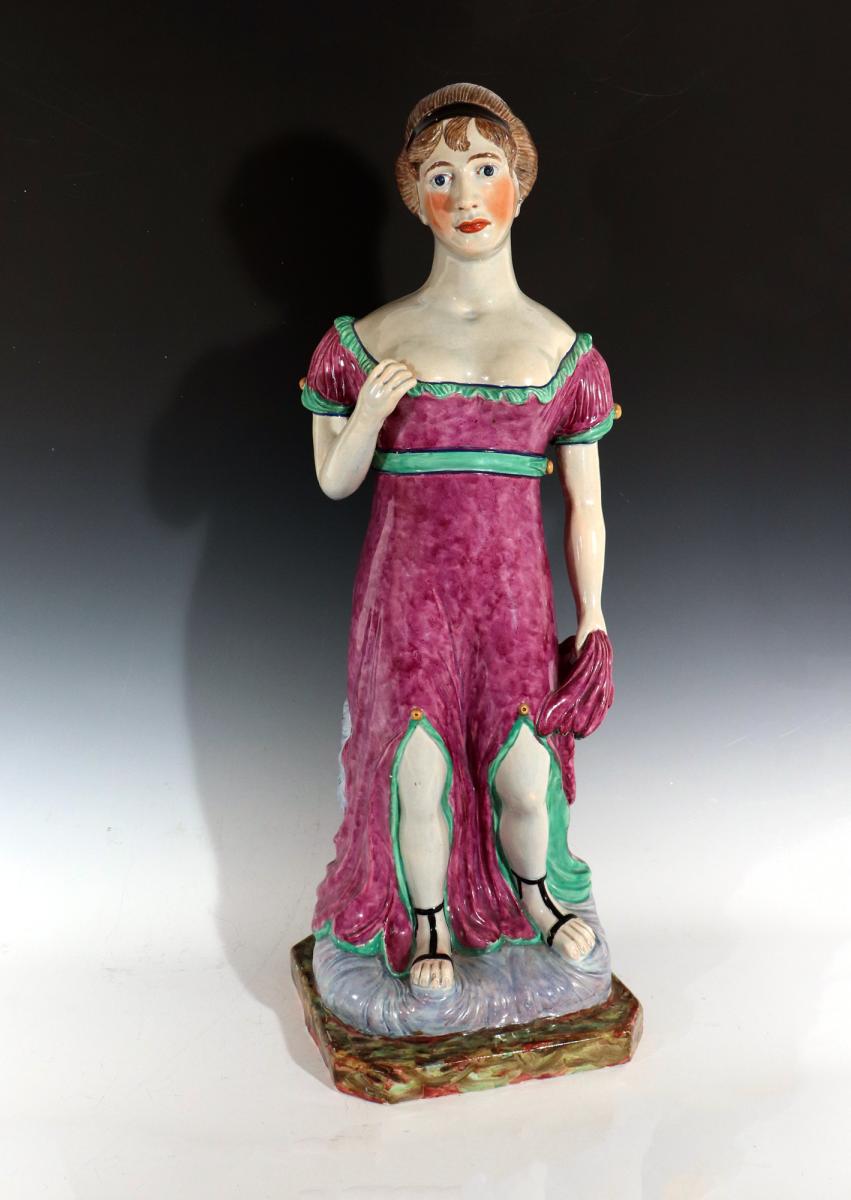 Price
£6900.00
The BADA Standard
Since 1918, BADA has been the leading association for the antiques and fine art trade
Members are elected for their knowledge, integrity and quality of stock
Our clients are protected by BADA's code of conduct
Our dealers' membership is reviewed and renewed annually
Bada.org is a non-profit site: clients deal directly with members and they pay no hidden fees
Click here for more information on the BADA Standard
Massive Staffordshire Pearlware Pottery Figure of Venus.
Circa 1810.
The extremely large figure depicts Venus, Aphrodite of the classical Greek legend. This model is of great rarity. Venus, is superbly painted, depicted in purple robes with green edging as she rise from the foam of the sea The condition is excellent. Only one other example is known- see below.
Dimensions: 24 1/4 inches high x 8 1/2 inches wide x 8 inches deep
See: Myrna Schkolne, Staffordshire Figures 1780-1840, Family, Friendship, Play, & Classical Subjects, Vol 4, Page 186, Figure 194.37 from the Collection of Arnold and Barbara Berlin, although this example is plainly decorated with a white dress with scattered flowers and a Greek Key border to the plain base.
History of Venus
Venus is the Roman goddess of love, beauty, pleasure, and procreation. She is the equivalent of the Greek goddess Aphrodite. Venus was born from the foam of the sea after Uranus, the sky god, was castrated by his son Cronus. She was carried to the island of Cythera by seashells and then to Mount Olympus, where she became the wife of Vulcan, the god of fire.
Venus in Art
Venus has been a popular subject for artists since ancient times. She is often depicted as a beautiful woman, nude or partially clothed, and is often accompanied by symbols of love and beauty, such as doves, roses, and apples. Some of the most famous depictions of Venus include the Venus de Milo, a marble sculpture from the 2nd century BCE, and the Venus of Urbino, a Renaissance painting by Titian.
This Staffordshire Figure of Venus
This massive Staffordshire figure of Venus is a rare and beautiful example of early 19th century pottery. The figure is made of pearlware, a type of fine white pottery that was popular in England during the Regency period. The figure is decorated with bright enamels in the style of Neoclassicism, a movement that revived the art and architecture of ancient Greece and Rome.
(Ref: NY10280-kkri)
Dimensions
61.60cm high x 21.59cm wide x 20.32
Stock number
NY10280-kkri)
The BADA Standard
Since 1918, BADA has been the leading association for the antiques and fine art trade
Members are elected for their knowledge, integrity and quality of stock
Our clients are protected by BADA's code of conduct
Our dealers' membership is reviewed and renewed annually
Bada.org is a non-profit site: clients deal directly with members and they pay no hidden fees
Click here for more information on the BADA Standard