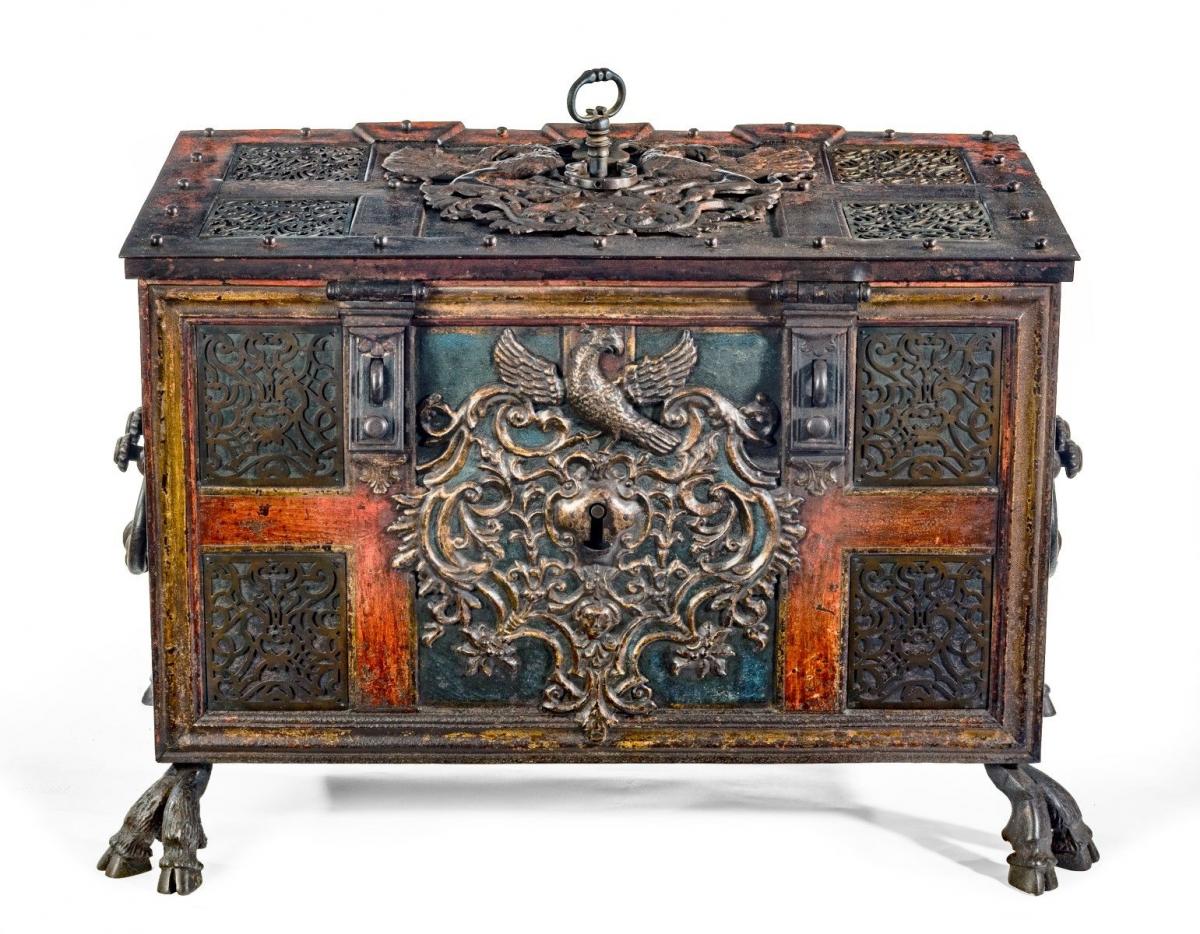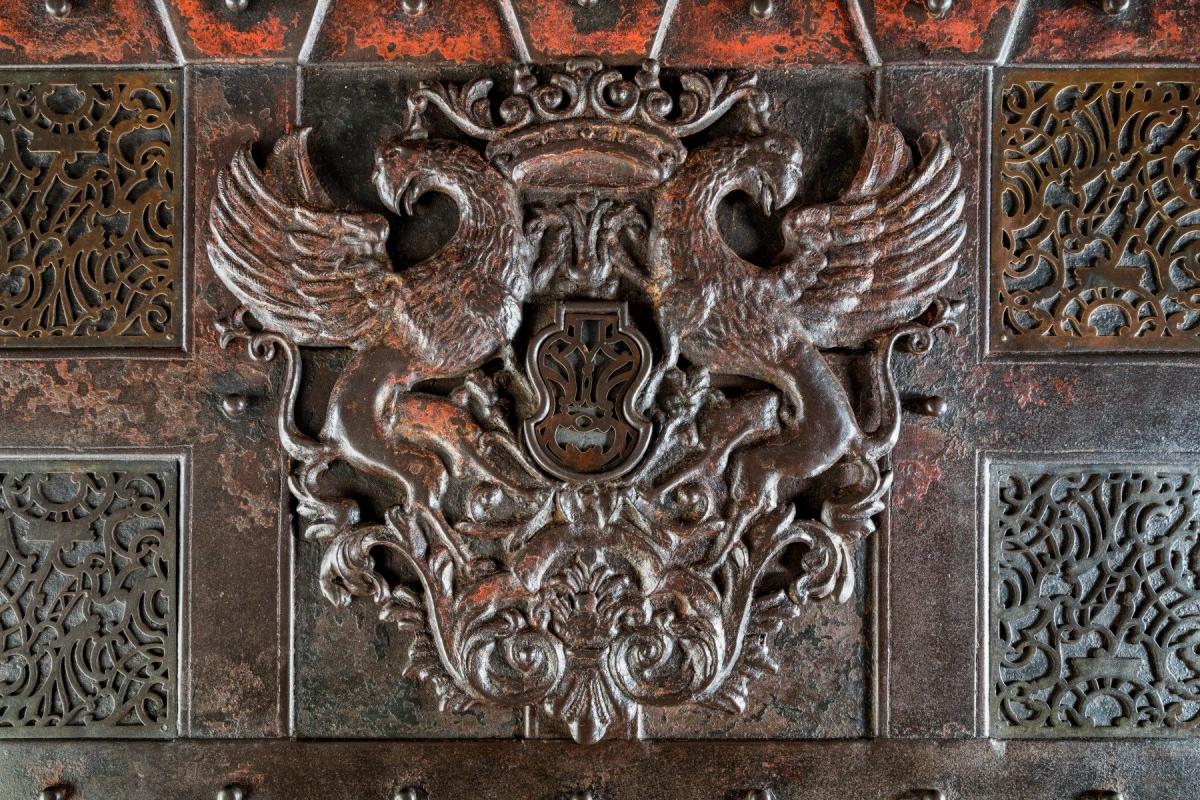 To be exhibited at
BADA Collection at 46 Pimlico Road
Austria. Iron, brass, gold, paint.
PROVENANCE
Private collection, USA
Call it massive or gargantuan, this casket makes a statement of profound solidity and is easily pictured in the mind's eye within its original setting in a nobleman's castle or rococo palais. The pairs of deers' fetlocks which form its feet immediately recall the very similar embellishments popular of the hilts of hunting swords during the mid-18th century, while the fretwork panels recall fashion in both Austrian and Italian luxury furniture of the same period.
The magnificent decorated plate of burnished steel which encloses the lock mechanism (itself a consummate work of hand-crafted engineering) is perhaps evolved from a much earlier early medieval design; broadly related scroll-work arrangements in the medieval taste, and involving a symbolic palm supported by exotic birds or mythical beasts exist as carved ivory plaques as early as the 12th century.
DESCRIPTION
Formed of a red-painted banded framework with fluted border mouldings, the borders picked-out in gold paint, and with hinged lid locked by a pair of hasps at the front and internally by fourteen shooting-bolts. The recessed surfaces painted blue, the smaller of these overlaid throughout with a series of brass fretwork facing panels cut with rococo scroll-work, those at the sides also suspending a fretwork coat-of-arms and coronet at their centre.
The front applied with a large false escutcheon plate of gold-painted iron embossed in low relief, and pierced with an expanded rococo pattern involving a grotesque mask and surmounted by an exotic bird. The lid of matching construction and centring on a large applied iron motif decorated in the manner of an elaborate heraldic device, formed of a small shield concealing the key aperture beneath a hinged cover, with a pair of griffon supporters, a coronet and with a vacant scroll within decorative scrollwork mantling beneath.
Fitted with four projecting feet formed as four pairs of naturalistic deers' fetlocks, and with a pair of large moulded lifting handles at the sides. The lid interior carrying a highly complex lock mechanism involving fourteen shooting-bolts, all enclosed by a steel frame faced with a full-sized burnished steel plate, the latter finely pierced and engraved with a baroque design of scrolling band-work enriched with leafy scrolls, and with the projecting cupola for the lock key supported by a pair of exotic birds beneath a stylised palm motif. Preserved in very fine condition and retaining much or its early painted decorative finish.
Height with closed lid without the key: 61 cm / 24 in
Height with closed lid with the key in the lock: 70 cm / 27.5 in
Height with lid up: 117 cm / 46 in Width: 90 cm / 35.5 in Inset deep: 58 cm / 22 ¾ in
Open Monday-Friday 10-6; also open by appointment