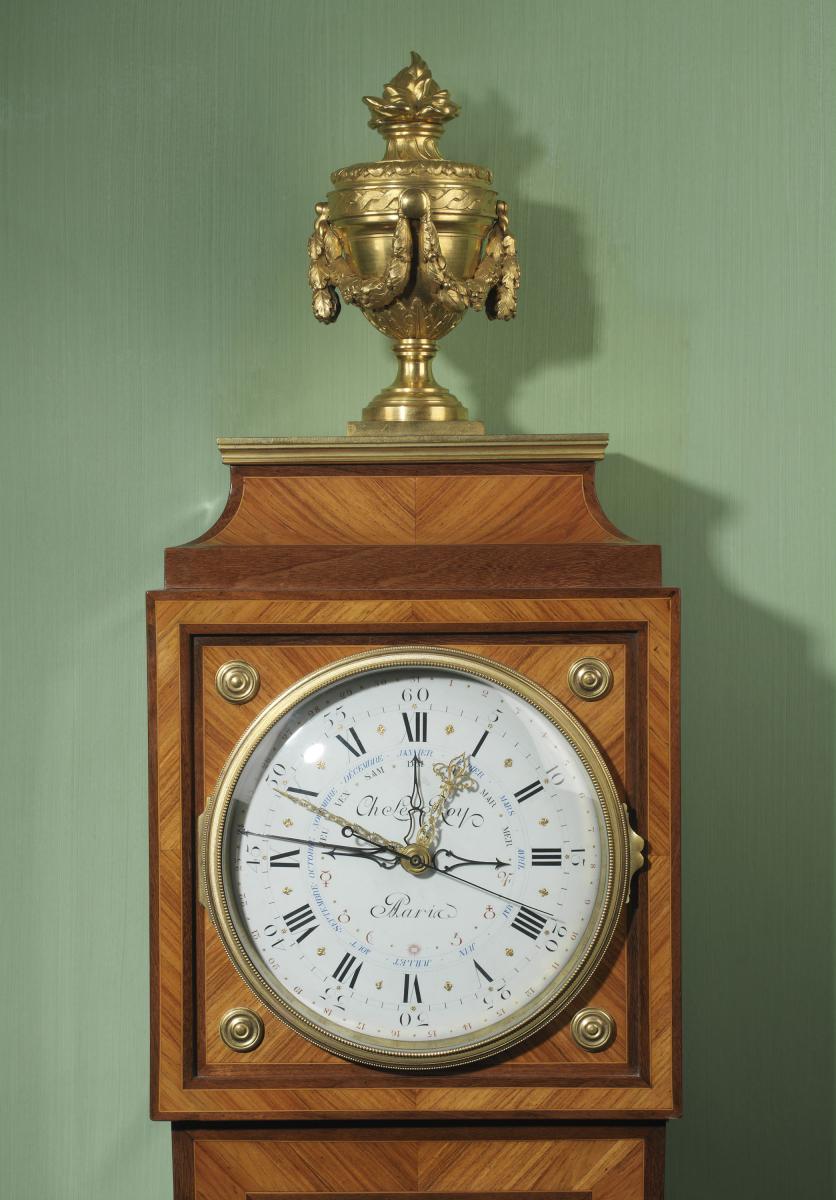 About the dealer
About the object
The white enamel dial with outer date ring, Roman and Arabic chapter ring, inner rings for month, day of week and corresponding zodiacal symbol; pierced and chased ormolu hour and minute hands, the remainder and sweep seconds hands of blued steel; the two train weight-driven movement with Huygen's winding system, pinwheel escapement and countwheel strike on a bell, with nine-rod gridiron pendulum; the dial bearing the signature "Ch Le Roy", within a glazed bezel and a rectangular case surmounted by a stepped pediment with laurel-hung flaming urn finial and on a stepped base and rectangular breche d'Alep plinth.
Charles Le Roy (1709 – 1771)
Charles Le Roy became a maiître in 1733 and Horloger du Roi in 1737. He occupied premises in the Rue Saint-Denis from 1748 to 1769. Gillian Wilson (1996, pp.183-5) states that the signature "Charles Le Roy" was used on clocks from 1734 until the end of the 18th century. After Charles Le Roy's death the signature was used by his son, Etienne- Augustin Le Roy (1737–1792). Etienne, who was probably responsible for the movement of this clock, became maître in 1758 and it would seem likely that he continued to work from the same premises as his father.
The case of the clock was probably made by Balthazar Lieutaud (circa 1720-1780) or Nicholas Petit (1732-1791). The former was one of the best known casemakers of the period and had mounts made by Caffieri and Grimpelle, amongst others. Pieces by him tend to be highly ornate, but he also made simpler pieces, favouring veneers inlaid, as in this case, à quatre faces. Petit was a prolific ébéniste who made many different types of furniture, and he certainly made cases in this style.
Dimensions
18.5 x 10 x 85 ins high including plinth (47 x 25 x 216 cm high)