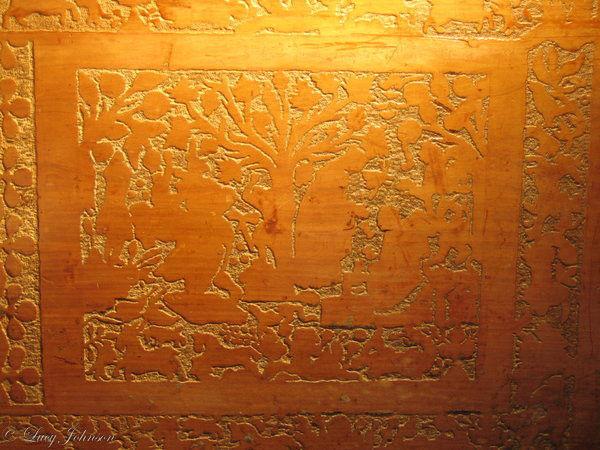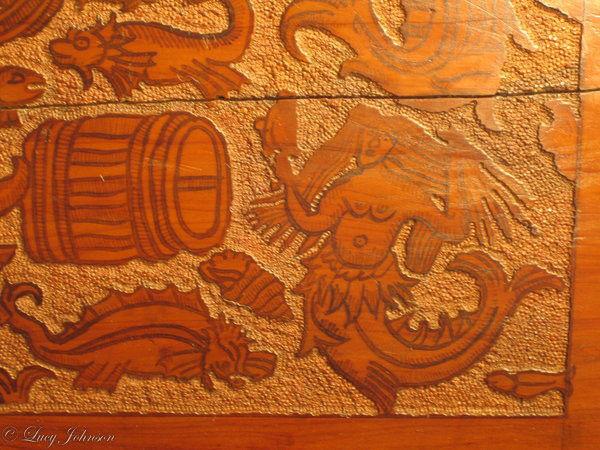 Price on application
The BADA Standard
Since 1918, BADA has been the leading association for the antiques and fine art trade
Members are elected for their knowledge, integrity and quality of stock
Our clients are protected by BADA's code of conduct
Our dealers' membership is reviewed and renewed annually
Bada.org is a non-profit site: clients deal directly with members and they pay no hidden fees
Click here for more information on the BADA Standard
Late 16th Century Italian Cedarwood Cassone.
1575 to 1600 Italy.
The top comprises three planks faced with a shallow, cleated, moulded edge nailed on. The front retains its original hasp and lockplate and, as is commonly found, the lock has been removed but, unusually the original ring hinges have survived. The top opens to reveal an inner lid with ring hinges and a brass ring, revealing a large open storage compartment below, the bottom lined with an old fabric. The underside of the lid retains its original penwork and pierced decoration.
The central panel depicts sea creatures, sharks, flatfish, monster fish, Neptune and mermaids, inspired by the 1st century AD mosaic floor from the House of the Faun, Pompei and probably drawn from De la Cosmographie Universelle, livre III, engraving 1550-1568. The panels either side depicting a crown, the sun and unicorns amongst stylised floral sprays.
The front is decorated with pierced, silhouettes of beasts, trees and figures. The sides are plain with iron carrying handles. On its original stand, with similar decoration, and bearing a cartouche which would have been decorated with the arms of its original owner. Italian, last quarter of the 16th century.

The decoration is very fine, and delightful in the array of sea creatures depicted. The connection of the region with the sea is very strong. It is rare to find a chest from this period retaining its original stand and, in practical terms, the stand makes the chest a comfortable height to use. The exterior of the chest is a beautiful, mellow colour and has developed a lustrous patina.

These chests were made for nobles and aristocrats from cedar specifically for storing their much prized and valued hangings, clothing and linens, since the wood repels moths and the sweet fragrance delicately scents fabrics.

They were often given as bridal chests and the penned initials of the couple often survive in the cartouche on the inner lid. These cassonnes were exported all over Europe and are frequently mentioned in English inventories of the 16th and early 17th century. They came in various sizes and in several qualities. This is a particularly fine specimen.
Such cypress or cedar chests, incised in bas relief and pyrographically engraved, have long been associated with Venice. The 'cypress chests' containing 'arras, counterpoints, costely apparel, tents, and canopies, fine linen, Turkey cushions ... pewter and brass, and all things that belong to house of house-keeping' are mentioned in Shakespeare's Taming of the Shrew. One such cypress chest, filled with bed-hangings, was listed in the 1626 Inventory of Cockesden (P. Thornton, 'Two problems', Furniture History, 1971, p. 68). A group of related chests, surviving in English churches, are discussed by Charles Tracy, Continental Church Furniture in England, Woodbridge, 2001, pp. 142-157.
Literature
Woods in British Furniture Making, (Bowett)C3
Dimensions
Width 177 cm., 5ft. 10 in., Height 87 cm., 2ft., 10.50 in. Depth 68 cm. 2ft. 2.50 in.
The BADA Standard
Since 1918, BADA has been the leading association for the antiques and fine art trade
Members are elected for their knowledge, integrity and quality of stock
Our clients are protected by BADA's code of conduct
Our dealers' membership is reviewed and renewed annually
Bada.org is a non-profit site: clients deal directly with members and they pay no hidden fees
Click here for more information on the BADA Standard