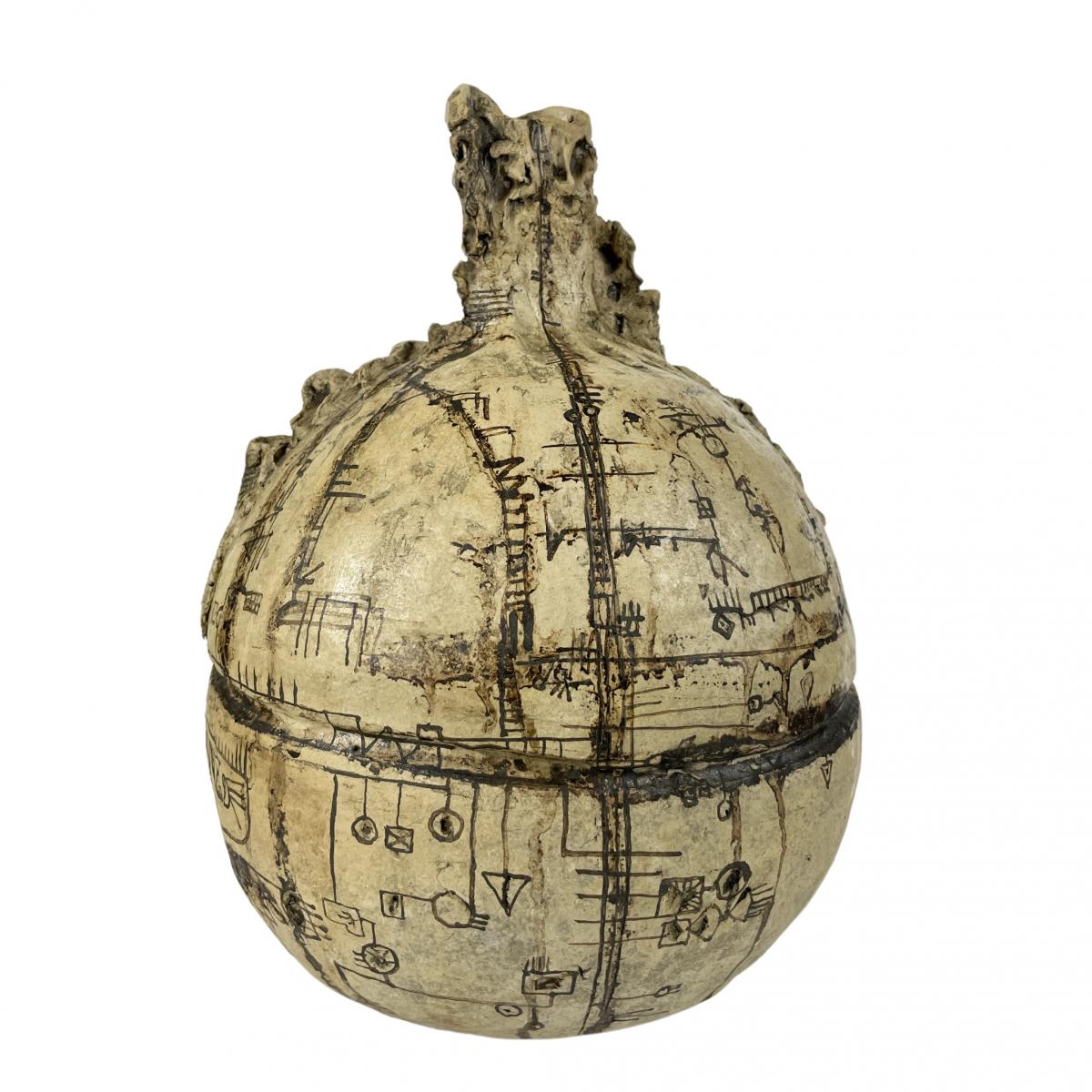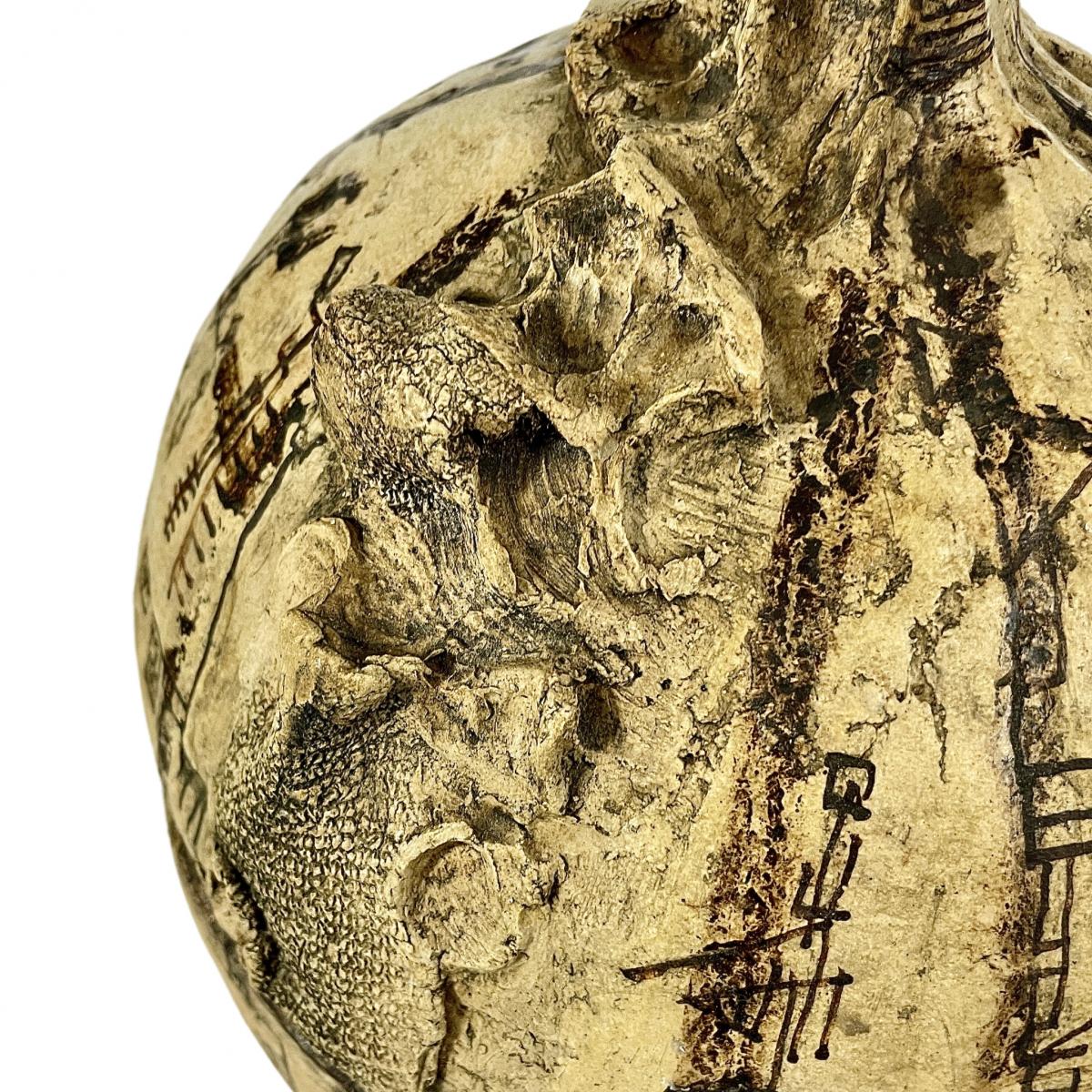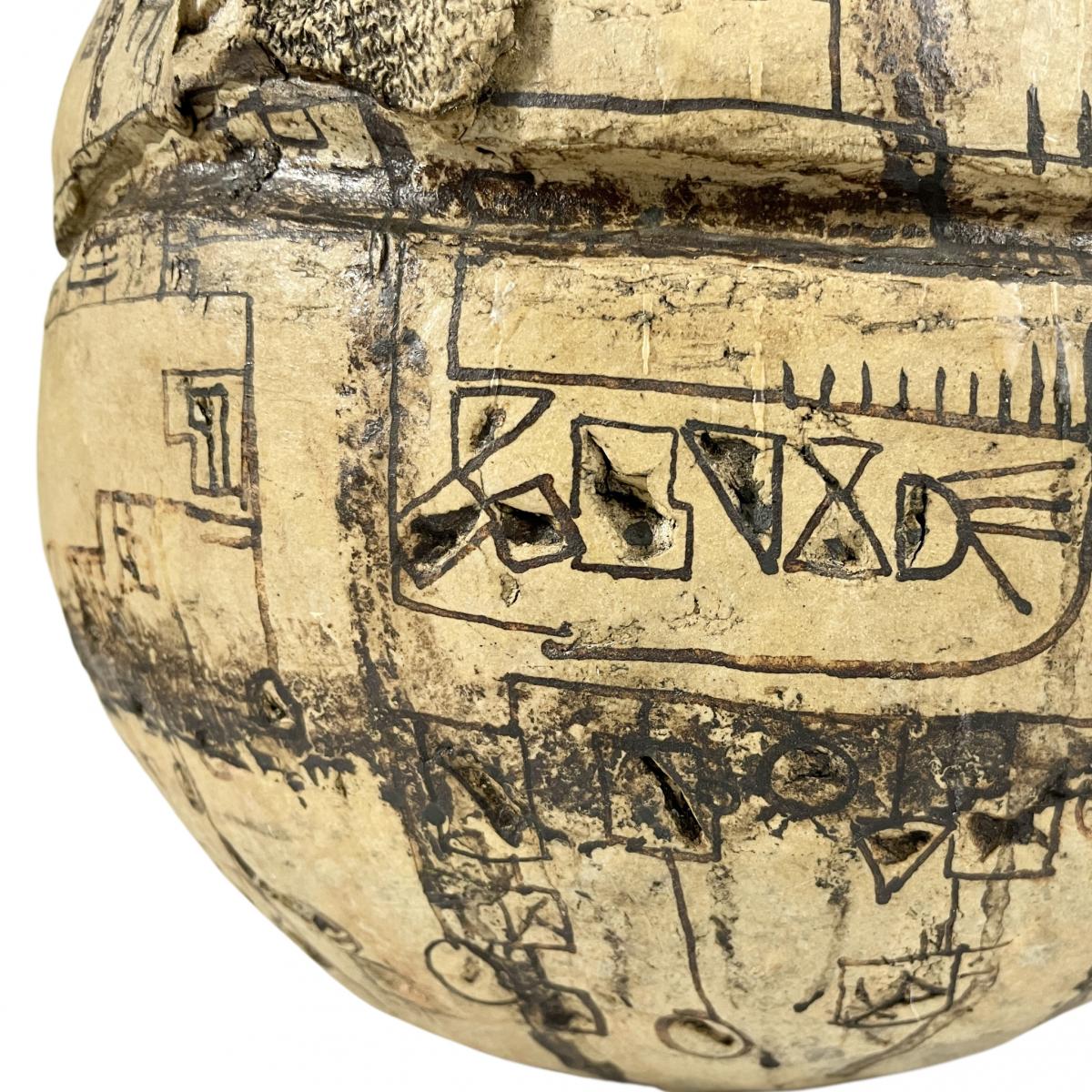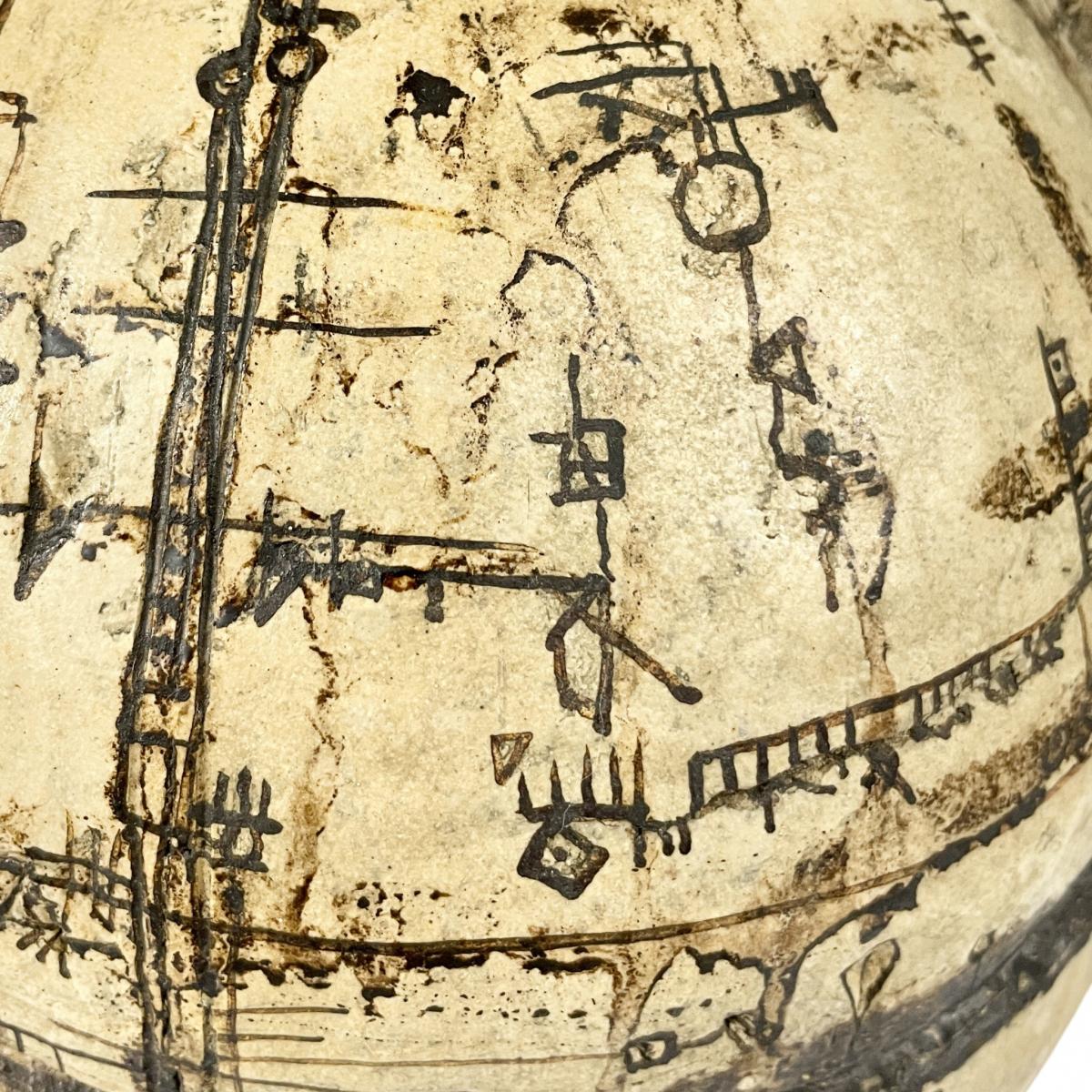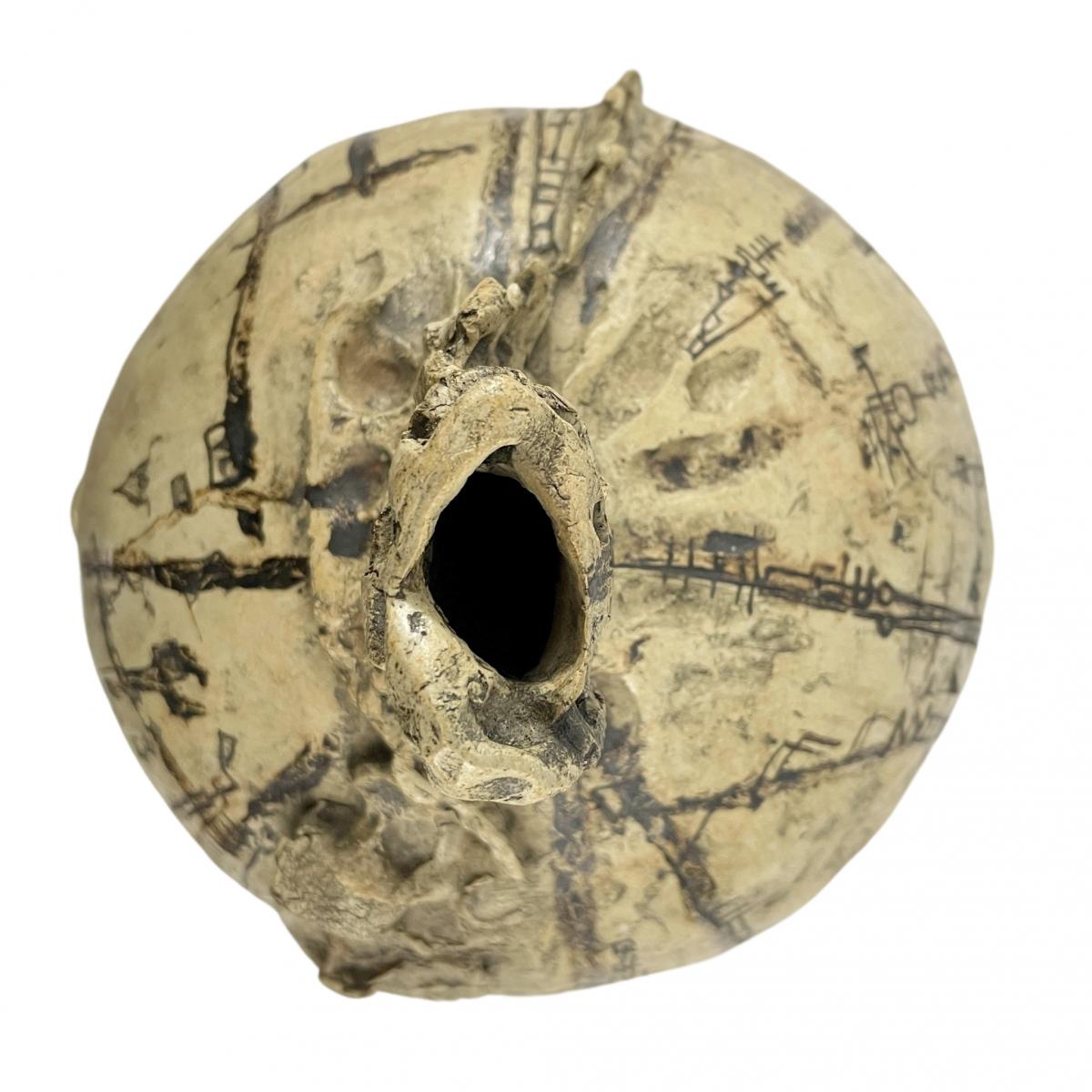 Price
£1550.00
The BADA Standard
Since 1918, BADA has been the leading association for the antiques and fine art trade
Members are elected for their knowledge, integrity and quality of stock
Our clients are protected by BADA's code of conduct
Our dealers' membership is reviewed and renewed annually
Bada.org is a non-profit site: clients deal directly with members and they pay no hidden fees
Click here for more information on the BADA Standard
The main body of this Brutalist stoneware sculpture is in the form of a sphere, divided into two hemispheres by an equatorial trench carved into it. Opposite each other in the upper hemisphere are two vertical 'ribs' or 'fins' produced by drawing the clay up, or applying components and blending them in to the body. The ribs are heavily textured in low to high relief, varying from bearing the imprint of hessian or a similar textile, to heavy working of the clay by tools or what appear to be the artist's fingers. These ribs terminate in a sculptural neck, worked in a similarly expressive manner.
The body and parts of the neck are decorated with a wealth of geometric symbols applied with a brush by hand in a dark brown glaze that resembles ink. They resemble runic symbols or an abstract alphabet, and also hark back to Prehistoric cave paintings. The effect is other-worldly, ancient or primitive, particularly when combined with the gourd-like form.

Much of the piece is lightly glazed with a thin, lightly glossy glaze, but selected areas such as the ribs and the neck have been left matte. I have been unable to find Cosijn's signature 'LC' graphic amongst the myriad of symbols, but it is clearly her work. Acquired from a private collection in Berlin.
Lies Cosijn (1931-2016)
Alida 'Lies' Meijers-Cosijn was born in Indonesia and moved back to the Netherlands with her family in 1946. After attending secondary school, she studied ceramics at the Institute of Applied Art in Amsterdam under Theo Dobbelman, Lep Valkema and Willem de Vries from 1951-55. In 1956, she began working in the experimental department at the esteemed De Porceleyne Fles ceramics factory in Delft. She opened her own studio in Amsterdam in 1963 and moved to Petten the following year. From 1969-70, she lived in Jamaica with her husband, who worked with refugees. Each piece of her work is unique, and tells a story - she was fascinated by archaeology. She won numerous prizes including a gold medal at the Concorso Internazionale della Ceramica d'Arte in Faenza in 1969, and the David Röell prize in 1972. She exhibited widely, including at the Museum Boijmans van Beuningen, the The Hauge Art Museum, and Princessehof Ceramics Museum. Today, her work can be found in many private and public collection, including the museums listed below. Today, she is considered as one of the greatest Dutch postwar ceramics artists and her work, of which this is an excellent example, is highly sought-after.
Museum Collections & Select Literature
Museum Boijmans van Beuningen, Rotterdam, Netherlands - 33 pieces in the permanent collection.
Centraal Museum, Utrecht, Netherlands - 6 pieces in the permanent collection.
Lies Cosijn in the Netherlands Institute for Art History (RKD).
Catalogus van de tentoonstelling Lies Cosijn, Keramiek 1956-1973, published by the Museum Boijmans van Beuningen & Arnhem Municipal Museum in 1973.
Compassion and Poetry: Ceramics of Lies Cosijn, by Lies Cosijn & Dorris Kuyken-Schneider, published by Stichting Tonk, 2002.
Lies Cosijn on Wikipedia.
Lies Cosijn on Capriolus Ceramics Gallery, with a full list of the many publications and audio records featuring her work.
Dimensions
32cm highest, approximately 21.5cm widest
Condition report
Excellent vintage condition with no cracks or chips. There is what appears to be a crack in the base, but this is a split or fissure that occurred when the piece was being made and is not damage. it is entirely stable. Please see the detail image showing this.
The BADA Standard
Since 1918, BADA has been the leading association for the antiques and fine art trade
Members are elected for their knowledge, integrity and quality of stock
Our clients are protected by BADA's code of conduct
Our dealers' membership is reviewed and renewed annually
Bada.org is a non-profit site: clients deal directly with members and they pay no hidden fees
Click here for more information on the BADA Standard