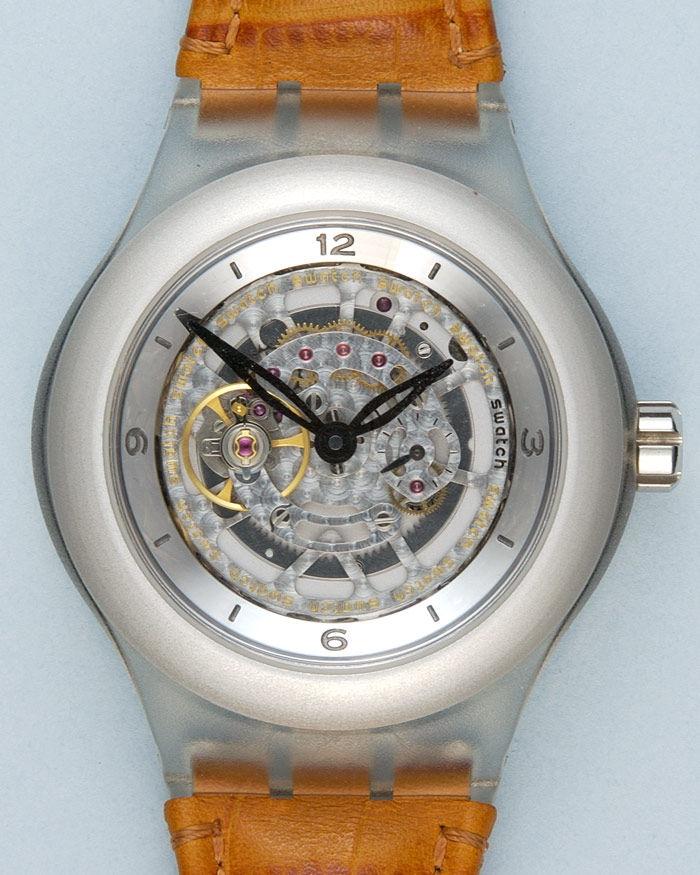 About the dealer
Open Monday-Friday 10-5.30
About the object
An unusual early 21st Century Swiss karrusel wristwatch. Keyless manual movement with skeletonised cage containing the majority of the train revolving one every thirty minutes. Plain three arm gilt balance with spiral hairspring, shockproof jewelling.
Lever escapement. Around the cage the bevelled edge forms the dial with Arabic numerals at the quarters, The seconds dial rotates with the movement, situated opposite the balance, steel hands.
Aluminium and transluscent plastic case, the back ring with eight screws and a diamond set at twelve. Signed leather strap and aluminium buckle.
Circa 2001

Signed Swatch 1393/2222
An unusual watch made in a limited edition of 2,222. Although described by Swatch as a Karrusel it appears that the train is driven directly from an annular gear. If so this is in fact a tourbillion.
Dimensions
Diameter: 42 mm, Depth: 13 mm