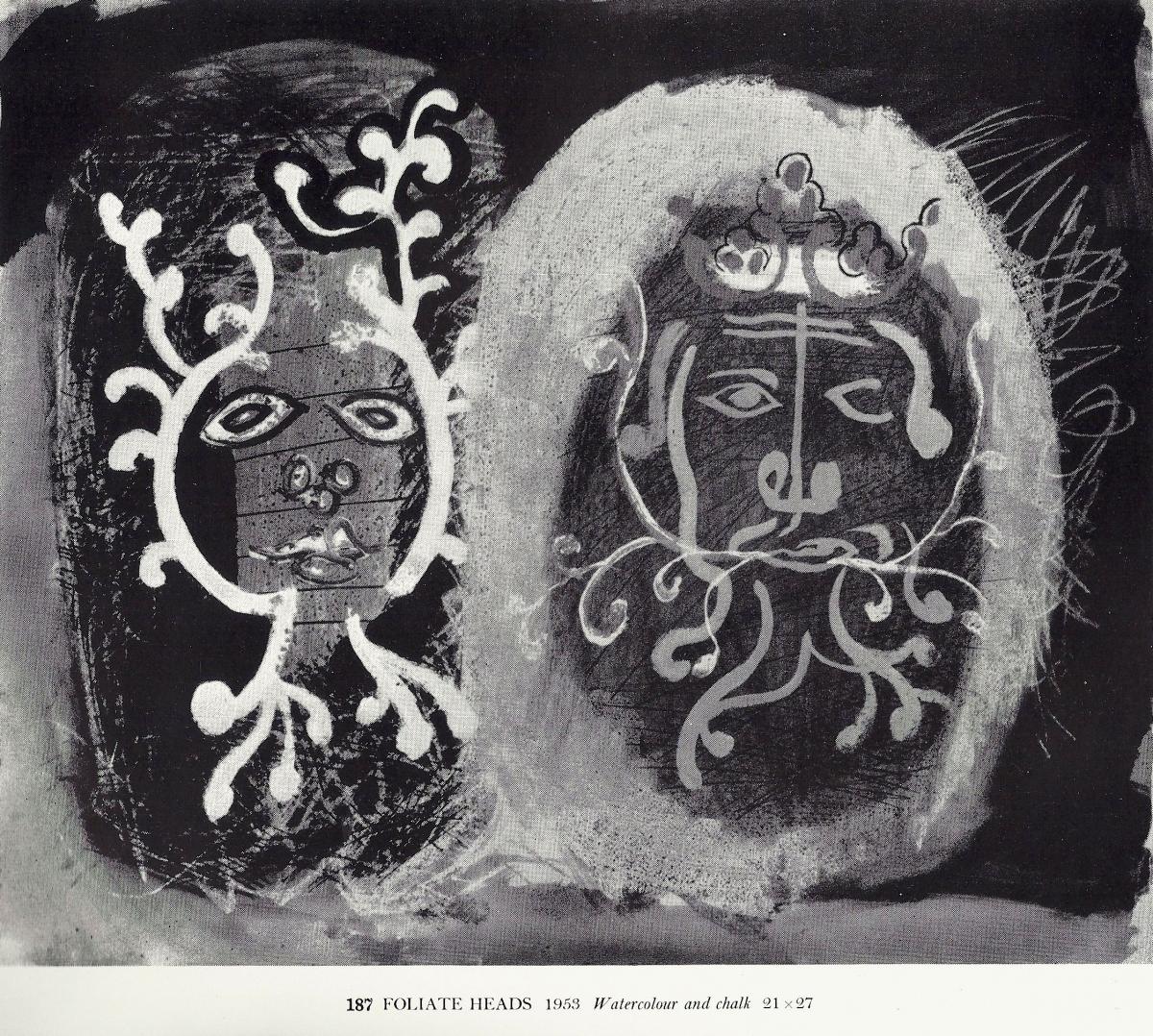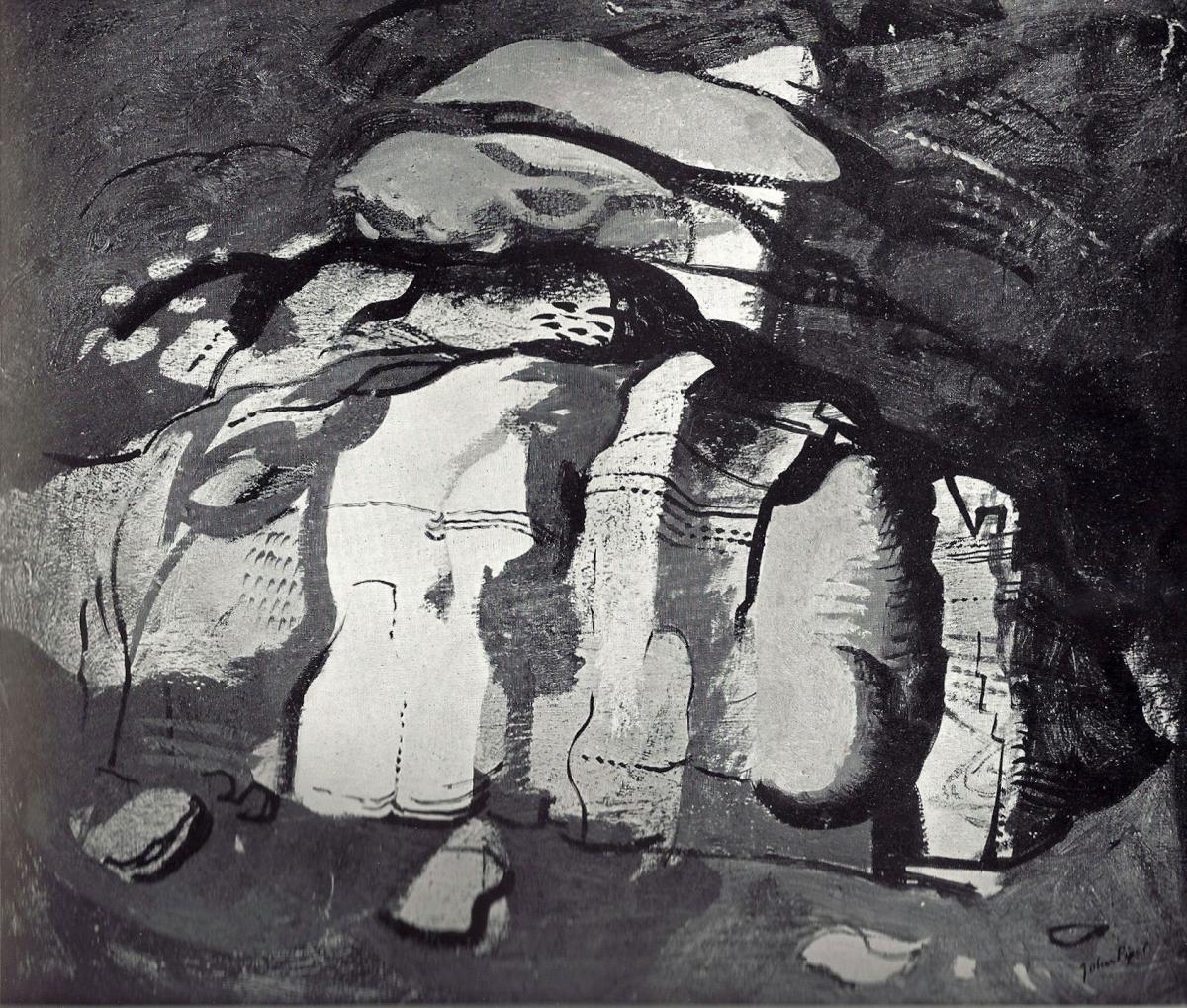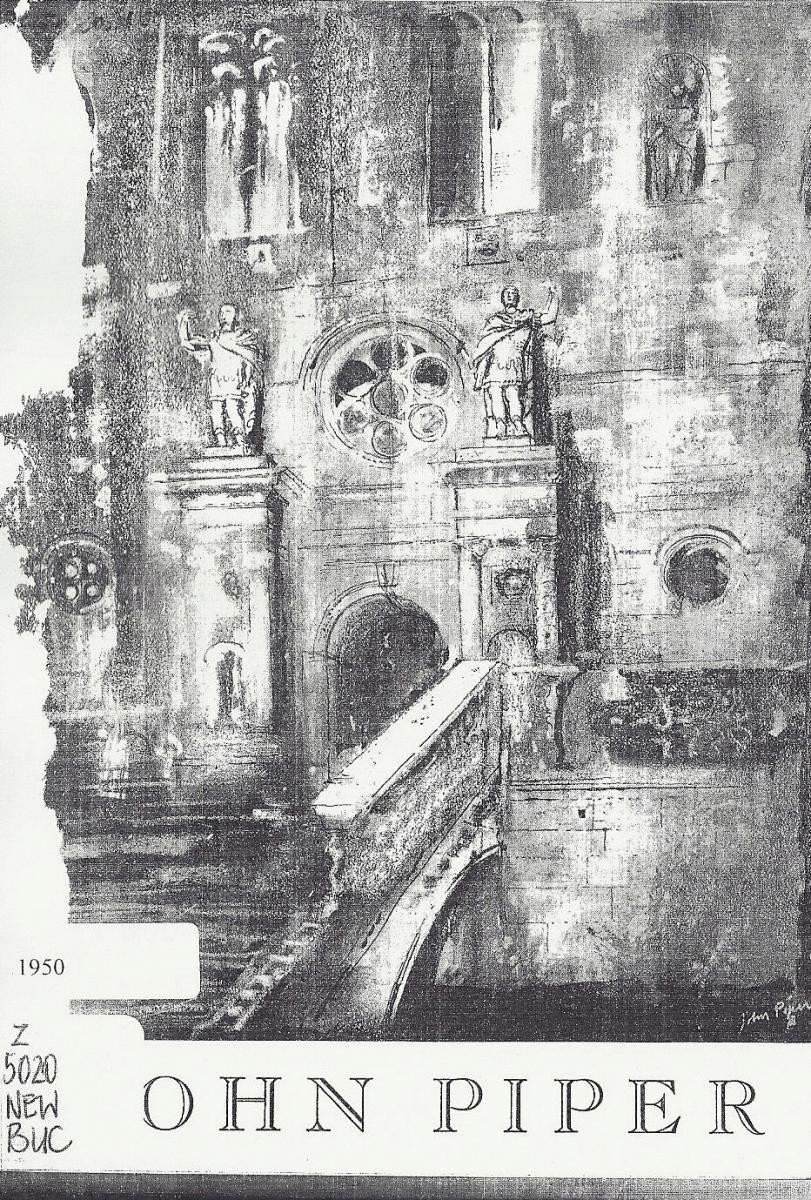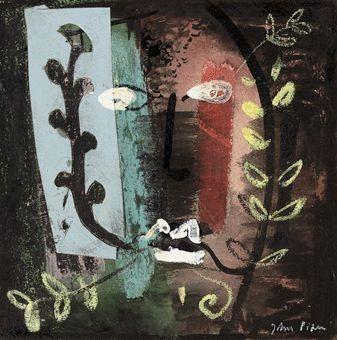 Price on application
The BADA Standard
Since 1918, BADA has been the leading association for the antiques and fine art trade
Members are elected for their knowledge, integrity and quality of stock
Our clients are protected by BADA's code of conduct
Our dealers' membership is reviewed and renewed annually
Bada.org is a non-profit site: clients deal directly with members and they pay no hidden fees
Click here for more information on the BADA Standard
John Piper (1903-1992) Rock-Face, 1950.
Signed 'John Piper' (lower right).
Signed and inscribed with title (verso).
Oil on panel.
Executed in 1950 according to Buchholz Gallery label verso.

PROVENANCE : Buchholz Gallery (Curt Valentin), New York.

EXHIBITED : Bucholz Gallery (Curt Valentin), John Piper, Recent Work, October 17th–4th
November, 1950, Cat. no. 10.

RELATED TO : In the monograph on Piper by John Woods, the picture most like it is a larger oil, Rock Face, Cwm Tryfan 1950, plate 121, collection of Museum of Modern Art, New York. Rock-face is probably an observation at Tryan also.

REFERENCE : JOHN PIPER : Special Exhibition, Blenheim Palace until 9th April. The Mountains of Wales, National Museum Cardiff, until 9th May.

Height 15.8 cm., 6 ¼ in., Length 20 ½ cm., 8 in.
In a colour washed, bevelled frame
Frame Height 35 cm., 13 ¾ in., Length 40 cm., 15 ¾ in.

John Piper is famous for architecturally detailed pictures of houses, churches and ruins. As S. John Woods writes in John Piper: Painting, Drawings and Theatre Designs 1932-1954 (London: Faber & Faber, 1954) 'his approach was that he wanted to paint a house as if he were designing it, understanding not just its appearance but its anatomy and its sentiment'.
John Carter wrote in an exhibition catalogue, that Piper, is "acutely aware of the bones of a building."' This approach Piper also brought to his landscape paintings, and it is clear in the present work. A sense of painting while keeping at the front of the mind the inner structure of the stone in front of him; its age and architecture. There is the sense of the boulder as the result of someone's intention, as an object of a Creation.

In British Romantic Artists (London: William Cox, 1942) John Piper wrote: 'Romantic art is the result of a vision that can see in things something significant beyond ordinary significance: something that for a moment seems to contain the whole world; and, when the moment is past, carries over some comment on life or experience beside the comment on appearances.'

In 1950 John Piper was well into his post-war period which was characterised by techniques such as the scratching in the oil paint apparent in the present work, a more sombre palette generally, and a concentration on landscape and natural features, particularly those of Portland in Dorset, where his fascination for geology in a form which has been changed by man could have full rein in the quarry; and also, extensively, those of North Wales, which he had been visiting since a commission in 1943 to paint the underground quarry in which the Nation Gallery's collection of art was being stored for the duration of the war. He returned for periods of the winter over the next seven or eight years, for part of that time, including in 1949-50, renting a cottage at Bodesi, below the Tryfan Mountain.


Boulder fields at Bodesi, Bodesi Farmhouse, 2011

Here there was much inspiration: in the extreme geology of the land, and in the effect of winter light on mountains. Piper was inspired by the idea of the sublime, and the eighteenth century landscape work of Richard Wilson, and spent time trying to locate Wilson's viewpoints.


Richard Wilson, Llyn-y-Cau, Cader Idris, 1774

Cited in John Piper: Painting, Drawings and Theatre Designs 1932-1954 (London: Faber & Faber, 1954), Piper is quoted as saying: 'In paintings of North Wales, as of many mountain areas, a rock in the foreground often shows the same form and, in its fractures and the way it lies, the same direction as the whole mountain range in the distance'.


Boulder at Cwm Tryfan

In the same book, S John Woods writes: 'the near abstract paintings he did about 1950, based on rocks and walls, are among his best works'.

Writing in The Listener on March 29 1933, (the article entitled Younger English Painters II) Piper quotes DH Lawrence writing in 1915: '"One can only build great abstraction out of concrete units... The architecture comes in painting only with the suggestion of some whole, some conception which conveys in its own manner the whole universe. Most puerile is this clabbing of geometric shapes behind one another, just to prove that the artist is being abstract, that he is not attempting the representation of the object. The way to express the abstract whole is to reduce the object to a unit, a term, and then out of these units and terms to make a whole statement"'.


Piper's landscapes and works with a natural subject are knowingly situated in the traditions of landscape painting reaching back to the seventeenth century. In the seventeenth century landscape painting was an expression of religion - the veneration of that which is made by the hand of God. In the eighteenth century, the century of Enlightenment, it became an expression of the Cult of Nature - venerating the rules and laws which were being derived and discovered in the natural world. Piper's approach, of spending long periods of time in order to understand and express the intrinsic nature of the rock in front of him is very much a development of this long tradition, and a clear in the present work. As Woods wrote: 'These (paintings of North Wales) are not dramatised, but their greys and browns and black are rich with the sense of place and climate'.

John Piper, a note written near the summit of the Glyders, Snowdonia: ' Mist blowing across all day: visability about 15 - 20 yards only, curious sensation in presence of gigantic boulders, giant coffin slabs, pale trunk-shaped rocks, disappearing into grey invisibility even at close range. The affectionate nature of the mountain not changed by the acute loneliness and closed-in feeling induced by the mist'.

' I felt then that I was seeing the mountains for the first time and seeing them as nobody had seen them before. This was due partly to the feeling of release after the confining of the war, partly to a "spurt" in my capacity to observe more clearly at this particular time. Each rock lying in the grass, had a positive personality: for the first time I saw the bones and structure and the lie of the mountains, living with them and climbing them as I was, lying on them in the sun and getting soaked with rain in their cloud cover and enclosed in their improbable, private rock-world in fog.' Pipers Places, p105.

Rock-face was painted in 1949-50 when Piper was renting Bodesi farmhouse and is most likely that it is an observation of rocks at Tryfan which is nearby. In Rock Face, the rock has become metaphorical and, of an extraordinary grandeur, both observed and painted in abstract form. ' In his search to find the exact colour of the rocks Piper imaged them to be animals feeling the shades of the weather, " sometimes antagonistic " as " they react ". The paradigm of his drawings of Snowdonia was often the relation between a prostrate foreground and a distant background summit, one pinkish and one bluish. The shapes are intricate and crafted, yet on a scale beyond human, apparently the realm of the " enormous and untidy race of men '. He was surely contemplating mortality. ' David Fraser Jenkins

The colouring in Rock Face is bold and intense, typical of the oils executed in 1950, illustrating Piper as a brilliant colourist. ' The rocks can only look grey in leaden light, and then do not, commonly. Against mountain grass or scree, against peaty patches near tarns, on convex slopes, in dark cwms, the same kind of rock can look utterly different, and changes equally violently in colour according to the light and time of year. ' JP. ' Lake frozen, from west end under the crags reflecting the sky – palest blue zenith, fading downwards through orange and pinkish orange to translucent grey in reverse. White frosty rock surfaces contrasting violently with dark and shadowed ones.' Diary entry 17th January 1946

Whether Piper intended to use the metaphor of the rock-face as a device to show human mortality or to show the effect of the weather on the rock-face is debatable. It is true that there is a small group of abstracted oils executed at this time and Rock-face appears to be the most abstracted version.

Glyders Rocks, 1950, Oil, 20x29, SJ Woods, no 120.
Rock Face, Capel Curig, oil 28x36, 1950, SJ Woods, no 119.

Figurative work appears in Piper's stained glass designs. Foliate or 'leafy' heads are perhaps one of Piper's most distinctive motifs, appearing in his works in a variety of media including tapestries and ceramics as well as drawings, paintings and prints. Their form is based loosely on traditional 'green men', found in the architecture of many medieval and nineteenth-century buildings. The recurrence of the image perhaps reflects Piper's fascination with detailed medieval church carvings, particularly misericords - small wooden shelves installed in churches to provide some comfort for those needing it during long periods of standing prayer.

Face Design, circa 1935
Foliate Heads 1953

Paintings in Museums and Public Art Galleries : UK

Birmingham Museums & Art Gallery, UK
National Galleries of Scotland, Edinburgh
The Royal Collection, London, UK
United Kingdom Parliament, London
National Museum Wales, Cardiff
Ashmolean Museum at the University of Oxford, UK
Britten-Pears Foundation, Aldeburgh, England
Cheltenham Art Gallery and Museum, UK
Manchester City Art Gallery, UK
Norwich Museums, England
Redland Park Congregational Church, Bristol,
Pallant House Gallery, Chichester, England
Southampton City Art Gallery, England
Tate Gallery, London, UK
The Faringdon Collection at Buscot Park, Oxfordshire, UK
The Hepworth Wakefield, England
The Stained Glass Museum, Ely Cathedral, UK
The Tabernacle, the Museum of Modern Art, Wales
Tyne & Wear Museums, England
Victoria and Albert Museum Catalogue, London, UK
Whitworth Art Gallery, Manchester, UK

Paintings in Museums and Public Art Galleries : Worldwide:

Art Institute of Chicago
Currier Gallery of Art, New Hampshire
Harvard University Art Museums, Massachusetts
Indianapolis Museum of Art, Indiana
Dallas Museum of Art, Texas
Beaverbrook Art Gallery, New Brunswick
Winnipeg Art Gallery, Manitoba
Dimensions
20.50cm wide (8.07 inches wide), 15.80cm high (6.22 inches high)
The BADA Standard
Since 1918, BADA has been the leading association for the antiques and fine art trade
Members are elected for their knowledge, integrity and quality of stock
Our clients are protected by BADA's code of conduct
Our dealers' membership is reviewed and renewed annually
Bada.org is a non-profit site: clients deal directly with members and they pay no hidden fees
Click here for more information on the BADA Standard