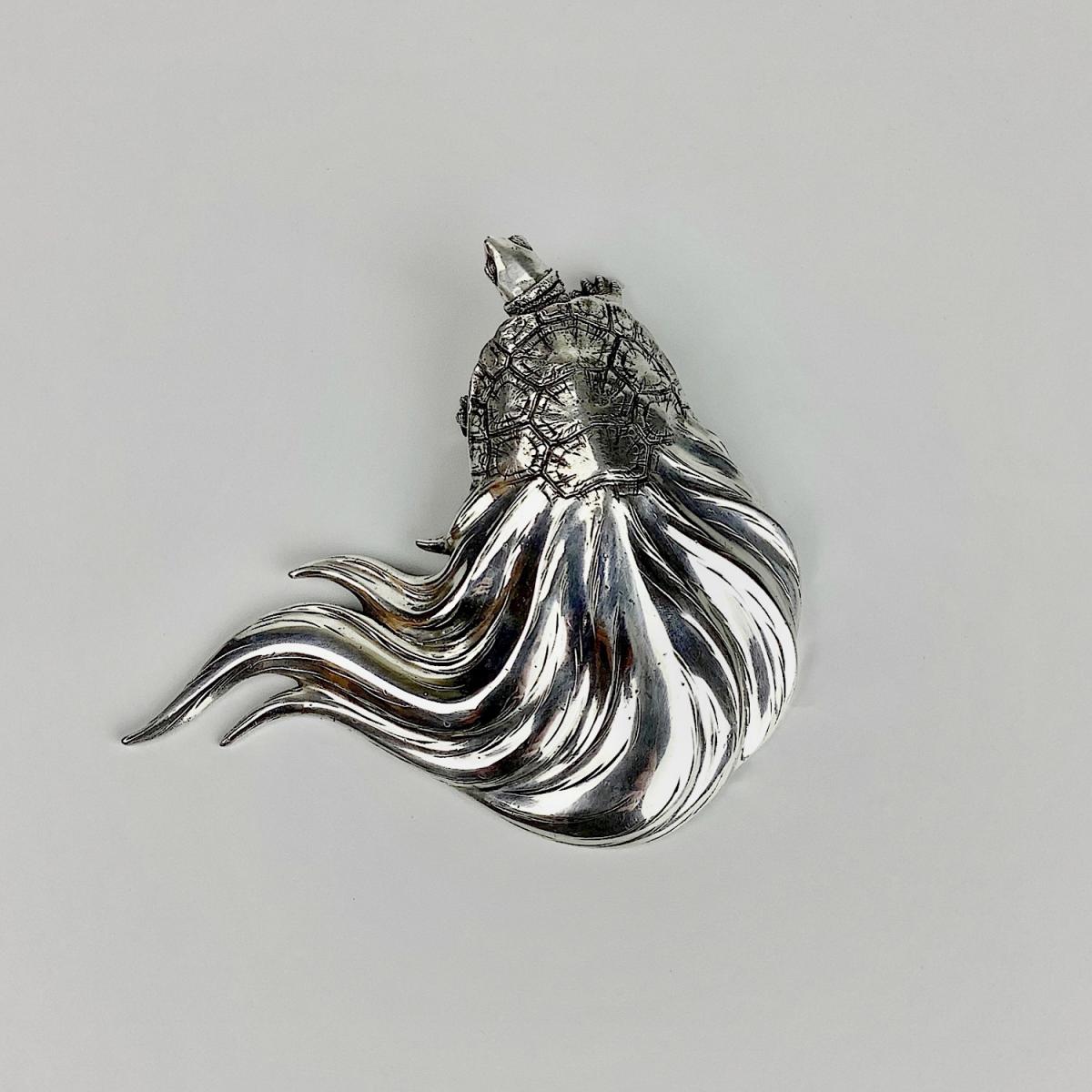 The BADA Standard
Since 1918, BADA has been the leading association for the antiques and fine art trade
Members are elected for their knowledge, integrity and quality of stock
Our clients are protected by BADA's code of conduct
Our dealers' membership is reviewed and renewed annually
Bada.org is a non-profit site: clients deal directly with members and they pay no hidden fees
Click here for more information on the BADA Standard
Japanese silver minogame with details finely cast, signed with incised characters Ryuki 龍起, Meiji Period.
The minogame 蓑亀 (美濃亀) is a mythical turtle with a long feathery tail that can live many thousand years, and is symbolic of longevity and happiness.
The artist Nogami Ryuki 野上龍起 (1865-1932) was a graduate from the Tokyo School of Fine Art and exhibited several bronze works of tortoises at the 1900 Paris Great Exhibition.
He studied bronze casting under one of the most notable metal craftsmen of the Meiji era, Oshima Joun 大島如雲 (1858-1940), who was professor at the Tokyo School of Fine Art.
He worked for the Imperial Household Agency and was mentioned in a 1910 article on metalwork, entitled Japanese Art and Artists of Today.
The bronze statue of Kusunoki Masashige near the Imperial Palace and the bronze statue of Saigo Takamori at Ueno Park, both in Tokyo, were also made by Nogami Ryuki.
Reference: "The Golden Age of Japanese Okimono-The Dr. Kanter's Collection" Laura Bordignon, Woodbridge 2010, Metalwork no. 242.
Dimensions
H 2.5 cm x W 12 cm x D 10 cm
The BADA Standard
Since 1918, BADA has been the leading association for the antiques and fine art trade
Members are elected for their knowledge, integrity and quality of stock
Our clients are protected by BADA's code of conduct
Our dealers' membership is reviewed and renewed annually
Bada.org is a non-profit site: clients deal directly with members and they pay no hidden fees
Click here for more information on the BADA Standard