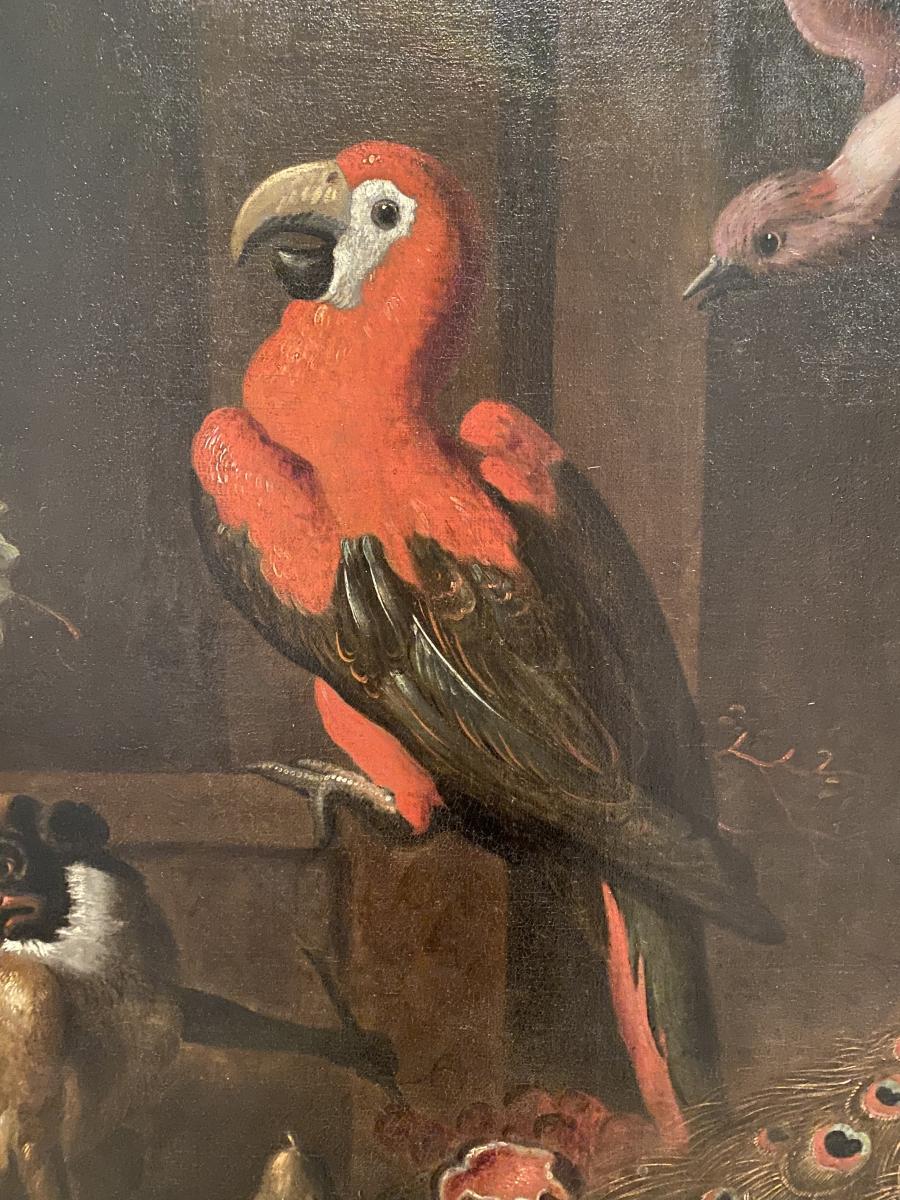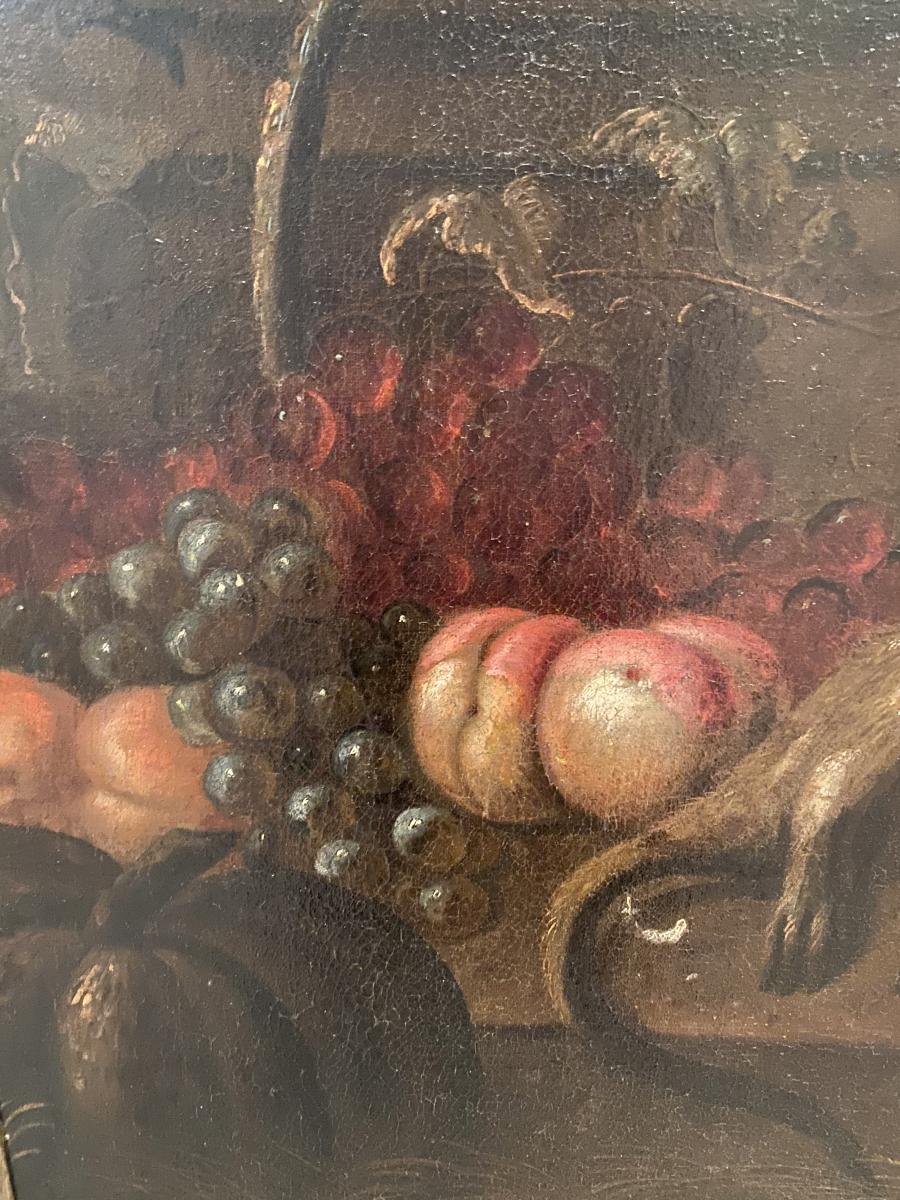 A large scale 18th century painting of a monkey, peacock, parrot, other exotic birds and ornamental waterfowl in the park landscape with classic statues and a country house in the distance. Oil on canvas in a period giltwood frame. c.1700.
Dimensions: 122 x 157cm (48 x 62in)
The composition conveys a feeling of wealth and luxury through the depiction of exotic birds with their richly coloured plumage, the monkey and the exotic and rare fruits with the grand country house in the distance.
Provenance: Private collection, UK
Jacob Bogdani was born in Eperjes, upper Hungary and was the son of a landed gentleman and painter, Lucas Bogdani and his wife Susanna. By 1684 he was in Amsterdam, which was a haven for the young protestant artist and where the established artist Melchior de Hondecoeter (1636-1695) was working whose depictions of plants, birds and animals were a strong influence on Bogdani`s painting. By the Spring of 1688 he had settled in England and was living in Tower Street, St Giles-in-the-Fields, the area of London where he lived for much of his life. In 1693 he married Elizabeth Hemmings and they had five children together, although only two survived infancy. According to George Vertue, 'he was always a mild, gentle temper'd man, courteous and civil' and within a short time he had 'gain'd great applause and was much enjoyed by people of quality, in whose possessions are many of his pieces to be seen'.
He was 'much encouraged' by Queen Anne as well as having worked for Queen Mary and William III. Royal patronage brought him into contact with the British gentry, many of whom commissioned works by him for the grand interiors of their country estates. Other patrons included the first Duke of Devonshire, the second Earl of Oxford, Matthew Prior, Sir Robert Walpole and the first Earl of Albermarle. Many of the birds and the monkey featured in this particular composition with their colours and different textures appear in different groupings in other paintings by Bogdani, and this is typical of his work, which became a very popular genre in 18th century England.
His son William Bogdani (1699-1771 ) was also an artist as well as a distinguished civil servant, and it is thought that William and the transylvanian bird artist Tobias Stranover (1684-1756) who had married his daughter, were both his pupils and they may have worked together as part of a studio and collaborated on certain works. By the end of his life, according to George Vertue, Bogdani 'had gain'd by his industry a pretty fortune' and owned property in Finchley, Spalding and Hitchin, where he was lord of the manor, a position also enjoyed by his son and grandson. He died at his house in Lincoln's Inn Fields, London in February 1724. Examples of his work can be found in the Royal Collection, Chatsworth, The Fitzwilliam Museum, Cambridge and the Yale Centre for British Art, Connecticut.
Literature: 'Bogdani, Jakob (1658-1724), still-life and bird painter' Oxford Dictionary of National Biography