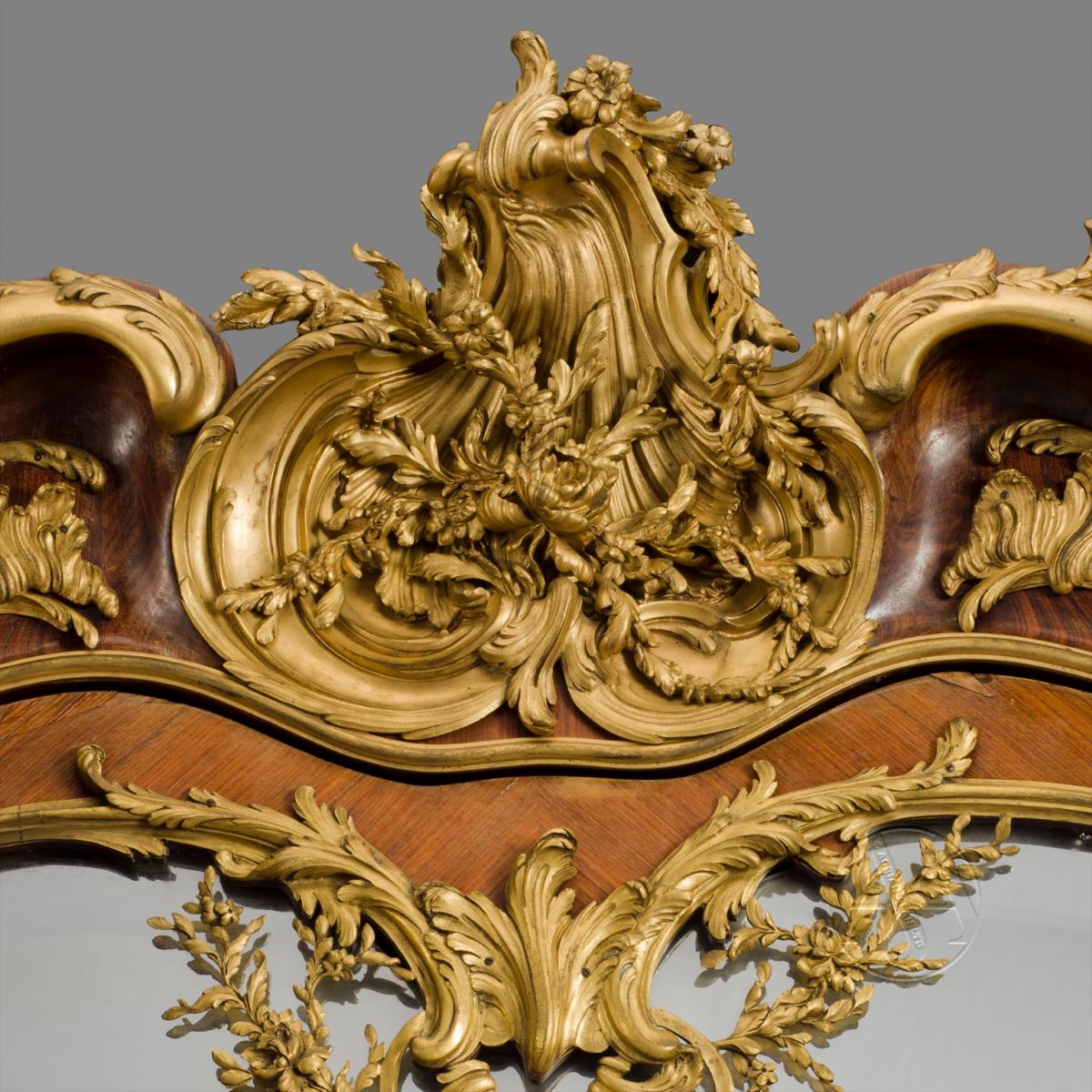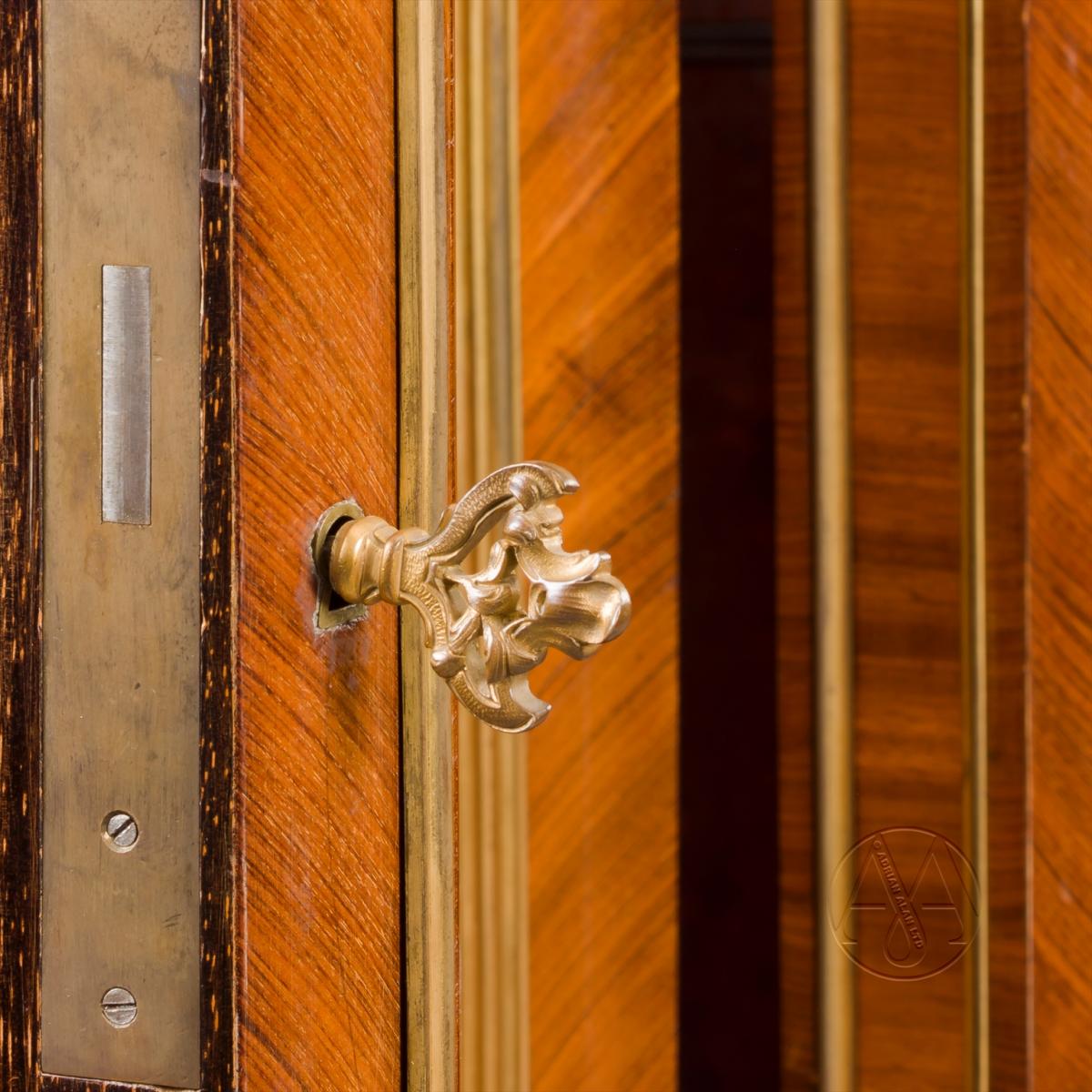 About the dealer
About the object
An Exceptional Gilt-Bronze Mounted Marquetry Inlaid Armoire by Joseph-Emmanuel Zwiener
Stamped 'E. ZWIENER'.
Forming part of an important and very rare bedroom suite, comprised of an armoire, a double bed, and a dressing table , all with fine marquetry inlay.
This important and magnificent armoire exemplifies the furniture maker's master artisanship and exhibits distinct similarities to another Zwiener bedroom suite, commissioned circa 1898 for Kaiser Wilhelm II, and which is now in the permanent collection of Schloss Charlottenburg in Berlin.
Zwiener's work is remarkable for its organic, sculptural quality. In this he demonstrates a tendency toward the principles of combining the traditional Louis XV rococo style of the 18th century with the ultra-modern, contemporary Art Nouveau, representing a careful balance between decorative and compositional vocabulary, the stylish and the functional.
Zwiener's innovations are apparent in the detailing on this armoire, such as in the flowery gilt-bronze borders of the end-cut marquetry reserves. The large armoire stands on six paw-footed legs and displays another scallop-shaped crest with a rose. Favouring the natural effects of inlaid work in the veneer, Zwiener designed his accompanying floral marquetry to be flat and with few sculptural illusions.
In 1895, Zwiener was summoned to Berlin at the request of German emperor Wilhelm II (1859-1941) at Schloss Neues Palais, Sans Souci, Potsdam. Among the works the Kaiser would commission was a gilt-bronze mounted marquetry bedstead, circa 1895, with gilt-bronze work attributed not to Messagé, but to Otto Rohloff. This piece was exhibited at the Paris Universal Exhibition in 1900 [see: L' Exposition de Paris, Encyclopédie du Siècle, Montgredien et Cie, (Paris),1900; Vol III, p. 288]
Although he admired the work of Parisian cabinetmakers, Kaiser Wilhelm II preferred the work of German craftsmen. Zwiener had produced a copy of a bureau du roi for Ludwig II in 1884, prior to receiving his summons from this Kaiser, but given that there were a number of notable German craftsmen working for the court at the time, Wilhelm's interest in Zwiener was significant. Always keen to tout the ideals of a Franco-German unification, Wilhelm was probably intrigued by the fact that Zwiener, a German, had found such success in Paris. The Kaiser's commission must have likewise been a strong inducement for Zwiener, who had spent so much of his professional life away from home.
Paris, Circa 1890.
Literature:
Meiner, Jörg. Berliner Belle Époque: Der Ebenist Julius Zwiener und die Kunstmöbel für den Hof Kaiser Wilhelms II. (1888-1918), Michael Imhof Verlag, Petersberg 2014, p.70-71 for an illustration of this bedoom suite.
L'Exposition de Paris (1900), Encyclopédie du Siècle, Vol III, Montgredien et Cie, (Paris), 1901; p. 288 and p. 300 for an engraving of a related double bed exhibited in the German pavillions at the Palais des Invalides.
Kriesel, H. Die Kunst des Deutschen Möbels, Möbel und Vertäfelungen des deutschen Sprachraums von den anfägen bis zum Jugendstil, C.H. Beck, (Munich), 1973; pl. 908 for an contemporary photograph showing the Wilhelm II bedroom suite taken circa 1904 at Schloss Charlottenburg.
Verwaltung der Staatlichen Schlösser und Gärten Berlin, Eine Schlafzimmer-Ausstattung von Julius Zwiener. Ein Auftrag Kaiser Wilhelms II. fur das Berliner Schlösser 1895-1900, H. Heenemann & Co., (Berlin), 1989.
Ledoux-Lebard, Denise. Le Mobilier Français du XIX siècle, Les Editions de l'Amateur, (Paris); pp. 645-648 for J. E. Zwiener. See also p. 645, where Ledoux-Lebard mentions under the Collection Particulière de Mr P. Lécoules, this bedroom suite.
Dr. Jurgen Julier. Kaiserlicher Kunnstbesitz aus dem Holländischen Exil Haus Doorn, Staatliche Schlösser und Gärten, (Berlin), 1991; p. 196.
Mestdagh, Camille & Lécoules, Pierre. L'Ameublement d'Art Français : 1850-1900, Les Editions de l'Amateur, (Paris), 2010; pp. 301-305.
Joseph-Emmanuel Zwiener (1848- 1895) was one of the leading furniture makers of the end of the nineteenth century. Of German extraction he established a very successful studio in Paris, producing the very finest furniture, often inspired by the public collections in France. He employed as his sculptor, Léon Messagé, the genius Parisian sculptor.
Zwieners pieces were acquired by many of the leading collectors of the nineteenth century. In particular he supplied his interpretation of the famous Bureau du Roi to Ludwig II at Herrenchiemsee, which was placed in the King's study in 1884.
Zwiener exhibited at the 1889 Paris Exposition Universelle, where he was awarded a gold medal, for a stand which included an exceptional cabinet designed by Messagé (illustrated in Meyer, pl. H14).
In 1898, Zwiener received an extensive Royal commission from the King of Prussia, and was recalled to Berlin as the King would not order furniture from overseas makers when furnishing his palaces, preferring to order work only from native Germans. The Berlin Sculptor Otto Rohloff, whose bronze work is very similar to that of Messagé, may well have been hired by Zwiener for this Royal commission.
In 1895 his Paris workshop was taken over by the important émigré and ébéniste, François Linke. Christopher Payne, in his book on Linke, speculates that Linke may have worked for Zwiener when he first arrived in Paris in 1875. Linke is known to have also taken on Zwiener's sculptor Léon Messagé. For this reason many of Zwiener's pieces have often been mistakenly attributed to Linke.
In order to differentiate between Messagé's commissions, the gilt bronze mounts were often marked to the reverse with the maker's initials. Several of Zwiener's mounts have been found to have a 'Z', ' Zw', a 'IZ', 'NZ', 'ZN' or a 'ZJ' on the reverse. This was primarily for the purpose of differentiation, rather than an artist's signature. Some of Zwiener's work was stamped but not exclusively, and only a few pieces have been found with a full signature and /or a date.
It can be speculated that Zwiener continued to work in Germany, after giving up his Paris workshop in 1895, as in 1900 he participated in the German section of the Paris Exhibition, where he exhibited the famous bedroom suite made for the Kaiser.
Bibliography:
Mestdagh, Camille & Lécoules, Pierre. L'Ameublement d'art français : 1850-1900, Les Editions de l'Amateur, (Paris), 2010; pp. 301-305.
Payne, Christopher. François Linke, 1855-1946, The Belle Epoque of French Furniture, Antique Collectors' Club, (Woodbridge, UK), 2003.
Meyer, Jonathan. Great Exhibitions - London, New York, Paris, Philadelphia, 1851-1900, Antique Collectors' Club, (Woodbridge, UK), 2006; p. 270, pls. H14; p. 299, p.302.
Maze-Sencier. Les Livres des Collectionneurs, (Paris), 1885.
Dimensions
Height: 250 cm, Width: 240 cm, Depth: 61 cm