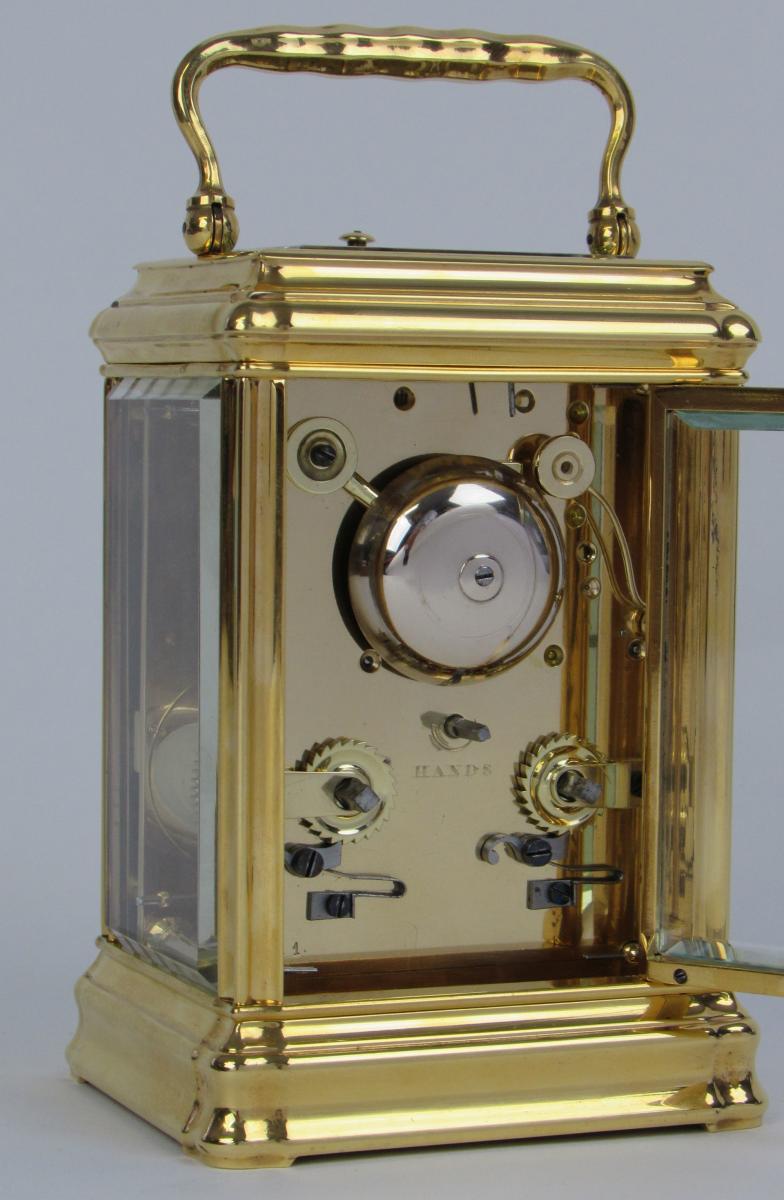 Price
£2200.00
The BADA Standard
Since 1918, BADA has been the leading association for the antiques and fine art trade
Members are elected for their knowledge, integrity and quality of stock
Our clients are protected by BADA's code of conduct
Our dealers' membership is reviewed and renewed annually
Bada.org is a non-profit site: clients deal directly with members and they pay no hidden fees
Click here for more information on the BADA Standard
A gilded brass gorge cased carriage clock by Holingue frères. The eight-day duration movement strikes the hours and half-hours on a bell with a push repeat button to the top of the case and has a matt gilt-brass platform lever escapement in a layout typical of this maker, with a club-tooth 'scape wheel and numbered to the underside with the escapement maker's serial, number 3984. The backplate is stamped with typical Holingue/Drocourt markings along with the serial number 2311, whilst the inside of the movement plates is stamped with the roulant blanc (rough movement) number 8642; both numbers corresponding to the correct Holingue/Drocourt sequence, with the front of the frontplate stamped H.L. for Holingue.
The white enamel dial has black Roman hour numerals, dots on the outer aspect for each five-minute interval and blued steel moon hands. The rear of the dial is signed for the dialmaker Adolphe Mojon, more details of whom can be found in the Drocourt Exhibition catalogue of 2014 accessible through my website.
The gorge case is typical in style of those used by this maker with the more squat five-bail handle as opposed to that used by Jacot.
Pierre Drocourt, born 1819, founded the Drocourt clock-making business in Paris in 1853 with his son Alfred, born 1847, taking over in 1872. The blancs roulants, rough movements, were made in Saint-Nicolas-d'Aliermont, a town outside Dieppe, where Drocourt had workshops until their sale in 1904, being premises purchased from Holingue frères in 1875 who had previously supplied Drocourt. The clocks were then finished ready for sale at their workshops at 28 Rue Debelleyme, Paris; previously Rue Limoges.
Jean-Francois and the younger Louis Holingue, Holingue frères, were the sons of the carriage clock maker Jean Baptiste and worked in the clockmaking town of Saint-Nicolas-d'Aliermont, near to Dieppe, producing the rough movements for a number of well-known makers including Athanese Bourdin, Paul Garnier and Moise Bolviller. With Louis-Albert Holingue, the son and likely successor of Louis, married to the daughter of the carriage clock maker Victor Reclus, and settled in Paris with seemingly little interest in returning to the town, the brothers sold their workshops and equipment to Alfred Drocourt in 1875, having supplied Drocourt for a number of years with movements for his own clocks finished in Paris. They were awarded various medals at trade expositions, and were highly regarded as horlogers amongst their peers.
Leigh Extence notes: For further details of Drocourt and Holingue frères see my 2014 Exhibition catalogue: Pierre & Alfred Drocourt: An Exhibition of Carriage Clocks, available via the Extence website.
Condition report
Fully restored and guaranteed
The BADA Standard
Since 1918, BADA has been the leading association for the antiques and fine art trade
Members are elected for their knowledge, integrity and quality of stock
Our clients are protected by BADA's code of conduct
Our dealers' membership is reviewed and renewed annually
Bada.org is a non-profit site: clients deal directly with members and they pay no hidden fees
Click here for more information on the BADA Standard