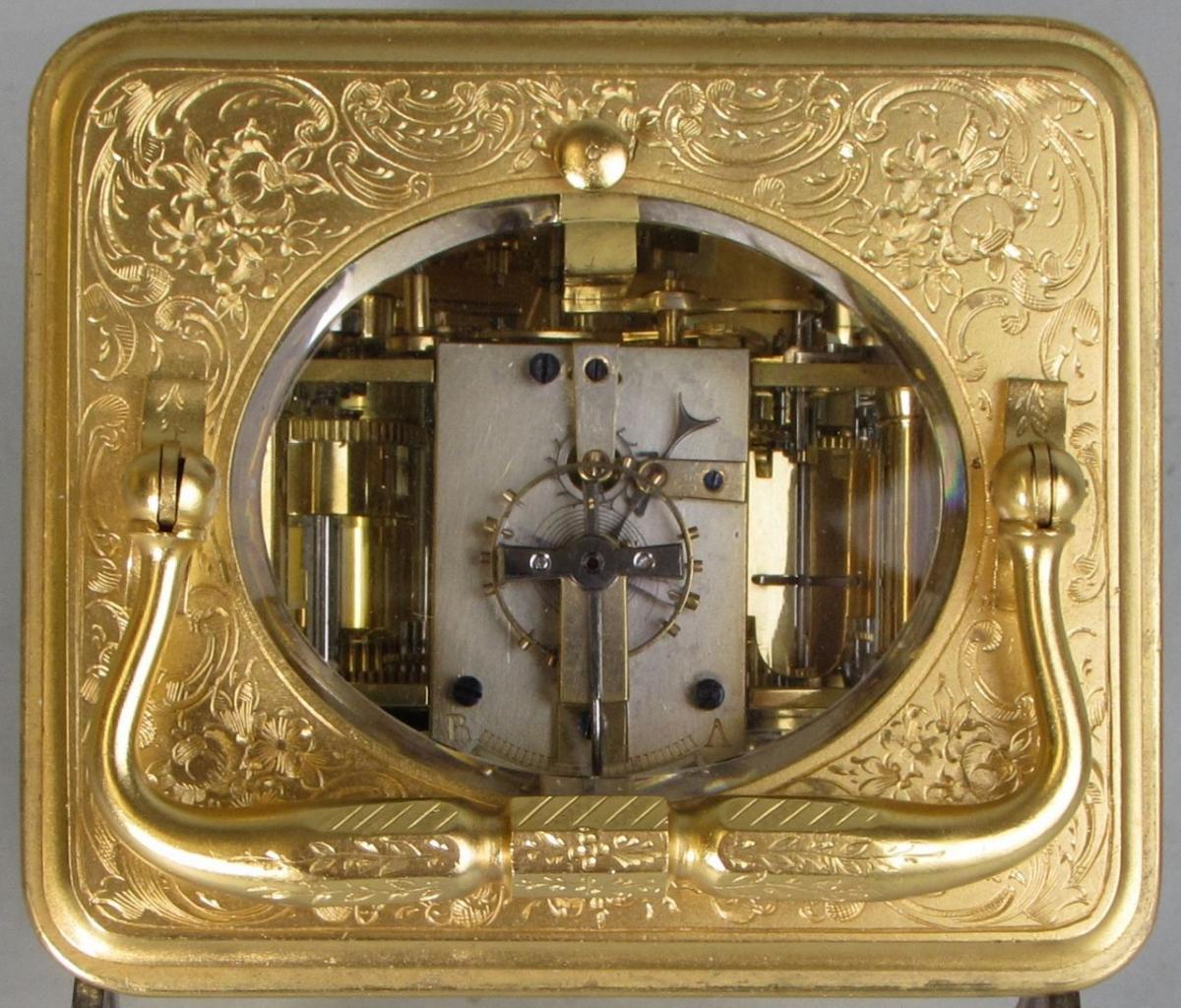 A finely engraved Corniche carriage clock signed for Demeur à Bruxelles. The eight-day duration movement strikes the hour and half-hour on a bell with a repeat button to the top allowing the hour to be struck at will, with the alarm sounding on the bell. The silvered platform lever escapement has a club-tooth balance. Although the backplate of the movement is unsigned, the frontplate is stamped with the initials H.L. for the maker of the blanc roulant, and quite probably the complete clock, Holingue frères, along with their serial number 10962, along with the clock serial number 1188. The white enamel dial has blue Roman hour numerals, blued steel moon hands, and is signed A. Demeur à Bruxelles, Hor du Roi, (Clockmaker to the King), and has a finely engraved gilded masked surround.
Jean-Francois and the younger Louis Holingue, Holingue frères, were the sons of the carriage clock maker Jean Baptiste and worked in the clockmaking town of Saint-Nicolas-d'Aliermont, near to Dieppe, producing the rough movements for a number of well-known makers including Athanese Bourdin, Paul Garnier and Moise Bolviller. With Louis-Albert Holingue, the son and likely successor of Louis, married to the daughter of the carriage clock maker Victor Reclus, and settled in Paris with seemingly little interest in returning to the town, the brothers sold their workshops and equipment to Alfred Drocourt in 1875, having supplied Drocourt for a number of years with movements for his own clocks finished in Paris. They were awarded various medals at trade expositions, and were highly regarded as horlogers amongst their peers.
Leigh Extence notes: For further details of Drocourt and Holingue frères see my 2014 Exhibition catalogue: Pierre & Alfred Drocourt: An Exhibition of Carriage Clocks, available via the Extence website.
Derval: The Derek Roberts Collection
Condition report
Fully restored and guaranteed