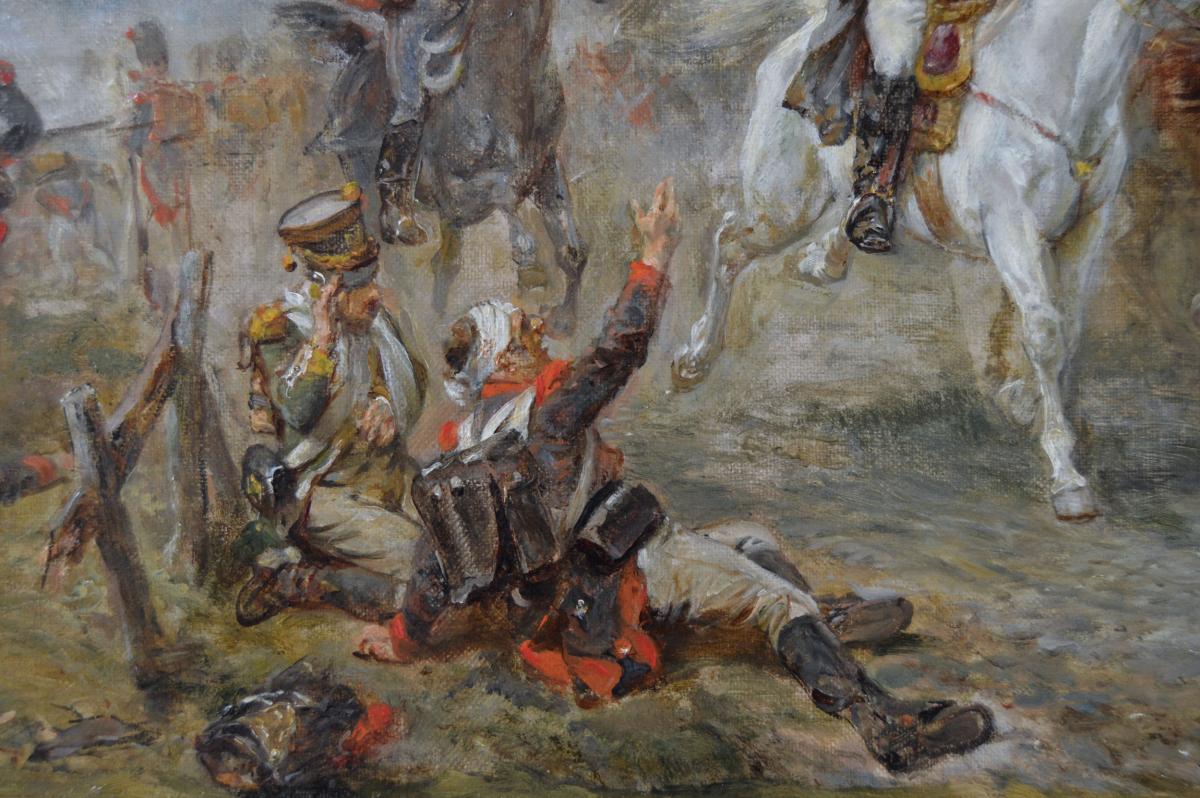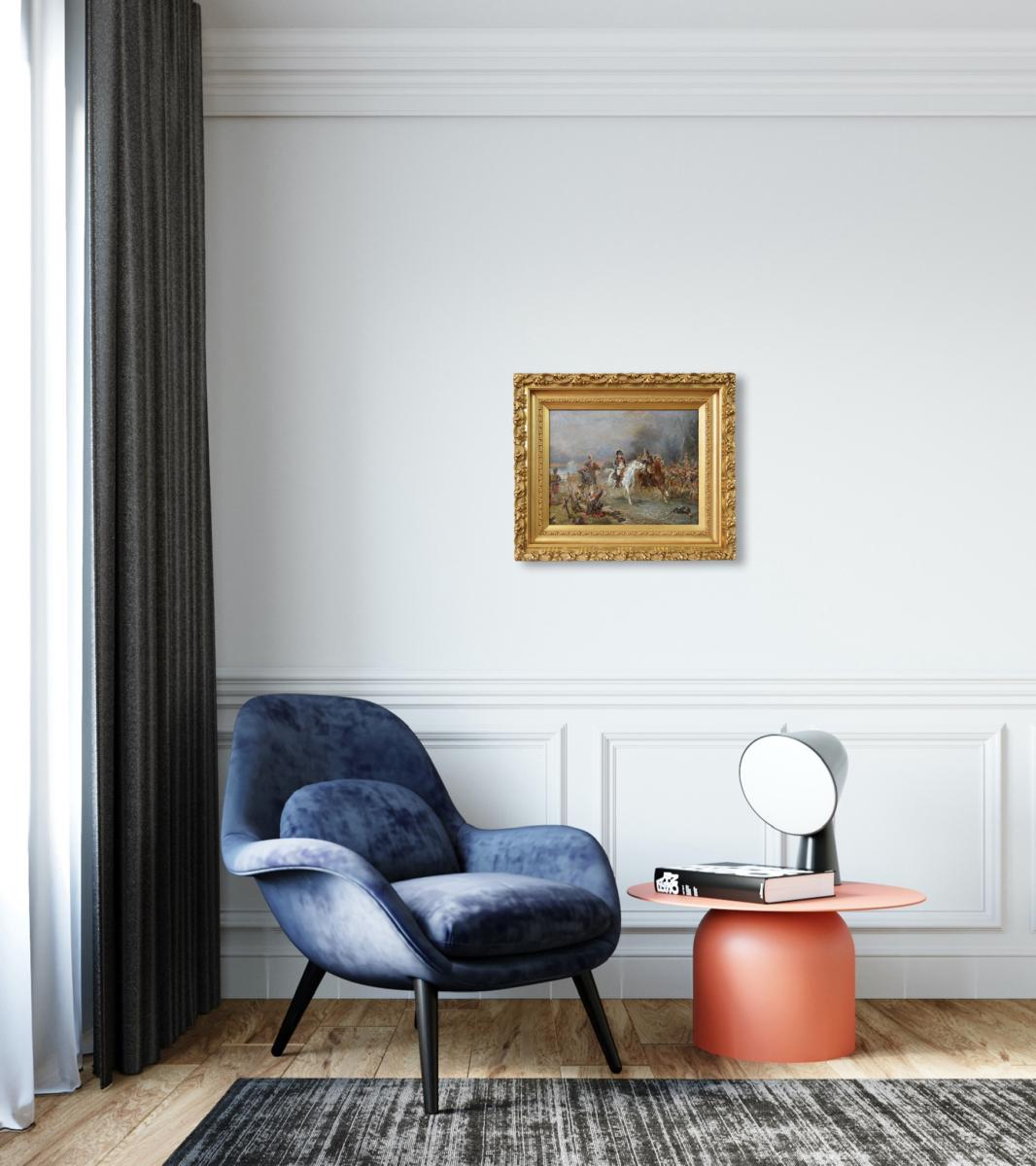 Price
£7200.00
The BADA Standard
Since 1918, BADA has been the leading association for the antiques and fine art trade
Members are elected for their knowledge, integrity and quality of stock
Our clients are protected by BADA's code of conduct
Our dealers' membership is reviewed and renewed annually
Bada.org is a non-profit site: clients deal directly with members and they pay no hidden fees
Click here for more information on the BADA Standard
Robert Alexander Hillingford.
British, (1828-1904).
Napoleon's Retreat.
Oil on canvas, signed.

Robert Alexander Hillingford was born in London on 28 January, 1828. In 1841, he moved to Germany to study at the Düsseldorf Art Academy. After 5 years of studying he travelled to Italy visiting Rome, Naples and Florence where he met and married his wife Ciara. During this time, he produced paintings of Italian life and one of these 'The Last Evening of the Carnival' was exhibited at St. Petersburg in 1859.
In 1864, he returned to London where he began to specialise in historical subjects often including battle scenes. He also produced a number of theatrical scenes and contemporary paintings of the Boer War. He lived in Kensington and later at Rowan Road, Hammersmith.
Hillingford made his debut at the Royal Academy in 1866 exhibiting there regularly throughout his career. He also exhibited at the British Institution, Royal Society of Artists, Birmingham, Glasgow Institute, Walker Art Gallery, Liverpool, Manchester City Art Gallery, Royal Institute of Oil Painters and Arthur Tooth Gallery. He was known for his close attention to accuracy in details of dress and had a collection of original uniforms. He was Vice President of the Kernoozers Club an organisation for collectors of objets d'art and militaria. He died in Fulham in 1904.
Examples of his paintings can be found at the Courtauld Institute, Grundy Art Gallery, Glasgow Art Gallery, Victoria Art Gallery, Bath, Williamson Art Gallery and the York National Railway Museum.

This scene depicts Napoleons retreat after being defeated at Waterloo. Seated on his white horse, Marengo, Napoleon is shown fleeing the Anglo-Allied and Prussian forces outside the Belgian town of Waterloo. Although flanked by some of his generals and the remainder of his imperial guard, he cuts a lonely figure. Deep in thought, he barely registers the salutes of the wounded and exhausted soldiers he passes by.
After Napoleon's return to power in March, 1815 the Vienna Congress consisting of Russia, Austria, Prussia and the United Kingdom declared him an outlaw. In order to stop him trying to break up the coalition, the four countries decided to mobilise their armies to invade France and defeat him.
When the two armies of the Prussians and an Anglo-allied force began gathering in the Netherlands, Napoleon realised that his best chance of success was to defeat each separately before the armies could be mobilised. On 15 June, his forces entered Belgium and managed to defeat the Prussians at Ligny. Pursued by the main French army, Wellington's troops then fell back to Waterloo.
With the promise of reinforcements and against the odds, Wellington managed to defeat the Imperial Guard, sending the rest of the French into panic and eventual retreat. Around 40,000 of Napoleon's men were killed, wounded or captured with compared to the Allies 22,000 casualties. Napoleon fled the battlefield with some of his officers to Genappes, where his coach was waiting to take him to Paris. However, with the allied positions strengthening around the capital, he was forced to abdicate and spent the rest of his life exiled on the island of St Helena.

Presentation: The painting is housed in a period gilt frame which is in excellent condition.
Condition: As with all of our original antique oil paintings, this work is offered in ready to hang gallery condition, having been professionally cleaned, restored and revarnished.
© Benton Fine Art
Dimensions
Image Size: 12.5 inches x 16.25 inches (32cm x 41.5cm) / Framed Size: 20.25 inches x 24 inches (51.5cm x 61cm)
The BADA Standard
Since 1918, BADA has been the leading association for the antiques and fine art trade
Members are elected for their knowledge, integrity and quality of stock
Our clients are protected by BADA's code of conduct
Our dealers' membership is reviewed and renewed annually
Bada.org is a non-profit site: clients deal directly with members and they pay no hidden fees
Click here for more information on the BADA Standard