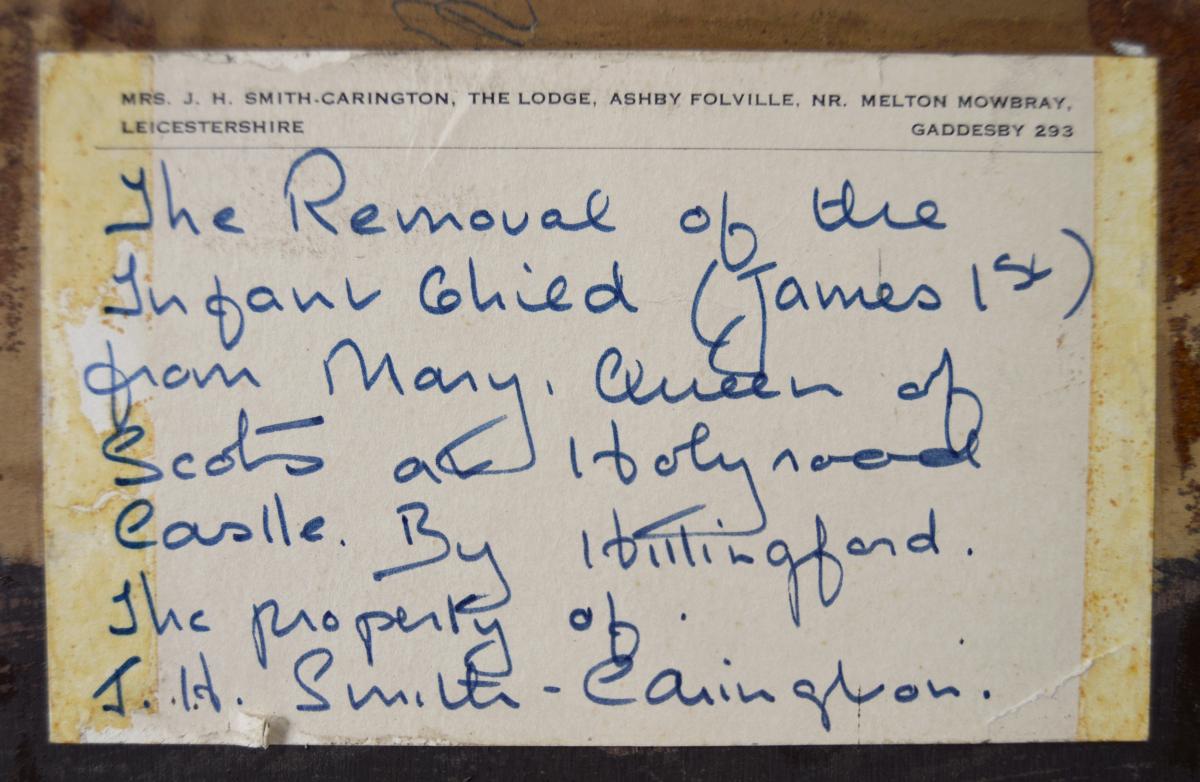 Price
£4400.00
The BADA Standard
Since 1918, BADA has been the leading association for the antiques and fine art trade
Members are elected for their knowledge, integrity and quality of stock
Our clients are protected by BADA's code of conduct
Our dealers' membership is reviewed and renewed annually
Bada.org is a non-profit site: clients deal directly with members and they pay no hidden fees
Click here for more information on the BADA Standard
Robert Alexander Hillingford
British, (1828-1904)
The Removal of James I from Mary Queen of Scots
Oil on panel, signed
Provenance: Thomas Agnew & Sons; Private collection, Melton Mowbray

Robert Alexander Hillingford was born in London on 28 January, 1828. In 1841, he moved to Germany to study at the Düsseldorf Art Academy. After 5 years of studying he travelled to Italy visiting Rome, Naples and Florence where he met and married his wife Ciara. During this time, he produced paintings of Italian life and one of these 'The Last Evening of the Carnival' was exhibited at St. Petersburg in 1859.
In 1864, he returned to London where he began to specialise in historical subjects often including battle scenes. He also produced a number of theatrical scenes and contemporary paintings of the Boer War. He lived in Kensington and later at Rowan Road, Hammersmith.
Hillingford made his debut at the Royal Academy in 1866 exhibiting there regularly throughout his career. He also exhibited at the British Institution, Royal Society of Artists, Birmingham, Glasgow Institute, Walker Art Gallery, Liverpool, Manchester City Art Gallery, Royal Institute of Oil Painters and Arthur Tooth Gallery. He was known for his close attention to accuracy in details of dress and had a collection of original uniforms. He was Vice President of the Kernoozers Club an organisation for collectors of objets d'art and militaria. He died in Fulham in 1904.

This scene depicts the removal of James I from Mary Queen of Scots, one of the best known figures in Scotland's royal history. Mary Queen of Scots lived at the Palace of Holyroodhouse from 1561 until 1567, occupying the Queen's apartments on the second floor of the tower. In 1565, she married her second husband Henry Stuart, Lord Darnley. After the murder of her private secretary David Rizzio in 1566 by her husband, she fled the palace and went to Edinburgh Castle where her son James I was born on 15 June, 1566. Darnley died in mysterious circumstances on 10 February, 1567 and shortly after, Mary married James Hepburn, Earl of Bothwell who was implicated in his murder. This caused widespread condemnation amongst the Scottish nobility who rose up against Mary. On 24 July 1567, she was forced to abdicate in favour of her son James who succeeded to the Scottish throne at the age of just thirteen months. This painting depicts the moment she is separated from James, her only son and child. She would later be imprisoned at Loch Leven Castle and would be the last time she ever saw her son. Hillingford conveys her anguish at the prospect of such a loss but also lends her an air of queenly dignity in the face of adversity. The soldier, knowing the task he has been given, bears the weight of his duty heavily and is unable to meet the Queen's eyes. Meanwhile, her courtier appears helpless at the door, caught up in the drama of the unfolding scene.

Examples of his paintings can be found at the Courtauld Institute, Grundy Art Gallery, Glasgow Art Gallery, Victoria Art Gallery, Bath, Williamson Art Gallery and the York National Railway Museum.

Presentation: The painting is housed in a new, English made gilt frame which is in excellent condition.
Condition: As with all of our original antique oil paintings, this work is offered in ready to hang gallery condition, having just been professionally cleaned, restored and revarnished.
© Benton Fine Art
Dimensions
Image Size: 14 inches x 11.25 inches (35.5cm x 28.5cm) / Framed Size: 21 inches x 18.25 inches (53.5cm x 46.5cm)
The BADA Standard
Since 1918, BADA has been the leading association for the antiques and fine art trade
Members are elected for their knowledge, integrity and quality of stock
Our clients are protected by BADA's code of conduct
Our dealers' membership is reviewed and renewed annually
Bada.org is a non-profit site: clients deal directly with members and they pay no hidden fees
Click here for more information on the BADA Standard