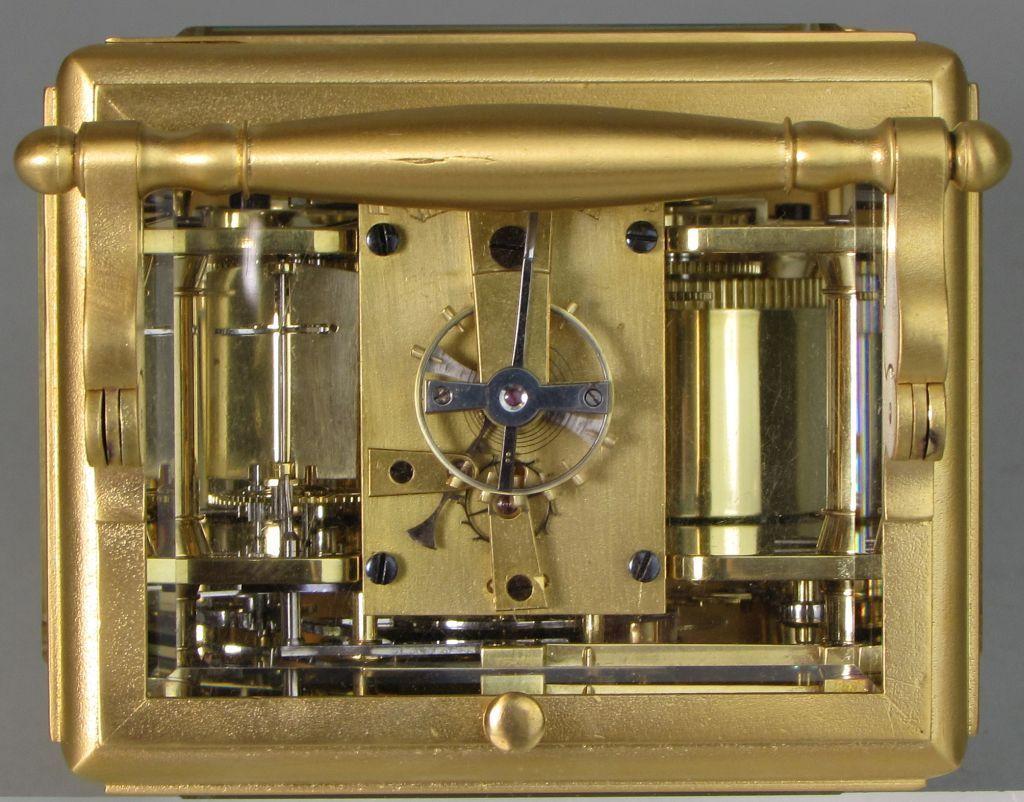 About the dealer
About the object
A gilded one-piece carriage clock, made circa 1855. The eight-day duration movement strikes the hours and half-hours on a bell, with a push button repeat at will to the top and has a platform lever escapement fitted with a club-tooth escape wheel. The backplate is engraved with both the arrow stamp and design of the word 'Hands' as used by Henri Jacot, and is numbered 297. The lower part of the backplate is signed in script for the retailer C.J. Dent, Paris. It has the earlier form of depthing for the contrate wheel, being a steel end piece set on the backplate behind the bell that is moved by turning a nut that squeezes, or releases, the plates to a small degree.
The white enamel dial has black Roman hour numerals, blued steel trefoil hands and is signed to either side of VI o'clock for C.J. Dent, Paris. The rear of the dial is marked for the dial maker Étienne Valat, who was working at rue Montmorency 7, just a few doors from Henri Jacot.
The gilded one-piece case is of a design utilised at this period by Paul Garnier for his series II clocks.
Although unsigned, the movement is identical to others seen as signed for Henri Jacot, and can be safely attributed to him; it includes the double-finned dial pillars, the unique layout of the under-dial work, and the style of engraving to the lettering of the signature amongst other features. These are all seen on serial number 489, a relatively early signed Jacot clock, details of which are available for comparison, and which was made a few months later to this example at his workshops in the centre of Saint-Nicolas-d'Aliermont, a town outside Dieppe famous for producing some of the finest clocks and movements of the period. Some features used are unique to the movements of Jacot and were still used for a time in the clocks manufactured a few years later, in the mid-1860s, when their first more well-known clocks were made, being those stamped with their oval poinçon and shortly after, the HJ trademark. This clock was made before the business became more commercial, under the leadership of Henri's brother Julien and then nephew Albert Jacot, and was made in what I term Period II, from when, my research confirms, that Henri Jacot had set-up his workshops in the town in 1853.
Condition report
Fully restored and guaranteed