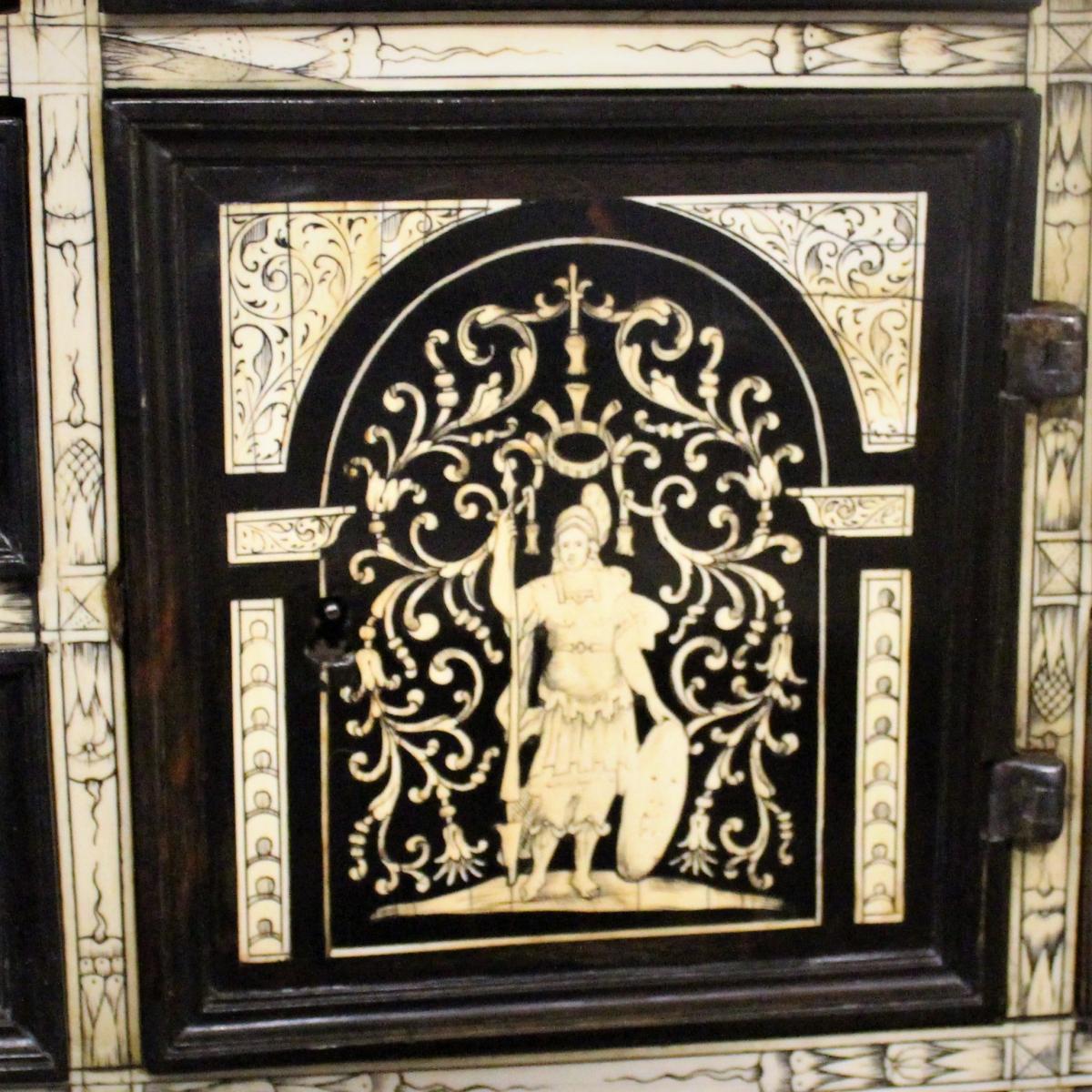 A good Calamander, Ebony, Bone and Ivory Inlaid Table Cabinet. Richly decorated to the exterior with a central engraved plaque depicting Satyrs abducting Nymphs. With 10 drawers and a door behind it's fall front all richly inlaid. The Cupboard Door inlaid with a representation of Athena.
Interestingly this cabinet is almost certainly from the same Workshop in Lombardy as one in the Metropolitan Museum (Accession no X203. The Central Panel to the Fall with it's rather strange stylised trees and clouds is undoubtedly by the same hand, as is the identical figure of Athena to the interior door.
Circa 1600-1625. Original Metalwork and Locks.
Provenance
Louisa, Lady Ashburton
The Marquess of Northampton
2nd Baron Loch and by descent.
This Cabinet formed part of the Collection of Louisa Lady Ashburton, one of the wealthiest Collectors of the second half of the 19th Century. Friend of (inter alia) Robert Browning, Thomas Carlyle, Rossetti, G.F Watts, Landseer and Florence Nightingale. It may have been part of the collection at her childhood home, Brahan Castle, or from the Ashburton's Seat at The Grange, Hampshire, Bath House, Piccadilly or perhaps purchased by her on one of her many sojourns in Italy with her close friend the American Sculptress Harriet Hosmer for Melchet Court, Hampshire.
Dimensions
45.8 x 56 x 36.8 cms (18 x 22 x 14.5 ins.)
Open Monday-Saturday 9-5.30; Opening hours may be irregular at the moment, please contact us to confirm that we are open.