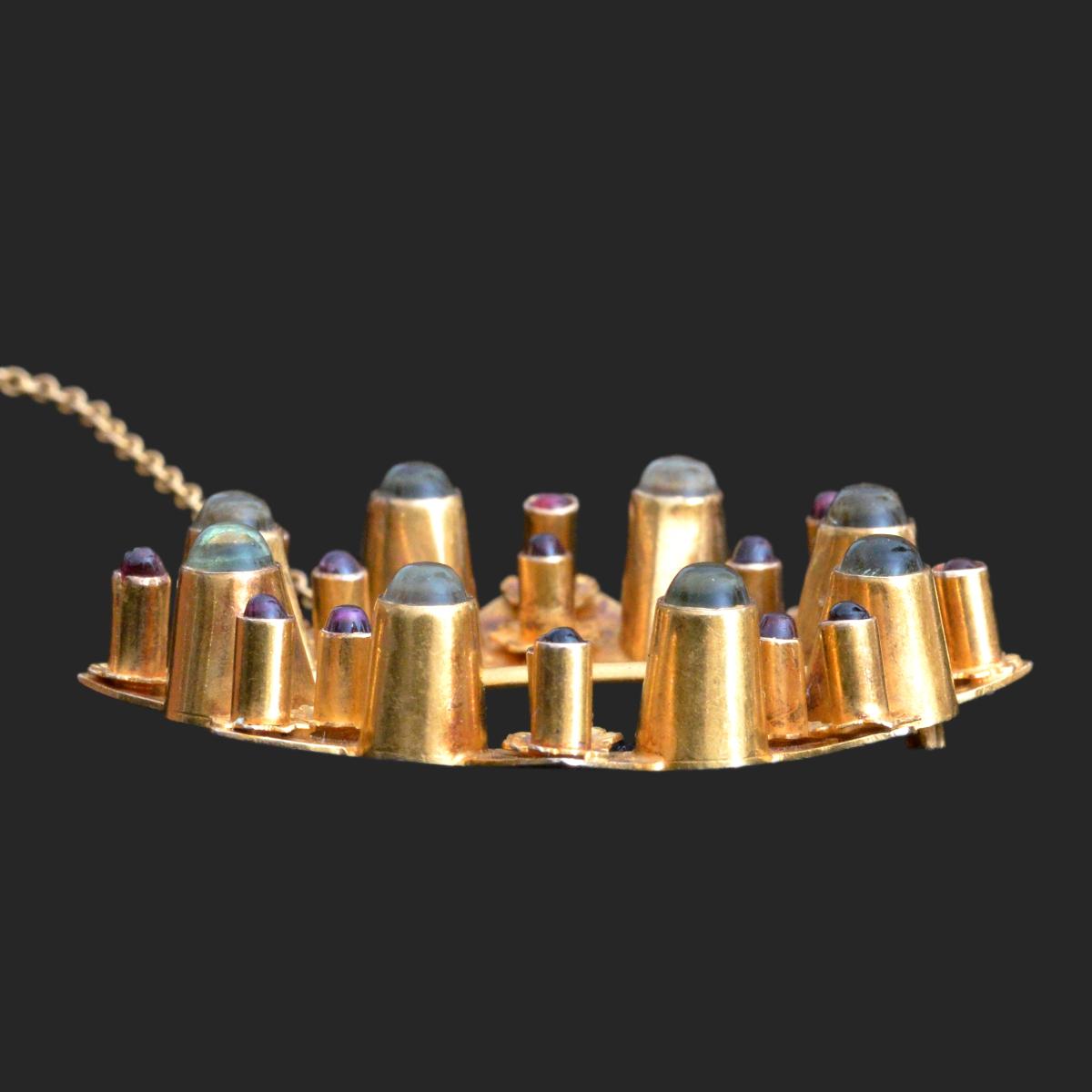 The BADA Standard
Since 1918, BADA has been the leading association for the antiques and fine art trade
Members are elected for their knowledge, integrity and quality of stock
Our clients are protected by BADA's code of conduct
Our dealers' membership is reviewed and renewed annually
Bada.org is a non-profit site: clients deal directly with members and they pay no hidden fees
Click here for more information on the BADA Standard
For sale is this extraordinary gold brooch. At first glance, a piece from the 1970s, at a second glance perhaps a Henry Wilson piece from circa 1900. In fact this is a circa 1869 Scottish Victorian brooch, copying a bronze medieval (I assume Celtic) brooch found in 1868/9 at Culgower on the North Eastern coast of Scotland, some 60 miles north of Inverness.
This brooch has bloomed gold in a flower design incorporating eight larger highly set light green quartz stones, between which sit smaller pairs of amethysts and garnets (I believe), also set highly and placed upon a flower design in applied gold to the base. The brooch has what appears to be its original safety chain and could be worn as a pendant using that loop.
The brooch is made with a high carat gold (assumed 15 or 18 carat) set with amethysts, garnets and foiled quartz, set on high bezels. This style was also used by the likes of Wilson and Cooper in the arts and crafts movement, all inspired by ancient medieval jewels. In this case the brooch is a direct copy of the Culgower brooch, now exhibited in the Dunrobin Museum.
The brooch is marked to the back "Culgower 1869". It is also marked with makers mark RN (twice). This is the mark for Robert Naughten. Robert Naughten (born 1831) was an Inverness silversmith and jeweller, who inherited the business established by his father of the same name. Research by By Dr Sarah Laurenson, Curator of Modern and Contemporary History at National Museums Scotland, has found that Naughten used an intermediary James Campbell, to buy gold from the local Sutherland gold miners from local deposits discovered in 1868, which he used to make historicist pieces like this. See a press advert for Robert Naughten in my "images" from the Inverness Advertiser 1876. Other known Naughten brooches are also sometimes engraved to indicate the source of the gold and stones used. This piece has no such engraving but it may be that the brooch is made from Scottish "Sutherland" gold.
The 1869 date on the brooch may indicate its date of manufacture or the date of the Culgower discovery (though other sources suggest this was 1868). In 1887 Naughten jewellers was acquired and its name changed so it is certain this piece was made between 1869 – 1887.
The Highland Historic Environment Record records that "a bronze brooch was found in 1868 in a cutting at Culgower, 4 m E from the Broch of Kintradwell, while making "the Duke's Railway", part of the Highland line. The brooch, of circular form, has an alternate series of large and small stalked settings projecting from its surface, many of which are now empty. Those still remaining show different colours of glass or paste. This brooch was exhibited at National Museum of Antiquities Edinburgh on Monday June 14th 1882. It is now preserved in Dunrobin Museum".
Asides its fascinating history and remarkably modern design, this is also a beautiful wearable large brooch in excellent condition.
Maker: Robert Naughten
Designer: Robert Naughten, historical copy
Date : 1869-1887
Marks: RN, "Culgower, 1869"
Material: Gold (15 0r 18 carat, not tested)
Condition: Excellent
Size: Diameter 4.75 cm,
Weight: 16 grams, 0.6 oz
The BADA Standard
Since 1918, BADA has been the leading association for the antiques and fine art trade
Members are elected for their knowledge, integrity and quality of stock
Our clients are protected by BADA's code of conduct
Our dealers' membership is reviewed and renewed annually
Bada.org is a non-profit site: clients deal directly with members and they pay no hidden fees
Click here for more information on the BADA Standard