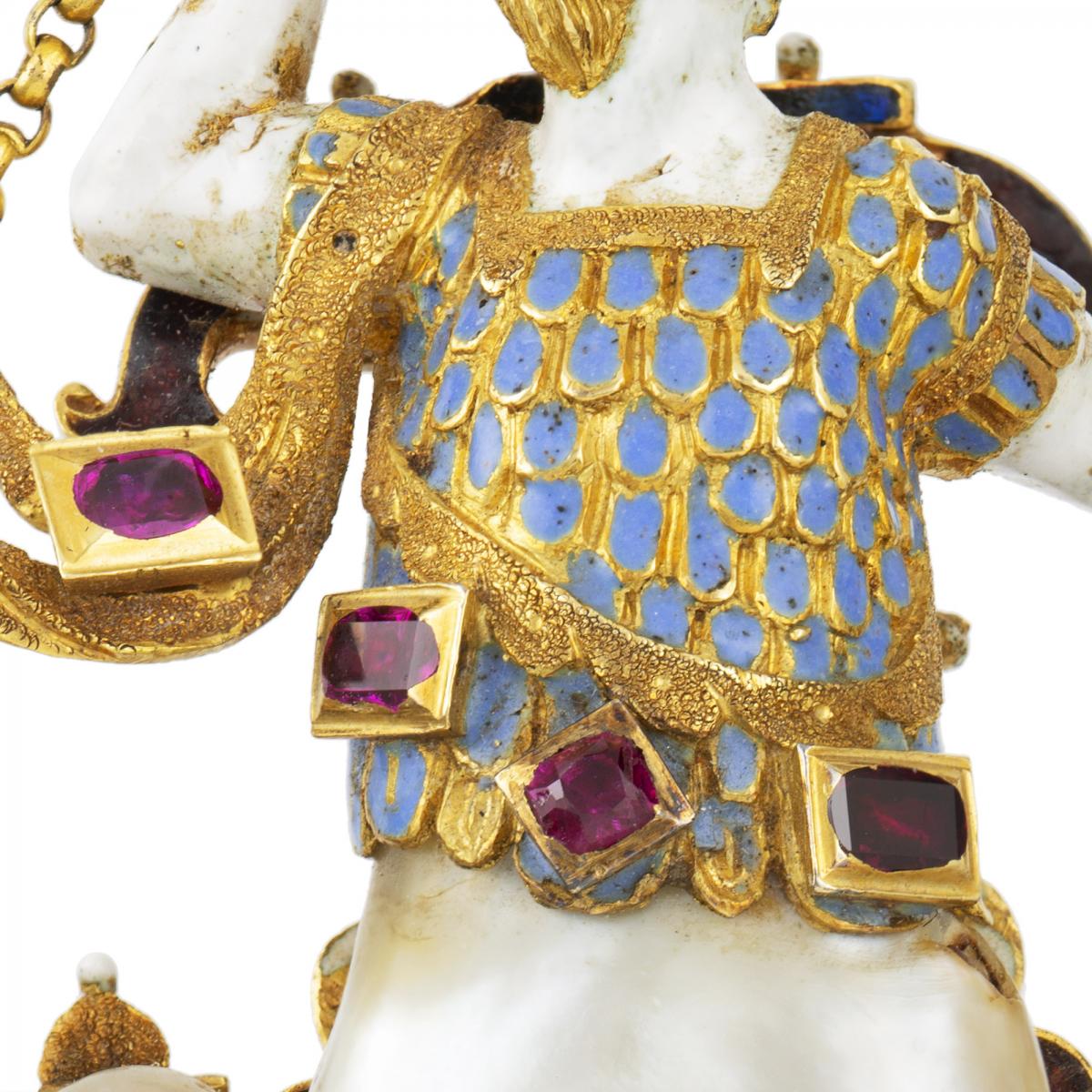 Price on application
The BADA Standard
Since 1918, BADA has been the leading association for the antiques and fine art trade
Members are elected for their knowledge, integrity and quality of stock
Our clients are protected by BADA's code of conduct
Our dealers' membership is reviewed and renewed annually
Bada.org is a non-profit site: clients deal directly with members and they pay no hidden fees
Click here for more information on the BADA Standard
The Gigantas Pendant, an important late 16th century Renaissance baroque pearl, gold and enamelled pendant, with later alterations, depicting one of the Greek gigantes, wearing the ivy wreath of Dionysus and holding the arrow of Apollo in his hand, the lower body formed from one unusually-shaped baroque pearl, the serpent legs decorated with enamel, within a polychrome enamel gold scrolling surround, set with five pearls, with a ruby-set sash, suspended from a fine-link gold chain, with brooch fitting to reverse, all to a finely engraved gold plaque, 9.6cm high, South German, late 16th century, illustrated in "Jewellery, Reference and Price Guide by Michael Poynder, page 99, plate 82, courtesy of Christies.
Additions include two original ruby-set collets upon the sash and one upon the cape which appear to have been taken from the scrolled framework from either side and between the Gigantas's legs and replaced with three pearls secured by gold wire. Two additional pearls appear to have been similarly attached to the outer scrolls of the pendant and one possibly later pearl suspended from its base. The arrow would appear to be a later replacement. The remains of the polychrome enamel on the scroll surround would appear to be original but the Gigantas's gold serpent's legs appear to have been re-enamelled. The brooch fitting is a late 19th century addition.
* For similar examples see the Triton Pendant, Louvre, exhibit no OA 2945, the Nereid and Child Pendant, British Museum, exhibit no WB155 and the Crowned Mermaid Pendant, Museo degli Argenti, Palazzo Pitti, exhibit no 2557. These examples, detailed descriptions of which are appended below, and the Gigantas pendant described here, differ fundamentally from the controversial Canning Jewel acquired by the V&A in 1931, exhibit no M.2697-1931, originally thought to date circa 1580 by Joan Evans, but reassessed in the Catalogue of the Waddesdon Bequest in the British Museum 1986, as a product of the 19th century. Whilst the Canning Jewel is now viewed as a copy of a jewel in the Renaissance style, the other pieces, including the Gigantas Pendant, are recognized as original late 16th century creations, albeit some with later alterations.
The BADA Standard
Since 1918, BADA has been the leading association for the antiques and fine art trade
Members are elected for their knowledge, integrity and quality of stock
Our clients are protected by BADA's code of conduct
Our dealers' membership is reviewed and renewed annually
Bada.org is a non-profit site: clients deal directly with members and they pay no hidden fees
Click here for more information on the BADA Standard