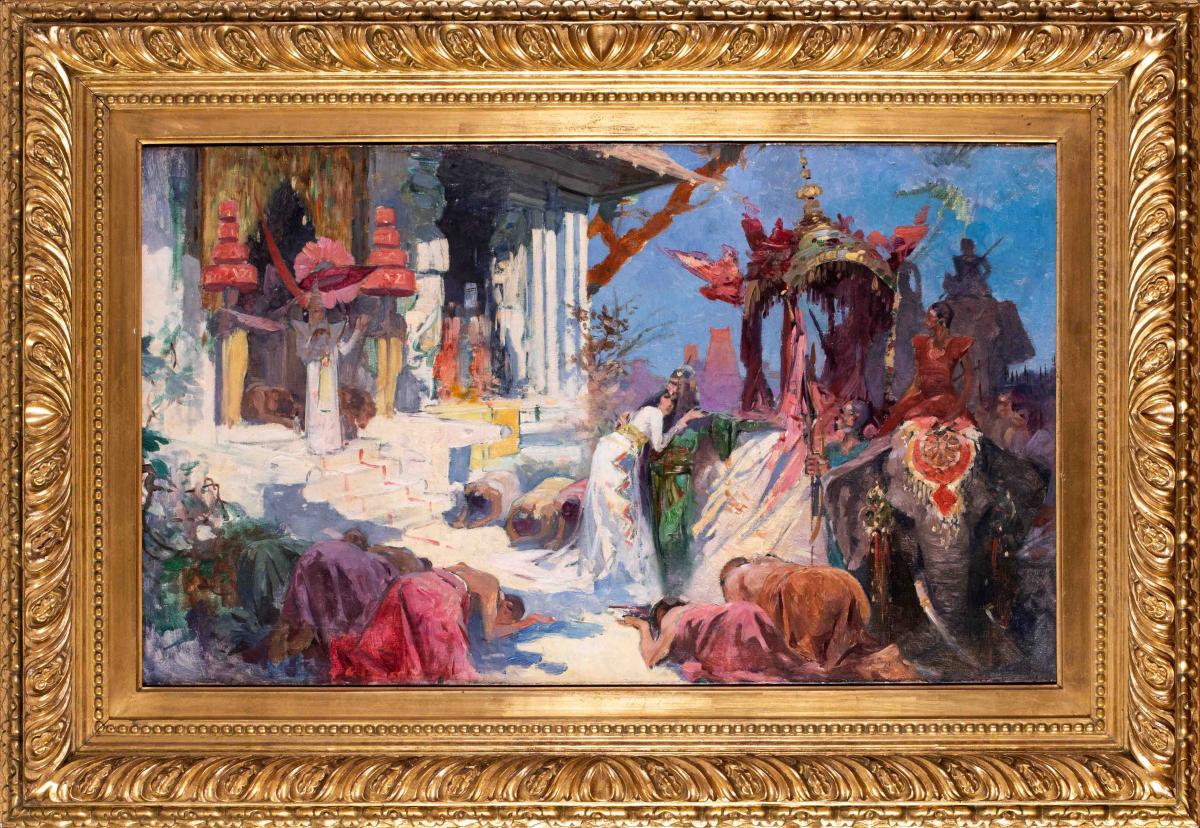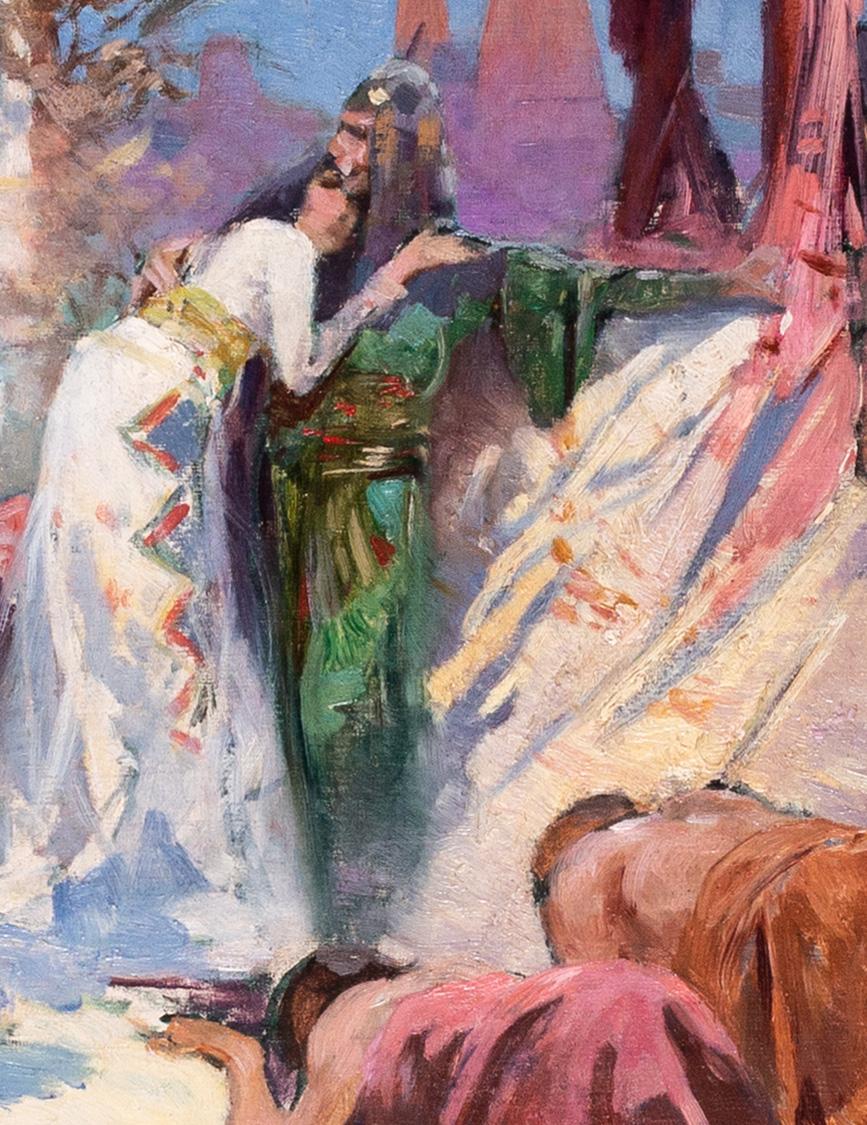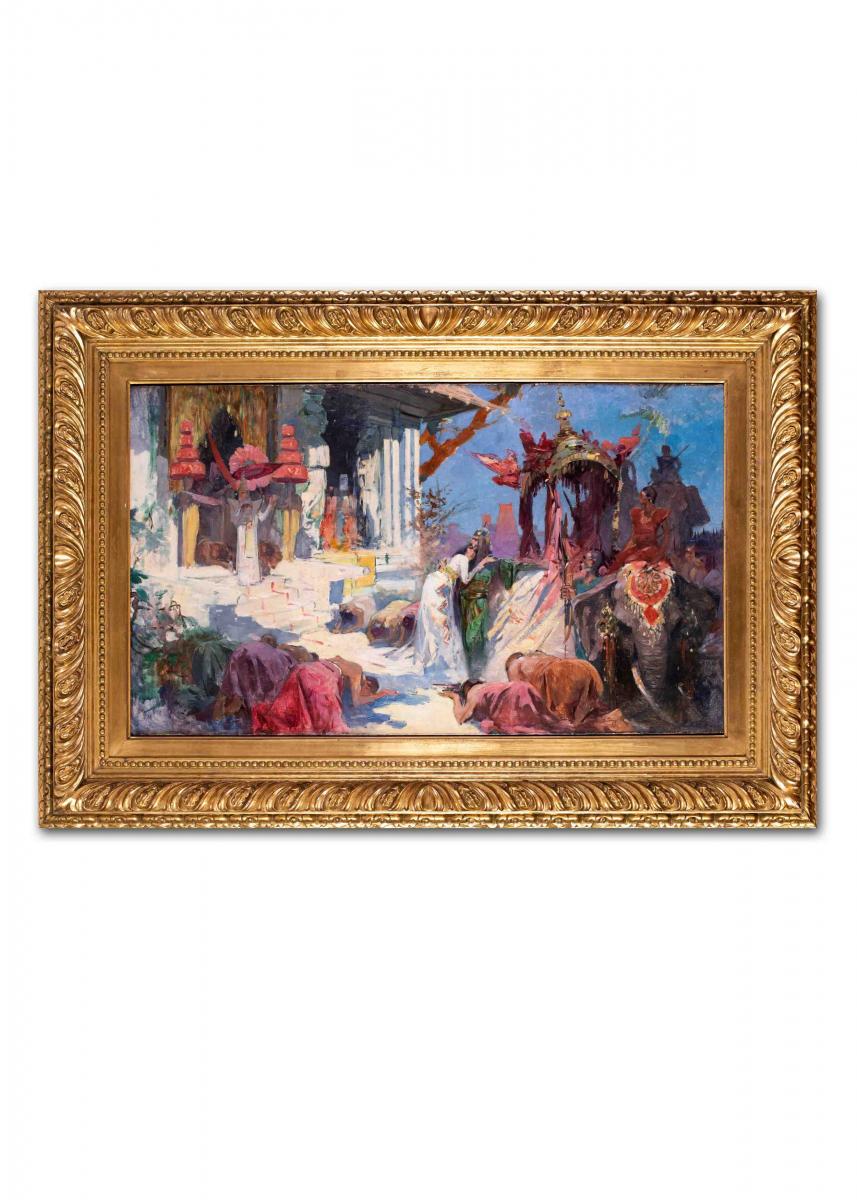 Price
£8000.00
The BADA Standard
Since 1918, BADA has been the leading association for the antiques and fine art trade
Members are elected for their knowledge, integrity and quality of stock
Our clients are protected by BADA's code of conduct
Our dealers' membership is reviewed and renewed annually
Bada.org is a non-profit site: clients deal directly with members and they pay no hidden fees
Click here for more information on the BADA Standard
Georges Antoine Rochegrosse (French, 1859-1938).
A Majestic Reception on the Silk Road.
Oil on canvas.
17.3/4 x 31.1/2 in. (45.2 x 80 cm.).
Abandoned by his father as a child, Georges Rochegrosse was a pupil of Alfred Dehodencq before entering the Académie Julian at the age of twelve, studying with Jules Lefebvre and Gustave Boulanger. He later enrolled in the Ecole des Beaux-Arts, where he was twice a finalist in the competition for the Prix de Rome.
He made his debut at the Salon de la Société des Artistes Français in 1882, winning a third-class medal for his painting of Vitellius Dragged Through the Streets of Rome by the Populace, while at the Salon the following year his painting of Andromache was purchased by the State for the Musée de Rouen.
His earliest exhibited works tended towards scenes from literature, legend and scenes from Egyptian, Roman and Byzantine history, often tinged with violence, seen in such paintings as The Madness of King Nebuchadnezzar and The Death of Caesar, shown at the Salons of 1886 and 1887, respectively.
The 1890s found Rochegrosse working in a more Symbolist vein, exemplified by his large painting The Knight of the Flowers of 1892, inspired by Wagnerian mythology. Nearly four metres long, the painting was first exhibited at the Internationale Kunstaustellung in Munich in 1892 and two years later at the Salon des Artistes Français in Paris, where it was acquired by the State; it is today in the Musée d'Orsay.
In 1898 Rochegrosse decorated the staircase of the Sorbonne with a mural of The Song of the Muses Awakening the Soul, one of several commissions for public decorations that the artist received.
By the turn of the century, however, Rochegrosse had come to be best known as a fashionable painter of Orientalist and mythological subjects, finding inspiration for much of his work in his travels throughout North Africa.
From 1900 onwards he spent the winter months in Algeria, where he maintained a studio in El-Biar, a suburb of Algiers. He also frequently exhibited at the Salon des Artistes Algériens et Orientalistes and the Union Artistique de l'Afrique du Nord.
By the end of the first decade of the 20th century Rochegrosse was seen as one of the leading exponents of Orientalism in France, exhibiting his work at the annual Salons, as well as at the Salon des Peintures Orientalistes Français.
The BADA Standard
Since 1918, BADA has been the leading association for the antiques and fine art trade
Members are elected for their knowledge, integrity and quality of stock
Our clients are protected by BADA's code of conduct
Our dealers' membership is reviewed and renewed annually
Bada.org is a non-profit site: clients deal directly with members and they pay no hidden fees
Click here for more information on the BADA Standard