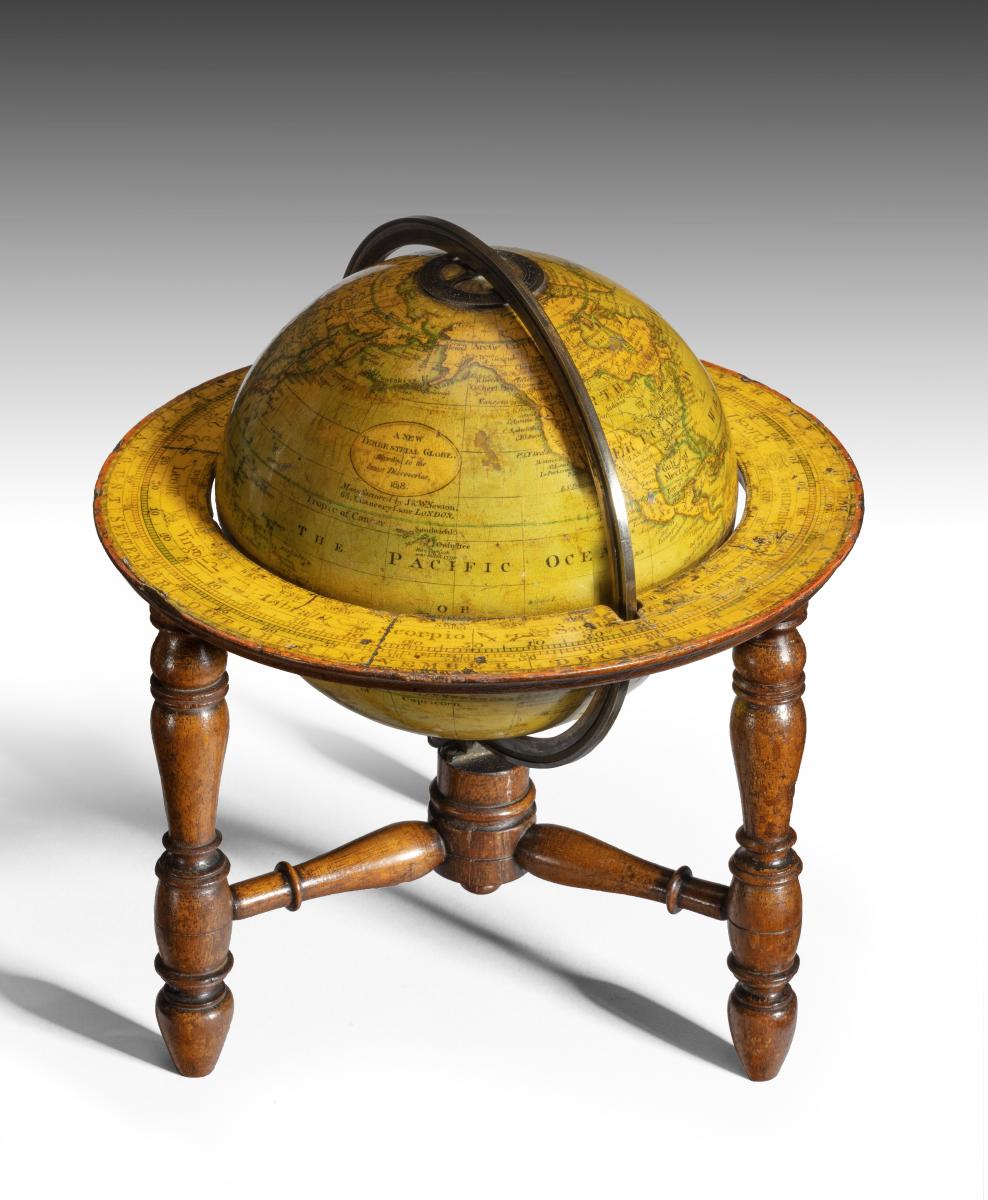 About the dealer
Open Monday-Friday 9.30-1, 2-5.30; Please telephone for weekend and evening opening
About the object
ENGLAND, 1818
With coloured printed paper gores. The sphere is mounted within an inscribed gilt brass meridian ring which is joined to the sphere at both poles with brass hour circles. The red-rimmed and paper-covered horizon ring inscribed 'Newton / Chancery Lane'. Raised on a mahogany stand with three ring-turned mahogany legs tied by stretchers to a central support for the meridian ring. The globe, dated 1818, represented the most up-to-date geographical findings at the time.
With the cartouche: 'Manufactured by J&W Newton, 66, Chancery Lane, LONDON'; and 'A NEW TERRESTRIAL GLOBE according to latest Discoveries 1818.'
The Science Museum Group Collection has a Handbill advertising Newton's Globes in its collection (Object Number: 1985-1132/1; https://collection.sciencemuseumgroup.org.uk/objects/co8019861/handbill-newtons-globes-printed-ephemera-handbill – see image below). Dated 1818-1830, this leaflet shows the different types of globe which the firm produced. This globe is identified as No.1 in the bottom right hand corner of the handbill – the mahogany globe which came in five different diameters: six inches; nine inches; twelve inches; fifteen inches and twenty inches (see lower image below).
Handbill: Newton's Globes, 1818-30; Science Museum Group Collection; © The Board of Trustees of the Science Museum; Object Number: 1985-1132/1
A larger terrestial globe, also by Newton and mounted on a mahogany table stand, is in the collection of the National Trust and is on display at Snowshill Manor (NT 1338250; http://www.nationaltrustcollections.org.uk/object/1338250 – see image below). The date of this globe is unknown, but the cartouche reads: 'Newton's new and improved terrestial globe – Navigators and Travellers, 66 Chancery Lane'. The National Trust website also notes that, in notebook no.5, page 66 (1340945.5) Charles Wade refers to: 'Mermaid no. 39 Newton's New & Improved Terrestrial Globe on mahogany table stand 1′ 8″ dia.'
Terrestrial globe by Newton; National Trust – NT 1338250
J.&W. Newton: The Newton family of cartographers were among the leading English globe makers of the early 19th Century, producing floor standing, table, and pocket globes under various names. John Newton (1759-1844) founded his own firm in 1780. Newton had trained under Thomas Bateman (fl.1754-1781) who had been taught the art of globe making by Nathaniel Hill. Newton's first globe was a revised edition of Nathaniel Hill's 1754 pocket globe, which he published in 1783 in association with William Palmer. The partnership dissolved shortly after, and Newton continued to publish the pocket globe under his own name. Between 1814-1816 John's second son, William Newton (1786-1861), joined the firm which traded under the name 'J.& W. Newton'. In the same year the firm produced a new series of globes, including a new pocket globe. By the 1830s the firm was also a patent agent, and from 1831 to 1841 a civil engineer called Miles Berry was a partner in the firm, during which time the company was known as 'Newton, Son & Berry'. After 1841, ownership passed to William Newton's eldest son William Edward Newton (1818-1879) and traded as 'Newton and Son' from premises at 66 Chancery Lane.
Dimensions
Width: 21.5cm; Height: 25.5cm; Depth: 21.5cm