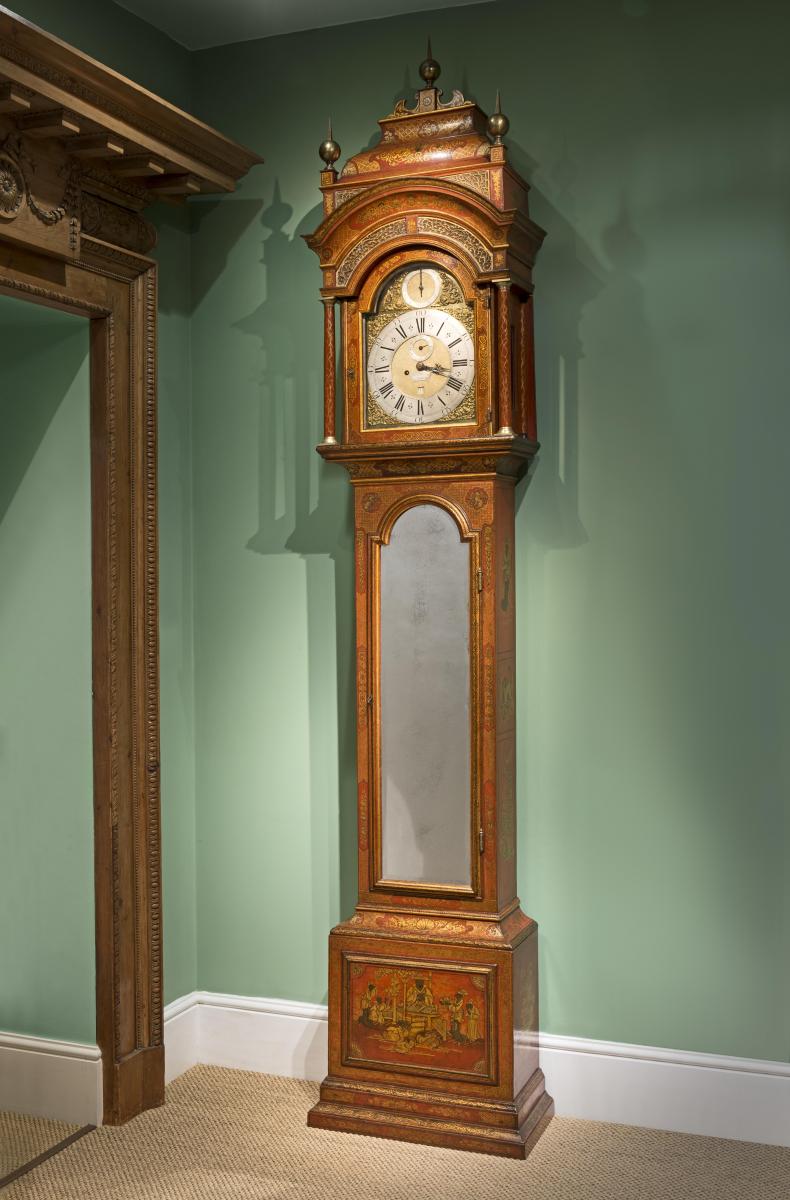 Price on application
The BADA Standard
Since 1918, BADA has been the leading association for the antiques and fine art trade
Members are elected for their knowledge, integrity and quality of stock
Our clients are protected by BADA's code of conduct
Our dealers' membership is reviewed and renewed annually
Bada.org is a non-profit site: clients deal directly with members and they pay no hidden fees
Click here for more information on the BADA Standard
An exceptionally rare and magnificent early 18th century red lacquer barometer by Giles Grendey, with works by David Lesturgeon. The distinctive long case clock shape, having a clock hood top with brass ball; spiked finials and glazed arched dial revealing a highly engraved arched backplate with floral design and dolphins; the arch containing a silvered ……… with a finely textured centre and blue-steel hand. The central portion of the plate containing a silvered Roman and Arabic dial with half-quarter markers; an outer minute track, enclosing a finely textured centre with blue-steel hands. The magnificent lacquered case decorated with fine floral strapwork, chinoiserie figures surrounded by gilt chinoiseries of flowers and foliage, exotic birds and mystical animals, shells and fretwork. The barometer terminates in a stepped moulded base.
Provenance:
Sonanes Palace built in 1715-1720
Built by Juan Antonio Diaz de Arce y Perez del Camino who had a long diplomatic career under the reign of Felipe V. He served in Naples, in Rome as agent and Attorney General, during the war of the Spanish Succession; in the Kingdom of Arogan as Mayor General, General Superintendent of the army of Aragon and Mayor of Zaragoza; and in various other places and positions until his death in 1736. He was also a Knight of Santiago and a member of Her Majesty's Council.
By descent to Senores del Palacio de Villacarriedo y Caballeros de la Orden de Santiago and now a luxury hotel.
David Lesturgeon
Was born in Rouen in 1660 and came to London as a Hugenot refugee in 1681. Became a member of the clockmakers Company in 1698 and died in 1731. Works by him are in the British Museum and the Metropolitan Museum.
Giles Grendey (1693 – 1780)
Giles Grendey was born in Gloucestershire in 1693 and, in 1708/9 he was apprenticed to William Sherborne in London. Grendey completed his apprenticeship in 1716 and became a freeman. By 1726 he was taking on his own apprentices and was recognised as the most accomplished English cabinetmaker incorporating 'japanned' decoration.
Grendy's workshop was in Aylesbury House, St. John's Square, Clerkenwell from where he carried on a considerable export trade. He labelled some of his products and one of his surviving labels advertised that he: 'MAKES and Sells all Sorts of CABINET GOODS, Chairs, Tables, Glasses, etc.'. Newspaper accounts from 1731 indicate the status which Grendey had achieved, as it was recorded that, early in the morning on 3rd August 1731, his workshop had a fire, which destroyed furniture to the value of £1,000 which he: 'had pack'd for Exportation against the next morning'. Fortunately, both his premises and his stock were insured, but this record underlines the importance of the export market for his business: notably in Spain; in Italy (for the King of Naples); and in Portugal. Grendey was appointed Upper Warden of the Joiners' Company in 1747 and its Master in 1766. During his career, Grendey supplied
furniture to: Richard Hoare of Barn Elms; Sir Jacob de Bouverie of Longford Castle; Lord Scarsdale at Kedleston Hall; and Henry Hoare at Stourhead. In 1755 Grendey's daughter, Sukey, married John Cobb, a cabinet maker who partnered with William Vile and was granted a court appointment as cabinet-maker to George III. On his wife's death in 1740,
Grendey was described as: 'a great Dealer in the Cabinet Way' (see 'London Evening Post', 9 August 1790). Grendey's most celebrated export order was for the suite of items of furniture with scarlet japanning which were supplied to Juan de Dios de Silva y Mendoza y Haro, the 10th Duke of the Infantado for his castle at Lazcano. He was one of the wealthiest men of his time. The exotic Chinese red decoration of this desk relates it closely to the celebrated Lazcano Suite of furniture, consisting of at least seventy-seven pieces of furniture commissioned from Giles Grendey, making it the largest recorded suite of 18th century English furniture. A large number of items from this suite are now in important international collections including the Victoria & Albert Museum; the Metropolitan Museum of Art, New York; and the National Gallery of Victoria, Australia.
Dimensions
59 x 28 x 285 high
The BADA Standard
Since 1918, BADA has been the leading association for the antiques and fine art trade
Members are elected for their knowledge, integrity and quality of stock
Our clients are protected by BADA's code of conduct
Our dealers' membership is reviewed and renewed annually
Bada.org is a non-profit site: clients deal directly with members and they pay no hidden fees
Click here for more information on the BADA Standard