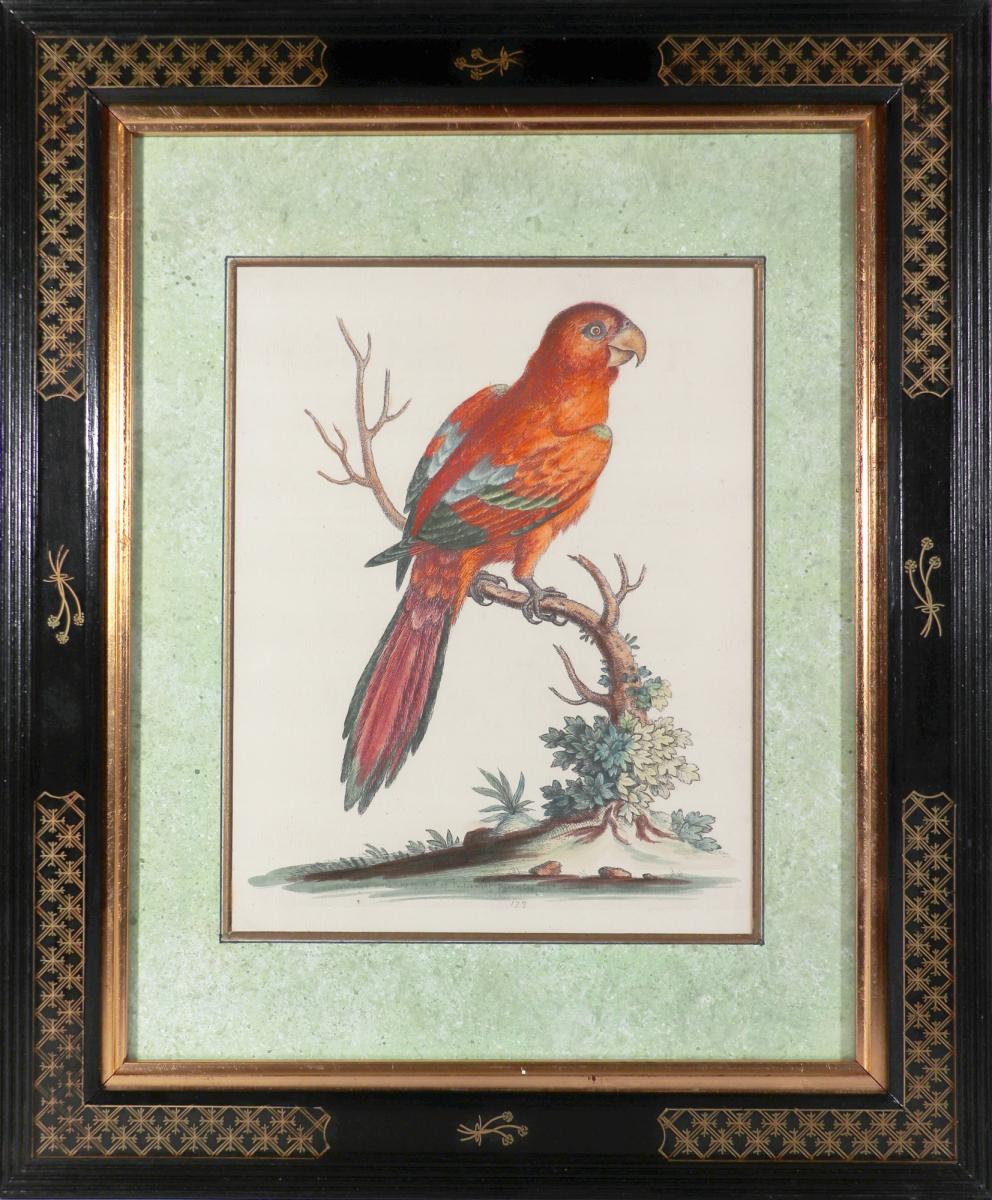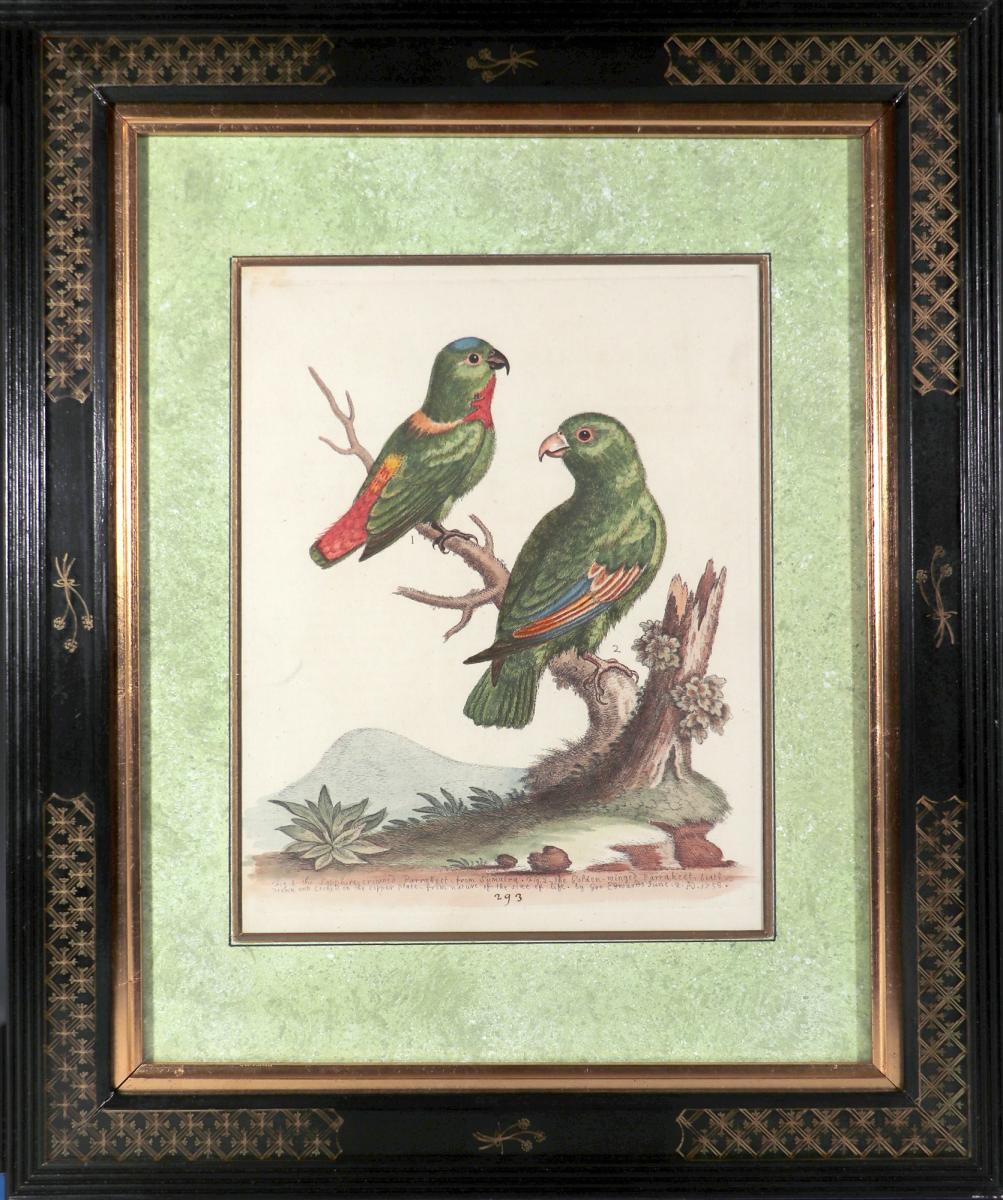 Price
£22500.00
The BADA Standard
Since 1918, BADA has been the leading association for the antiques and fine art trade
Members are elected for their knowledge, integrity and quality of stock
Our clients are protected by BADA's code of conduct
Our dealers' membership is reviewed and renewed annually
Bada.org is a non-profit site: clients deal directly with members and they pay no hidden fees
Click here for more information on the BADA Standard
George Edwards Set of Twelve Parrot Engravings with Chinoiserie Frames,
Natural History of Birds,
Engraved by Georg Dionysius Ehret,
Mid-18th Century.
A fine set of twelve George Edwards Engravings of parrots within black chinoiserie frames. These engraving are from the early part of the work and were engraved by Georg Dionysius Ehret considered one of the greatest engravers of the 18th century.
The plates are numbered 171, 172, 173, 230, 231, 232, 233, 235, 236, 237, 293 & 314. Most prints are named, dated & signed in the plate by the hand of Edwards himself
Dimensions: Frame: 17 3/16 inches high x 14 1/4 inches wide, (43.66cm high x 36.20cm wide)
Reference:
Natural History of Uncommon Birds (1743-1751) by George Edwards with 362 plates in all, with 318 of birds & the balance of various mammals, fish & insects. It was heralded as the most important of all Bird Books, both from an artistic and an ornithological perspective, and time has certainly not dimmed either its luster or appeal.
George Edwards was an English draughtsman and a skilled observer of birds and one of the most prominent ornithologists of his day. He worked as Librarian to the Royal College of Physicians, where he was later elected a fellow, and was honored with the Gold Medal of the Royal Society. As the Librarian to the Royal College of Physicians, he oversaw a library of 8,000 volumes. The small honorarium he received for this post liberated him to pursue his ornithological studies and drawings. He died in West Ham, which was also his birthplace, in 1773.
Natural History was illustrated for the first time with many foreign species often drawn from live specimens held in captivity in London. Edwards etched his own plates and then hand-colored several copies before supervising others in the coloring. The result is a work of superb skill and breathtaking color that remains ever-popular and is now increasingly rare. Such was the impact of Natural History and Gleanings, that Edwards is considered to have almost single-handedly popularized the art of bird and animal illustration, and is thus known as "The Father of British Ornithology."
(Ref: NY10248-nnmrr)
Dimensions
43.66cm high x 36.20cm wide
The BADA Standard
Since 1918, BADA has been the leading association for the antiques and fine art trade
Members are elected for their knowledge, integrity and quality of stock
Our clients are protected by BADA's code of conduct
Our dealers' membership is reviewed and renewed annually
Bada.org is a non-profit site: clients deal directly with members and they pay no hidden fees
Click here for more information on the BADA Standard