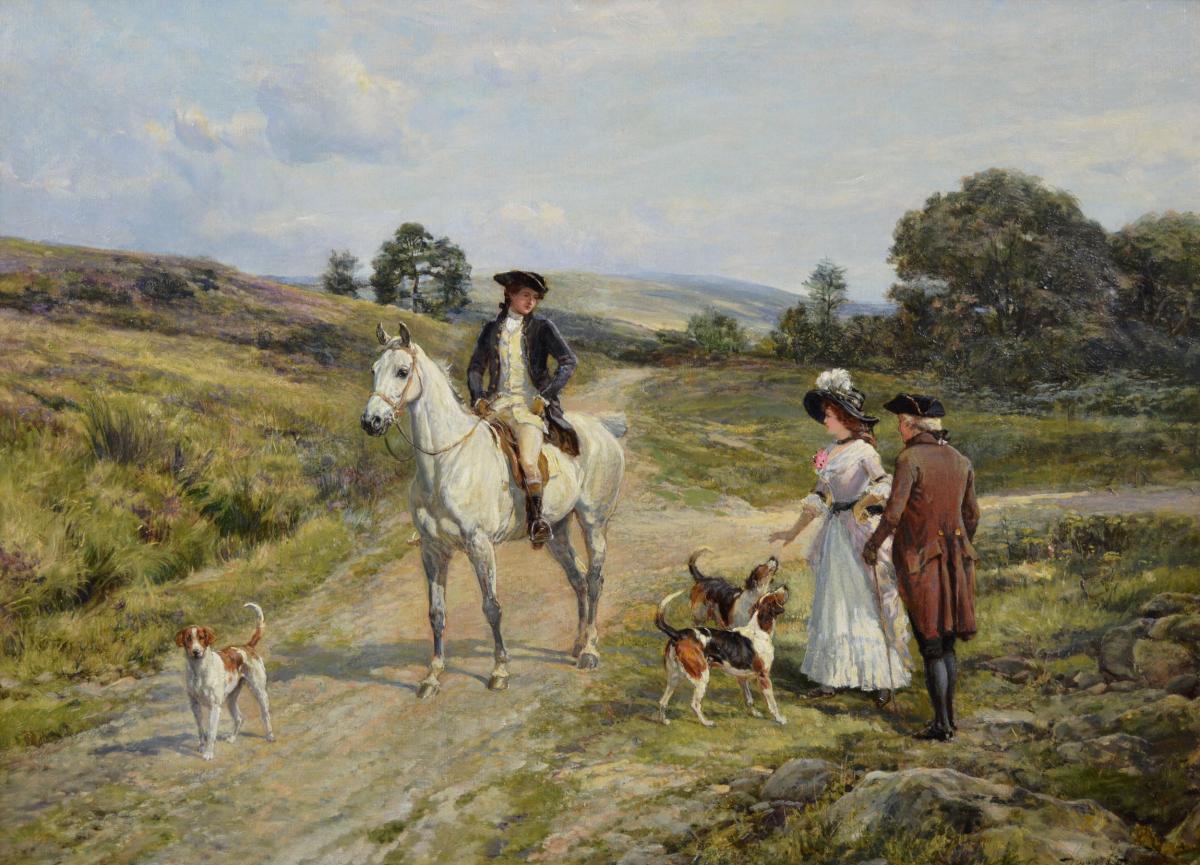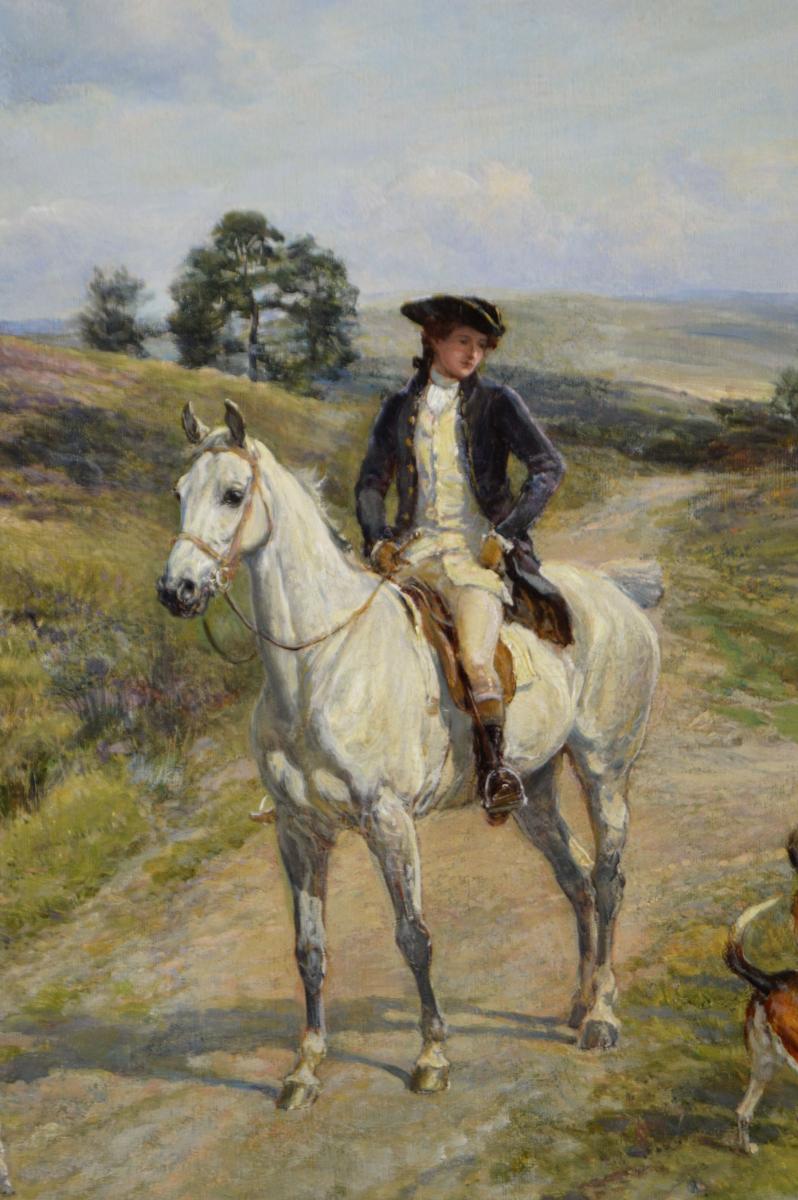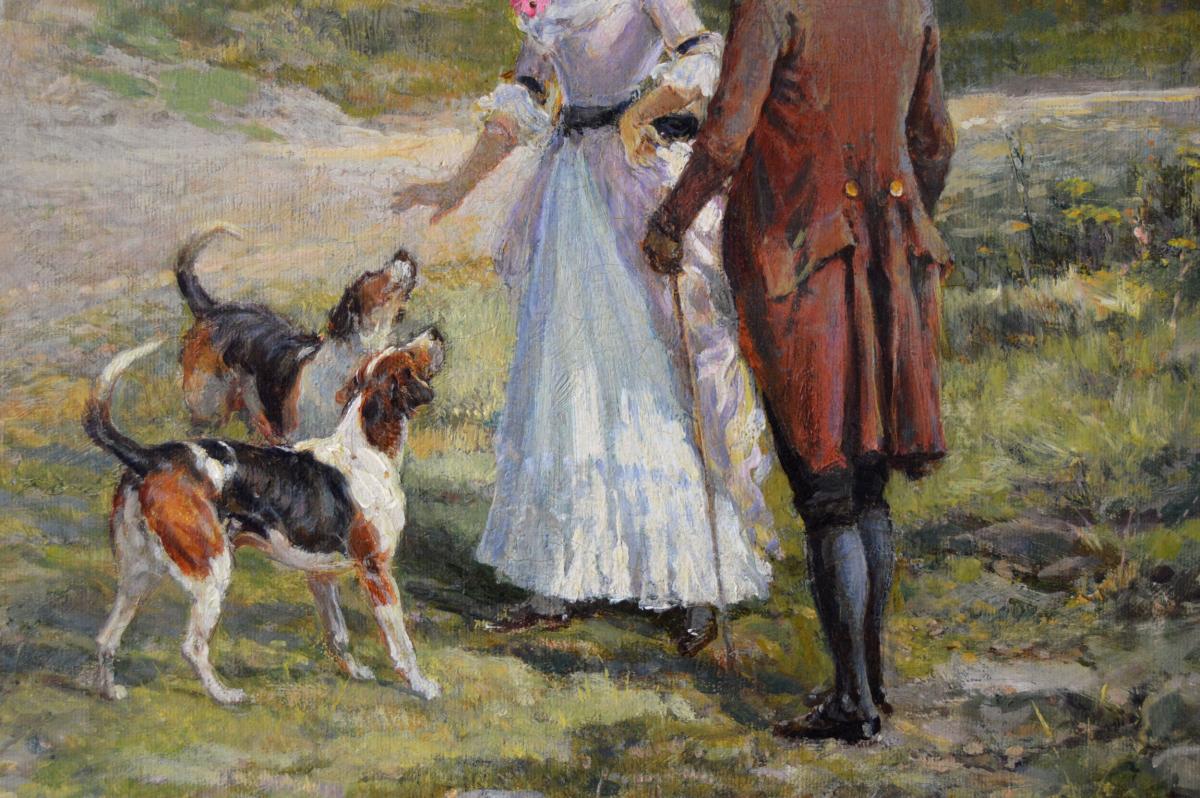 Price
£15700.00
The BADA Standard
Since 1918, BADA has been the leading association for the antiques and fine art trade
Members are elected for their knowledge, integrity and quality of stock
Our clients are protected by BADA's code of conduct
Our dealers' membership is reviewed and renewed annually
Bada.org is a non-profit site: clients deal directly with members and they pay no hidden fees
Click here for more information on the BADA Standard
Heywood Hardy
British, (1842-1933)
A Wayside Chat
Oil on canvas, signed

A wonderful painting of a lady and gentleman greeting a horseback rider on a country track by Heywood Hardy. Two of the dogs approach the young woman as the older man looks on.
Heywood Hardy was born into an artistic family in Chichester, Sussex on the 25 November, 1842 to the portrait and genre painter James Hardy Snr (1801-1879) and his wife Elizabeth. His cousins Frederick Daniel Hardy (1827–1911) and George Hardy (1822-1909) were artists and his brothers James Hardy Jnr (1832-1889) and David Hardy (1838-1870) and his sister Ada Hardy also became artists. By 1851, his family had moved to Bath and lived at 30 Henrietta Street where his father worked as a drawing master. It is highly likely that Hardy and his siblings received tuition from his father as their style and subject matter are similar. Hardy soon began to specialise in genre subjects featuring animals and horses and by the age of 19, had left Somerset to seek his fortune as an artist. He began exhibiting at the Royal Academy in 1864. Later in the same year he left for Paris to study at the École des Beaux-Arts in Paris under Isidore Pils.
After returning to England, he married Mary Beechey the daughter of Admiral William Beechey and granddaughter of the artist Sir William Beechey on 30 June, 1868 at Paddington, London. Together they lived at 42 Grove End Road in the St John's Wood area with their children. Two of his daughters, Nina Hardy (1869-1949) and Mabel F. Hardy (1874-1971), inherited the family talent and became artists. During the 1870's he continued to develop his knowledge of animals and in 1873 travelled to Egypt to paint wildlife, visiting Rome, Naples and Florence on the return journey. He studied animal anatomy with Professor Alfred Henry Garrod at London Zoo, who was also researching the horse gait and produced illustrations for his research. He was a founder member of the Royal Society of Painters and Etchers and the Royal Society of Portrait Painters and was elected a member of the Royal Institute of Oil Painters and associate at the Royal Watercolour Society. He also exhibited at the British Institution and Suffolk Street.
In his later years he began to specialise more in horse and horse riding subjects and spent his time travelling around working on commissions for wealthy landowners. He also inherited a musical talent from his father who was also accomplished musician as well as an artist. He would often play the mandolin and guitar and would also sing whilst staying at the homes of people who commissioned him to paint.
In 1909, he moved to East Preston in West Sussex where he was commissioned to paint a series of biblical scenes for St Mary's Church at Clymping and an altarpiece for St Luke's Church, Gosport. He remained in Sussex until his death in 1933.
Examples of his paintings are held in many public collections including the Bury Museum, Laing Art Gallery, Manchester Art Gallery, Philadelphia Museum of Art, Russell-Cotes Art Gallery, Sheffield Museum, Stirling Smith Art Gallery and the Towneley Hall & Art Gallery.

Presentation: The painting is housed in a new, English made gilt frame which is in excellent condition.
Condition: As with all of our original antique oil paintings, this work is offered in ready to hang gallery condition, having been professionally cleaned, restored and revarnished.
© Benton Fine Art
Dimensions
Image Size: 20.75 inches x 28.75 inches (53cm x 73cm) / Framed Size: 26.75 inches x 34.75 inches (68cm x 88.5cm)
The BADA Standard
Since 1918, BADA has been the leading association for the antiques and fine art trade
Members are elected for their knowledge, integrity and quality of stock
Our clients are protected by BADA's code of conduct
Our dealers' membership is reviewed and renewed annually
Bada.org is a non-profit site: clients deal directly with members and they pay no hidden fees
Click here for more information on the BADA Standard