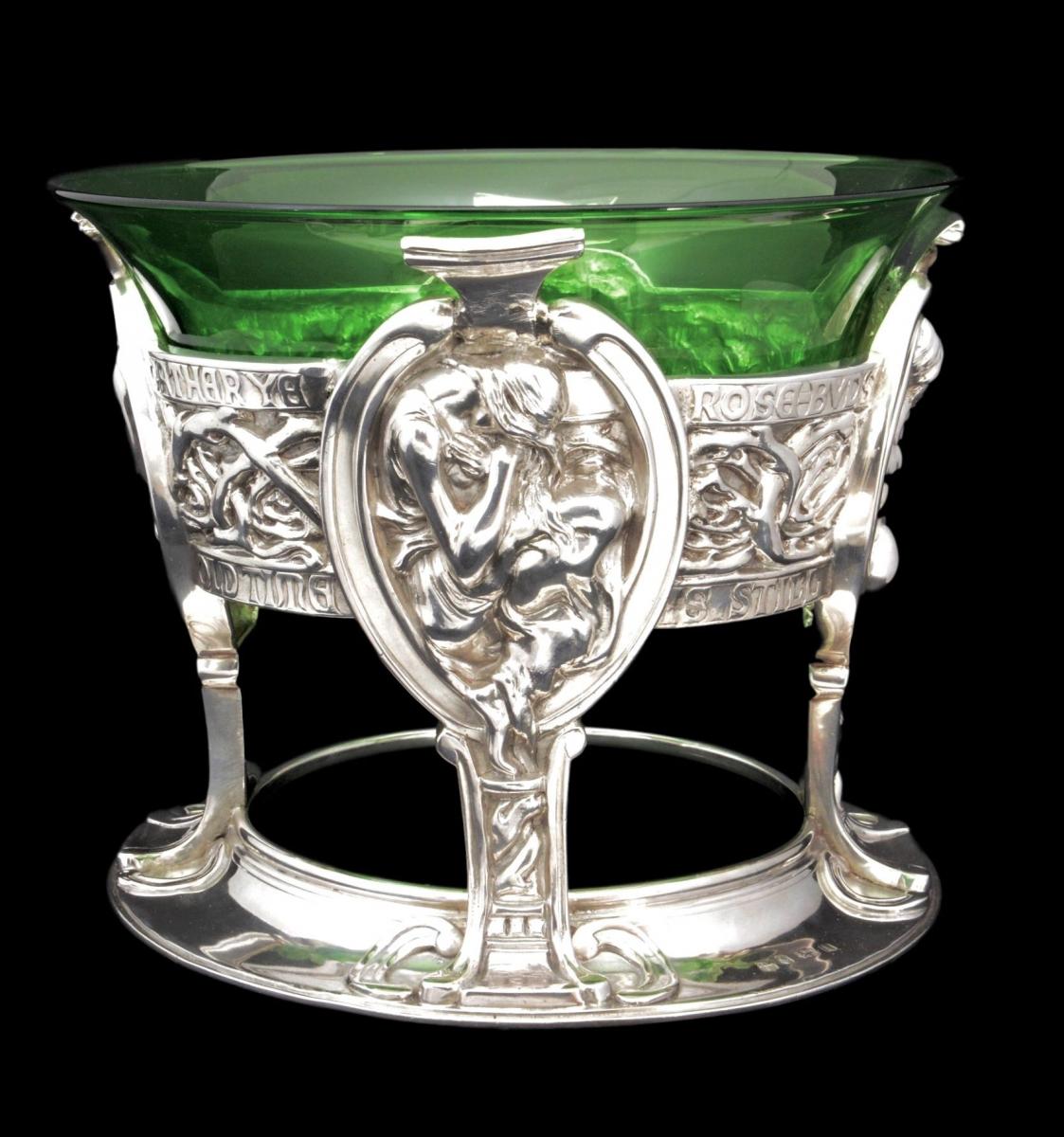 About the dealer
Open by appointment and at fairs
About the object
For sale is this sculptural centre piece by Florence Harriet Steele, dated 1908. The design was exhibited at the New Gallery Summer Exhibition, 1908 (with a silver or metal liner) and published in the Studio, Volume 44, issue 183 page 56, see images.
The Studio described Steele's work at the Exhibition as follows: "Perhaps the most graceful figure work is that of Miss Florence Steele on vases, cups and caskets, showing strength, knowledge, and a definite tenderness of feeling. The way in which the given spaces are filled show her to be a designer of skill".
The bowls inscription reads "Gather ye rosebuds while ye may – old time is still a flying", from the famous 17th century poem by Robert Herrick. See link for more details.
The bowl is well cast and modelled and of a very heavy gauge of silver. It is fully hallmarked for Birmingham 1908, David and Maurice Davis. They described themselves as "Artistic Jewellers" and almost certainly acquired the centrepiece from Steele for resale.
The centrepiece is inscribed discretely to the underside of the base "From Alfred Hickman to his first grandson, Alfred Charles Simonds, February 2nd 1910". Sir Alfred Hickman was a leading industrialist, his first great grandson was borne to his eldest son Alfred's younger daughter, Evelyn, who married Charles Francis Simonds in 1907.
See "additional information" below for more detail on Steele. In her day she was a highly regarded sculptress, medallist and metalworker.
Dimensions
15 cm high, diameter 19cm, exc glass
Weight
1373 grams, 48.3 oz (silver only)
Condition report
Replacement glass