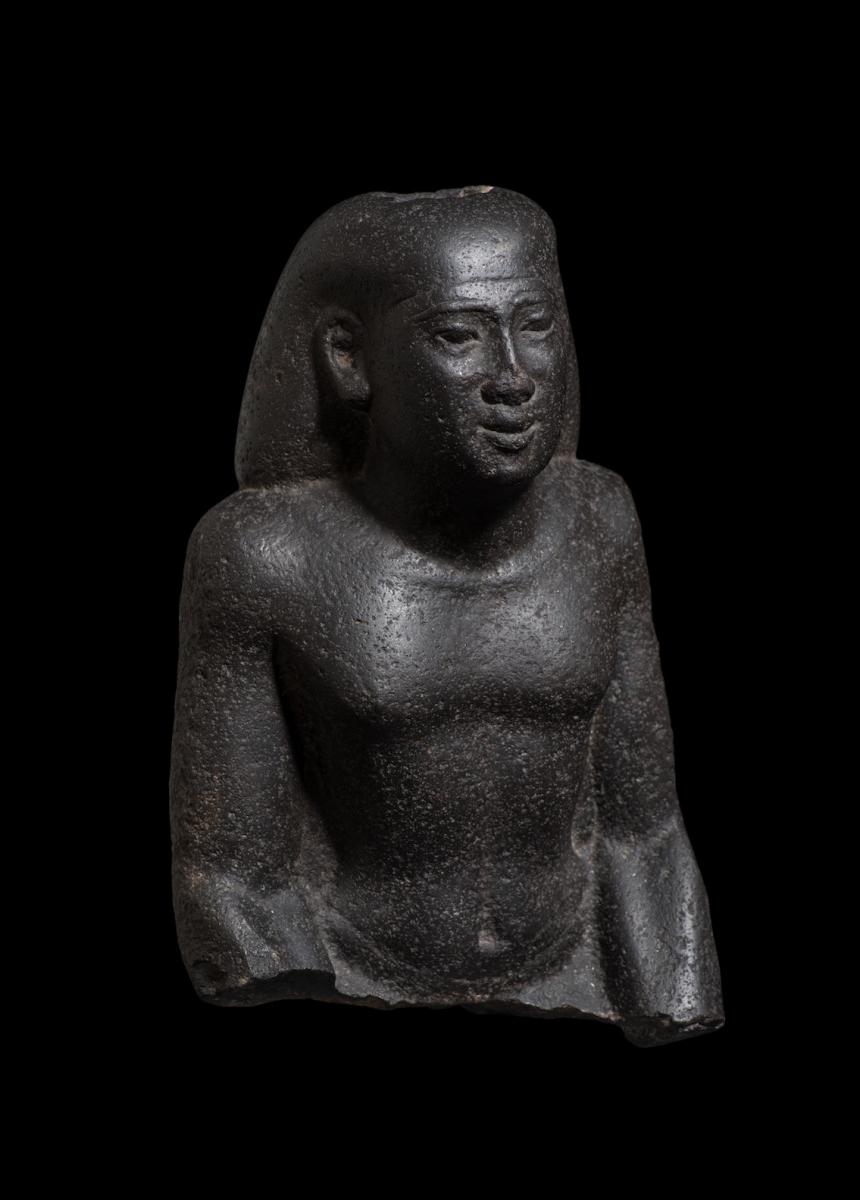 Price on application
The BADA Standard
Since 1918, BADA has been the leading association for the antiques and fine art trade
Members are elected for their knowledge, integrity and quality of stock
Our clients are protected by BADA's code of conduct
Our dealers' membership is reviewed and renewed annually
Bada.org is a non-profit site: clients deal directly with members and they pay no hidden fees
Click here for more information on the BADA Standard
Egyptian Bust of Djed-Hor-Iuf-Ankh
Late Dynatic Peroiod, 26th Dynasty
Circa 664-525 BC
Basalt
The head and torso from a kneeling statue. The belt and top of the kilt visible, his bare chest showing a pronounced collar bone. He wears a rounded shoulder-length bag wig pulled tightly across the forehead. His strong oval face is idealised, with long eyebrows, cosmetic lines to the eyes, his lips pursed in a delicate smile.
The bent elbows and the subtle fold in the kilt indicate that the figure was kneeling, his hands on his thighs. The top of the head has a conical depression, created later for a secondary use. A fragment, without restoration, a break on the outer edge of the left arm, the right arm pitted.

The back pillar has two columns of inscription reading: "A Royal Offering Formula (to) Osiris Foremost of the West(?), Lord of Abydos(?): Invocation-Offerings of... and milk...[Anubis, Lord of the] Sacred [Land (i.e. cemetery)], for(?) the Venerated One before...Djed-Hor- iuf-ankh son of(?) the wab-priest(?) of Neith."
The kneeling pose was adopted when offering salutations and prayers to the gods.
Provenance
Joseph Brummer (1883-1947), New York, USA
Private collection, Germany
Literature
Compare Mogens Jørgensen, Ny Carlsberg Glyptotek: Catalogue Egypt IV (Copenhagen, 2009), pp.102-103, no.31
Publications
Kunsthaus Lempertz, Cologne, Germany, Auktion 555, 24th-27th November 1976, lot 1946
Photograph in the archive of Joseph Brummer (1883-1947), held at the Metropolitan Museum since 1980
The BADA Standard
Since 1918, BADA has been the leading association for the antiques and fine art trade
Members are elected for their knowledge, integrity and quality of stock
Our clients are protected by BADA's code of conduct
Our dealers' membership is reviewed and renewed annually
Bada.org is a non-profit site: clients deal directly with members and they pay no hidden fees
Click here for more information on the BADA Standard