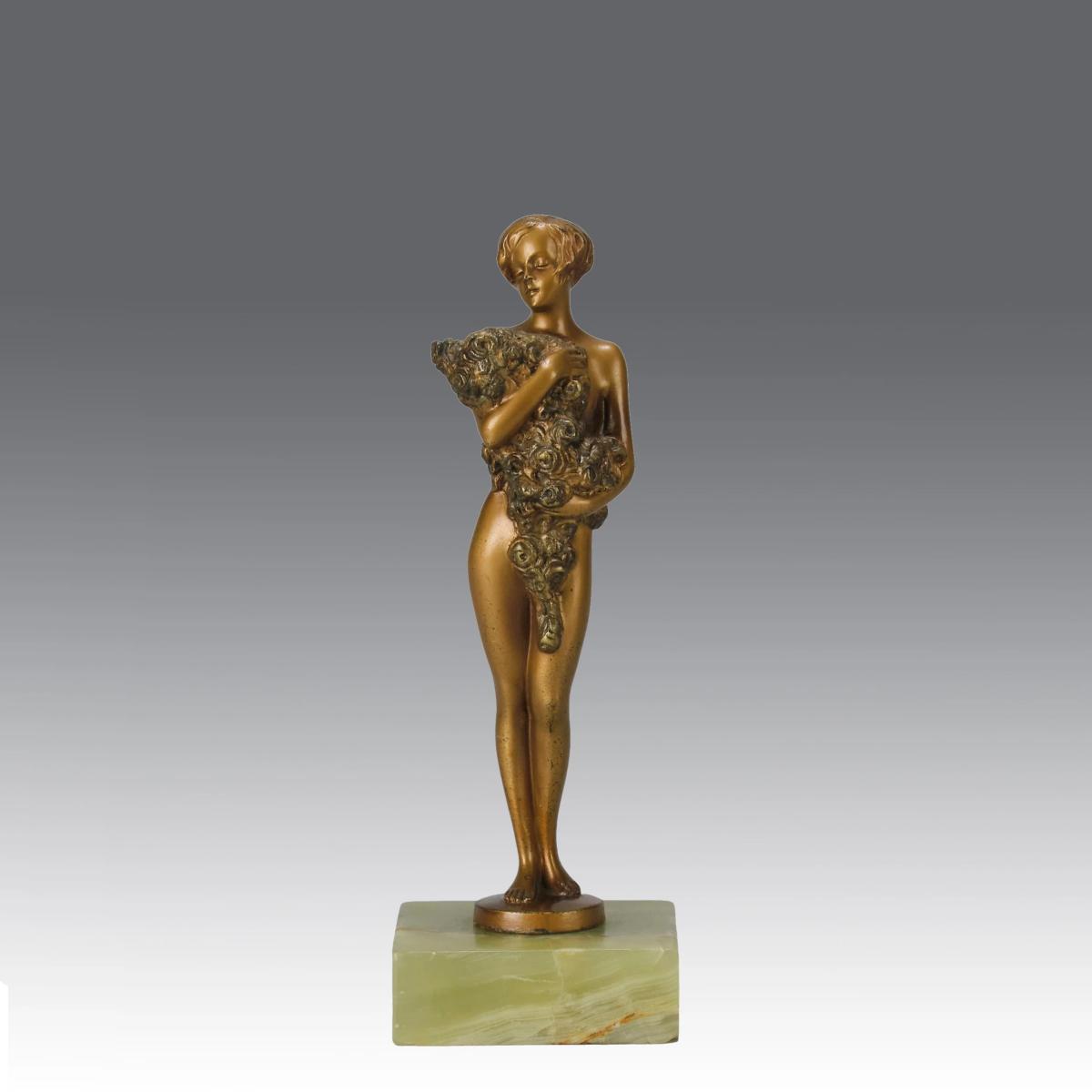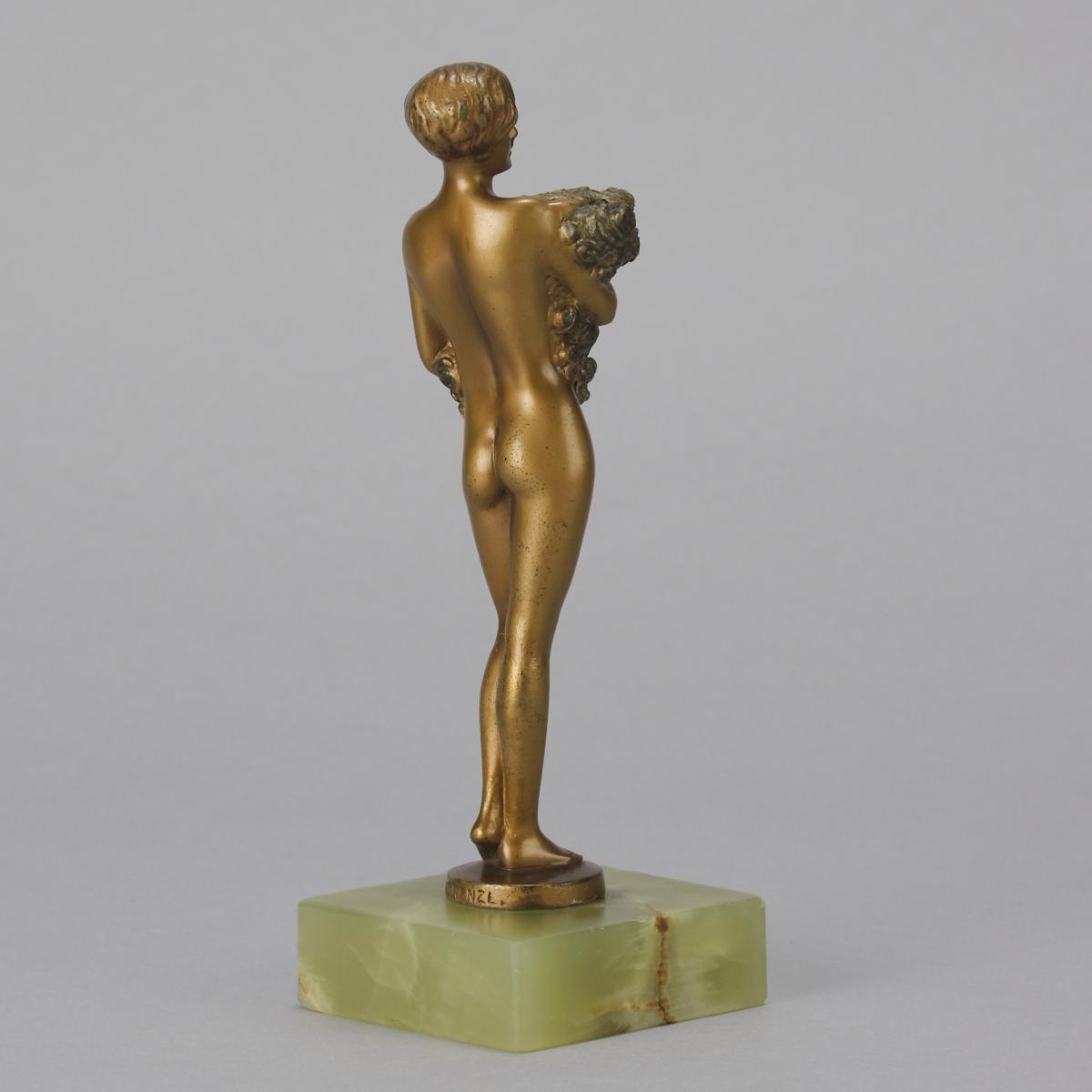 Price
£2250.00
The BADA Standard
Since 1918, BADA has been the leading association for the antiques and fine art trade
Members are elected for their knowledge, integrity and quality of stock
Our clients are protected by BADA's code of conduct
Our dealers' membership is reviewed and renewed annually
Bada.org is a non-profit site: clients deal directly with members and they pay no hidden fees
Click here for more information on the BADA Standard
An elegant early 20th Century Art Deco cold painted bronze figure of a young beauty holding a large bouquet of flowers covering her modesty. The bronze exhibiting excellent colour and very fine hand chased surface detail, raised on a green onyx base and signed Lorenzl.
ADDITIONAL INFORMATION
Height: 24 cm.
Width: 9 cm.
Depth: 4 cm.
Condition: Good Original Condition with light wear to surface colour.
Circa: 1930.
Materials: Bronze & Onyx.
Book Ref: Art Deco and Other Figures by Bryan Catley.
Page No: 220.
SKU: 8866.
ABOUT
Lorenzl Ecstasy
Josef Lorenzl, Austrian 1892 ~ 1950
Lorenzl Ecstasy – When looking to the designs of the Art Deco period one talented sculptor and ceramist that cannot be ignored is Josef Lorenzl. A master designer, his bronze statuettes and ceramic figural work epitomise the era perfectly. As with Preiss, Chiparus and Colinet the other great sculptors from this period, Lorenzl was inspired by the female form and the new found freedom that women enjoyed, which he executed beautifully both in his bronze and ceramic designs.
Pictured right: A Josef Lorenzl Cold-Painted Art Deco Bronze and Ivory Deco Lady with Decoration by Crejo – Circa 1930 – Modelled cast and carved as a young woman adopting a stylish pose, her costume decorated with enamelled flowers, onyx plinth, base signed Lorenzl, dress signed Crejo 10.5/8 in. (27 cm.) high. Sold for £6,250 at Christies, London (Feb 2014).
Although very little is known about Lorenzl's early life we are aware that he was born in Austria in 1892 and was soon to become one of the most talented sculptors of the Art Deco Period. He started by working for a bronze foundry in Vienna Arsenal where he produced stunning Art Deco bronze statuettes. The majority of his works in bronze and ivory were of singular slim female nudes with long legs which conveyed elegance. His preference was for dancing poses which were not only evident in his singular statuettes but also in those attached to marble clocks, lamp bases and bookends.
Like his contemporaries Lorenzl work was created in bronze or by using "Chryselephantine", a Greek word which refers to the combination of various materials such as bronze, ivory, gold and silver. He signed his pieces in various ways sometimes abbreviating his name to " R Lor", "Lor" or "Enzl" but on some of the statuettes you will find an additional signature by Crejo. A talented painter who worked alongside Lorenzl, Crejo would paint decoration onto the statuettes such as flowers and these are the figures which bear his signature. Far more desirable with Crejo's painting these can command a premium at auction. Recently Bonhams sold an example of Lorenzl's work with Crejo decoration for £10,500 but the pieces created by Lorenzl alone generally fetch in the region of £2,000 – £12,000 depending on the subject matter and size.
Pictured left: A Josef Lorenzl (1892-1950) Cold-Painted Art Deco Bronze and Onyx Timepiece with Deco Lady ~ Circa 1920. Modelled and cast as a crouching nude female figure holding a dial with onyx face, on onyx plinth raised on slate base, apparently unsigned11½ in. (31.7 cm.) high. Sold for £4,700 at Christies, London (Nov 2013).
From his designs in bronze and ivory Lorenzl went on to work for the Austrian ceramics company Goldscheider. Again creating stunning sculptures of the female form collector's are more aware of this period and his sculptures in ceramic than they are of his earlier bronze and ivory statuettes. Inspired by shape and bold colours Lorenzl's sculptures had clean lines and geometric shapes. Although each piece possess great movement there was no intricacy or attention to detail and most of his figures wore their hair in the boyish bob which was fashionable at the time, making these simplistic and stylish figurines the epitome of Art Deco Bronze design.
One of Lorenzl's friends Stephan Dakon who he had met whilst working at the bronze foundry had the same vision and style as Lorenzl so it was the obviously thing for Lorenzl to recommend Dakon to Goldscheider when he started to work for them. Taken on as a freelance designer Dakon was of the same mindset as Lorenzl and so much of their work was very similar. People at the time even believed that the two were in fact the same person.
Both the artists had an interest in the female form, dance and theatrical costume. This was enhanced with Lorenzl when he took a trip to Paris and visited Folies Bergeres. Famous dancer Josephine Baker was on stage with her chorus dancers, all wearing extremely flamboyant costumes, Lorenzl was captivated by the glamour and outlandishness of the dancers and so on his return to Austria reproduced gorgeous figurines wearing vibrant coloured costumes and in various dance poses.
He was also able to use his skill as an Art Deco bronze sculptor to use the earthenware to his advantage. Carving delicate fingers and enhancing the women's female form Lorenzl set about producing some stunning sculptures. "Captured Bird" was one of his most popular and was created in many different colours and sizes. This particular piece is of a dancing girl with a gossamer winged dress which was inspired by a dance performed by Niddy Impekoven and was also captured onto a lamp base with three figures of this elegant lady dancing around the stand.. Other dancing Deco Lady girl figurines which were created by Lorenzl include "Butterfly Wings," "Spider-Web Dress" and "The Arabian Dancer." Not only did all his creations represent the elegant and feminine side of a women but each were also very subtly seductive.
By the 1930's Lorenzl and Dakon were the principle designers at Goldscheider, although there were many freelancers employed by the firm. It is here that we see another slight change to Lorenzl's work. Although he had used the naked female form in much of his bronze and ivory works it was during this period that he started to produce these mildly erotic yet beautiful nude figurines for Goldscheider. "Awaken" and "Nude with a Borzoi" are perfect examples of Lorenzl's talent for taking the naked female form and making it glamorous yet sophisticated.
Lorenzl is considered amongst the most important artists of the Art Deco period and his distinctive and quite stunning art deco figurines are highly sought after by collectors. A celebrated sculptor with an eye for design Lorenzl epitomised the Art Deco era perfectly making him one of the most celebrated and iconic designers of the 20th Century.
The BADA Standard
Since 1918, BADA has been the leading association for the antiques and fine art trade
Members are elected for their knowledge, integrity and quality of stock
Our clients are protected by BADA's code of conduct
Our dealers' membership is reviewed and renewed annually
Bada.org is a non-profit site: clients deal directly with members and they pay no hidden fees
Click here for more information on the BADA Standard