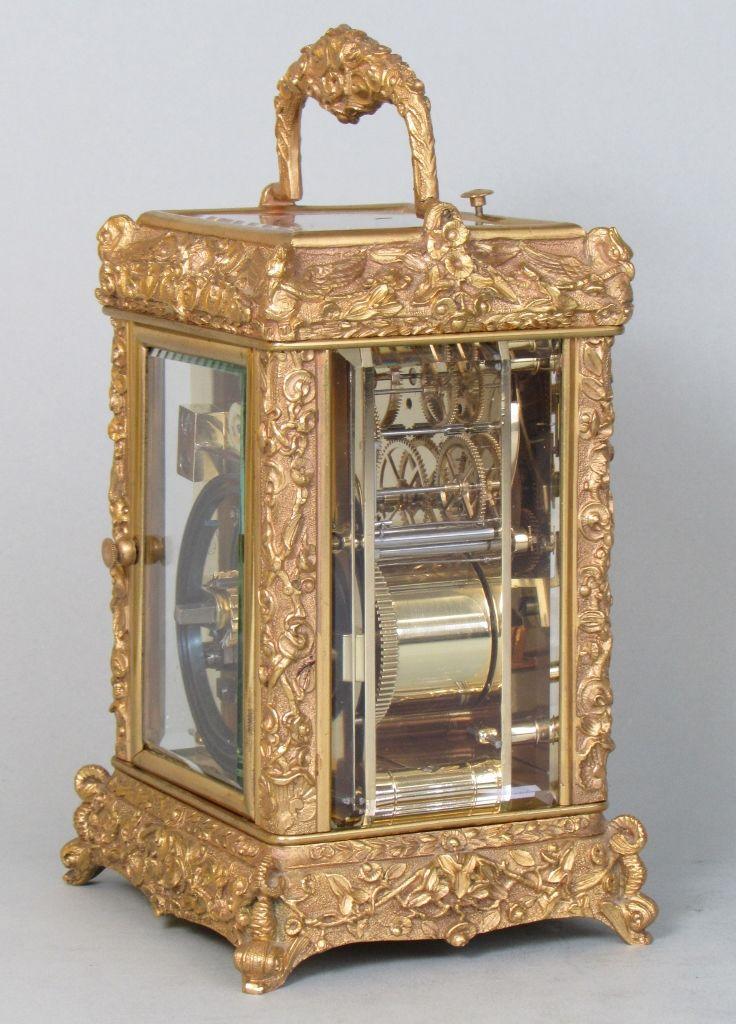 About the dealer
About the object
An unusual decorative cast carriage clock reminiscent of the style made by Drocourt in their earlier years; the eight-day duration movement has a silvered platform lever escapement and strikes the hours and half-hours on a gong, with push button repeat of the last hour at will, the brass gong block stamped with the gong maker's initials 'A.D.', with the backplate stamped with the Drocourt trademark, the initials D.C. either side of clock within an oval, along with the serial number 31486 and an oval stating 'Paris Make'.
The round ivory dial has black Arabic numerals and is signed for the retailer 'J.W. Benson, Ludgate Hill, London', with a decorative gilded cast mask and blued steel spade hands. The elaborate cast gilded brass case of floral decoration has 'dolphins' to the four base feet and 'swans' to the top four corners and has a matching handle.
The use of this style of dial has been seen on a few other carriage clocks, most notably an example signed for Drocourt serial number 28978, with his address at the later 31 Rue Debelleyme, stock number 1383, and which will be appearing in the updated addenda to our 2014 Drocourt Exhibition Catalogue.
Pierre Drocourt, born 1819, founded the Drocourt clock-making business in Paris in 1853 with his son Alfred, born 1847, taking over in 1872. The blancs roulants, rough movements, were made in Saint-Nicolas-d'Aliermont, a town outside Dieppe, where Drocourt had workshops until their sale in 1904, being premises purchased from Holingue frères in 1875 who had previously supplied Drocourt. The clocks were then finished ready for sale at their workshops at 28 Rue Debelleyme, Paris; previously Rue Limoges.
J.W. Benson were in business from 1844 until 1973 and are recorded as working at 62 & 64 Ludgate Hill, London with a retail outlet at West End House, 25, Old Bond Street. An advert of theirs in the Illustrated London News of the 13th of December 1884 shows a printed view of their 'Steam Room' and 'Mezanine'. They traded as J.W. Benson from 1856 until 1891 and then as a limited company.
Condition report
Fully restored and guaranteed