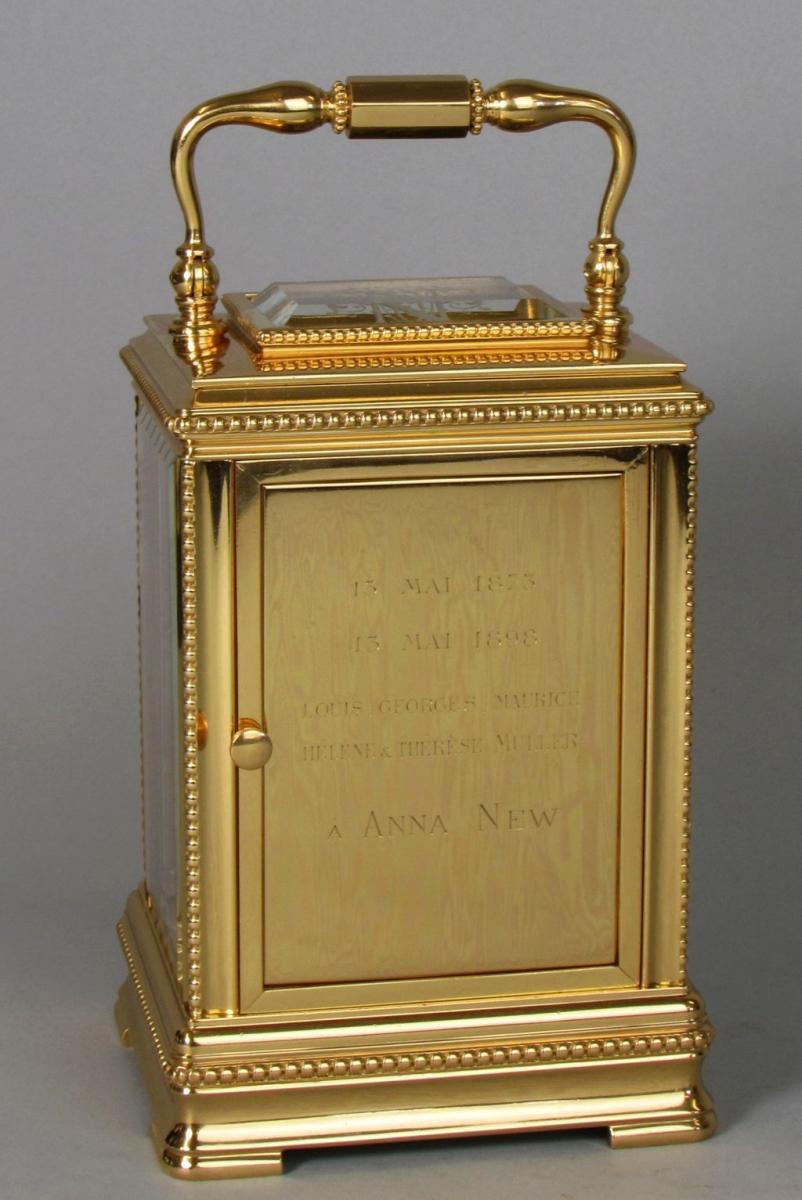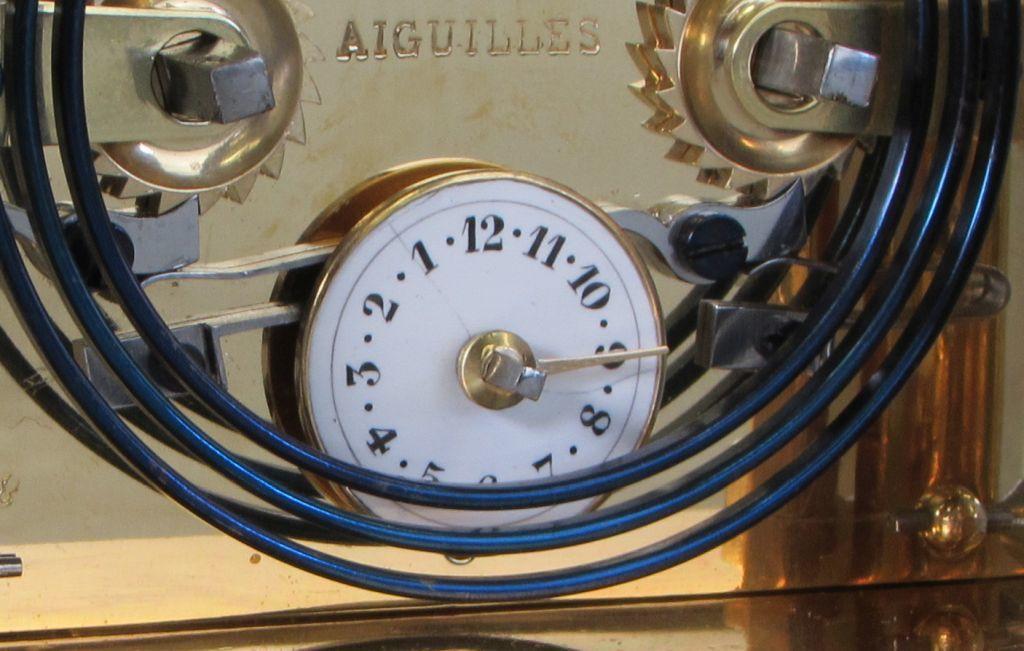 A gilded cannalée carriage clock with interesting features. The eight-day duration movement strikes the hours and half-hours on a gong, with a push button repeat and has a silvered platform lever escapement, with the backplate stamped with the Drocourt trademark, the initials D.C. either side of a clock, along with the serial number 28978. The gong block is stamped with the gong makers initials A.D. A rarely seen feature on a clock by this maker is the alarm setting dial set to the lower portion of the backplate, and thus freeing up the dial where it would be expected to be situated.
The unusual ivory dial has black Arabic numerals and decorative gilded brass hands. The centre is signed for the maker A. Drocourt, Fabricant, 28 Rue Debelleyme, Paris, and has a finely engraved floral filigree mask.
The cannalée case has additional beaded moulding to the edges and a cast handle reminiscent of a style used previously by Drocourt and others. The top glass is finely etched with the original owner's initials, whilst the rear brass door is engraved with a presentation to Anna New which reads:
13 Mai 1873
13 Mai 1898
Louis Georges Maurice
Helene Therese Muller
a Anna New

With original numbered key.

Interestingly the original leather travelling box is embossed to the inside of the lid with a gilded inscription as seen on other clocks from Drocourt, which gives the maker's details as Drocourt, 31 Rue Debelleyme, Paris along with the award of the Hors Concours at the Paris Exposition of 1900. As with another example, grande-sonnerie serial number 19101 as detailed under stock number 1417, according to my research this address wasn't used until circa 1908 and contradicts that on the dial which states the long-standing 28 Rue Debelleyme premises. That this is the original travelling box is obvious by the mark left within by the handle.
Pierre Drocourt, born 1819, founded the Drocourt clock-making business in Paris in 1853 with his son Alfred, born 1847, taking over in 1872. The blancs roulants, rough movements, were made in Saint-Nicolas-d'Aliermont, a town outside Dieppe, where Drocourt had workshops until their sale in 1904, being premises purchased from Holingue frères in 1875 who had previously supplied Drocourt. The clocks were then finished ready for sale at their workshops at 28 Rue Debelleyme, Paris; previously Rue Limoges.
For further details of Drocourt and Holingue frères see my 2014 Exhibition catalogue: Pierre & Alfred Drocourt: An Exhibition of Carriage Clocks, available via the Extence website.
Condition report
Fully restored and guaranteed