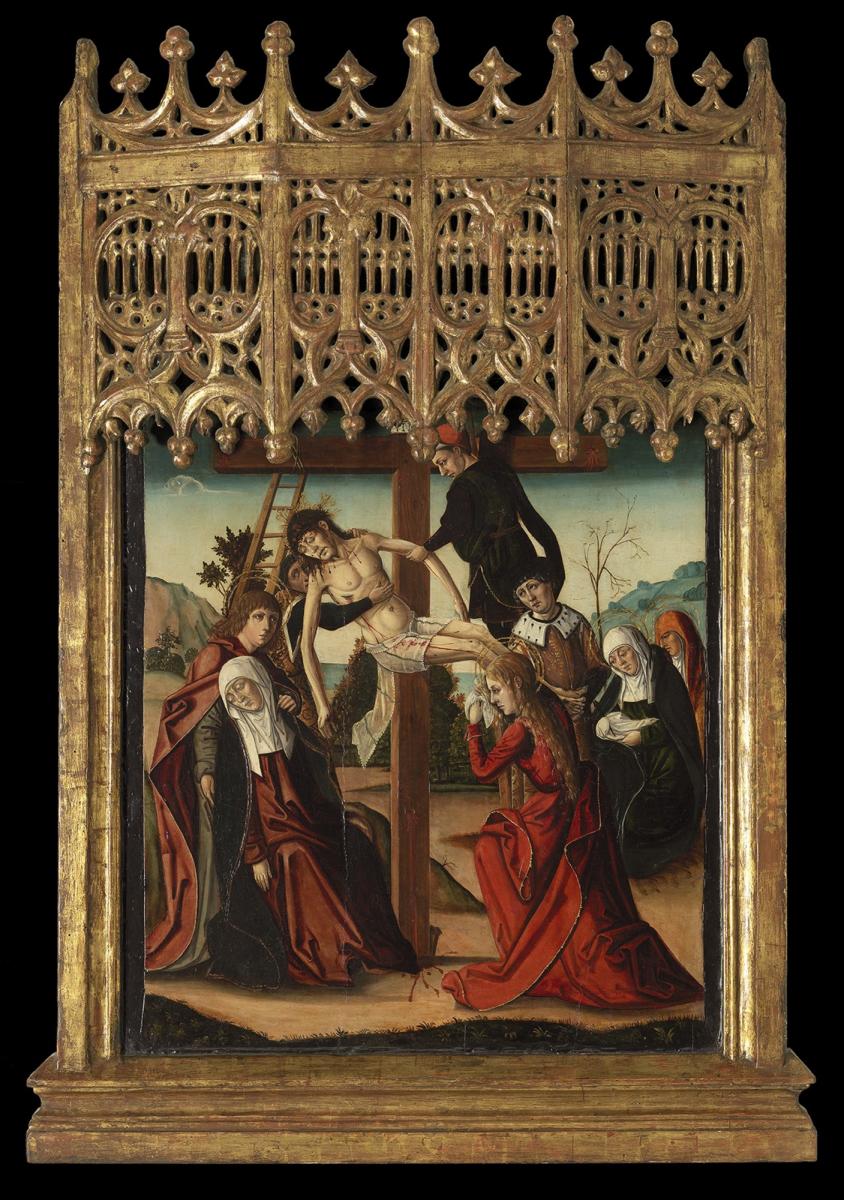 Price on application
The BADA Standard
Since 1918, BADA has been the leading association for the antiques and fine art trade
Members are elected for their knowledge, integrity and quality of stock
Our clients are protected by BADA's code of conduct
Our dealers' membership is reviewed and renewed annually
Bada.org is a non-profit site: clients deal directly with members and they pay no hidden fees
Click here for more information on the BADA Standard
Francisco de Osona (c. 1465 – Valencia – c. 1514)
The Descent from the Cross
Oil on panel
Circa 1500 – 1514
Provenance
Private collection, Spain
Francisco de Osona was one of the most outstanding and active masters of the Spanish pictorial panorama working in the late 15th and early 16th centuries.
Born in Valencia around 1465 and working there for many years with his father Rodrigo until his death around 1514, Osona produced pictures reflective of a classical Italianate style, as can be seen, for example, in his various architectural and figurative repertoires.
His work conveys an expressive softness and 'sweetness' devoid of excessive counterpoints of tension with the use of appealing postural and figurative representations.
His uncomplicated diaphanous style resonated with the taste of his age and the Valencian pictorial desire in particular for the softness of the Italian Renaissance that some painters such as Paolo da San Leocadio, a native of Reggio Emilia, produced with commercial success throughout the region from 1472.
The present panel and its companion, The Burial of Christ, are part of the same altarpiece comprised of at least a further two panels, The Presentation of Jesus in the Temple and The Way to Calvary.
The identical neo-gothic canopy on all four works indicates that they are most likey to have been part of the one collection. This altarpiece was located in La Cartuja de Vall de Crist in Altura, Castellón.
It is possible that these four scenes were part of a larger work dedicated, perhaps, to the Life of Christ. Other panels have been identified which may have formed a part of a larger work such as The Flight to Egypt, a panel from the Cathedral of Segorbe.
The panels exhibt a uniform style with ornamental details of identical execution and characters that are repeated in some scenes with the same physiognomy and clothing such as Saint Joseph.
Dimensions
Height: 66.5 cm; 2 ft. 2⅕ in., Width: 60 cm; 1 ft. 11⅔ in.
The BADA Standard
Since 1918, BADA has been the leading association for the antiques and fine art trade
Members are elected for their knowledge, integrity and quality of stock
Our clients are protected by BADA's code of conduct
Our dealers' membership is reviewed and renewed annually
Bada.org is a non-profit site: clients deal directly with members and they pay no hidden fees
Click here for more information on the BADA Standard