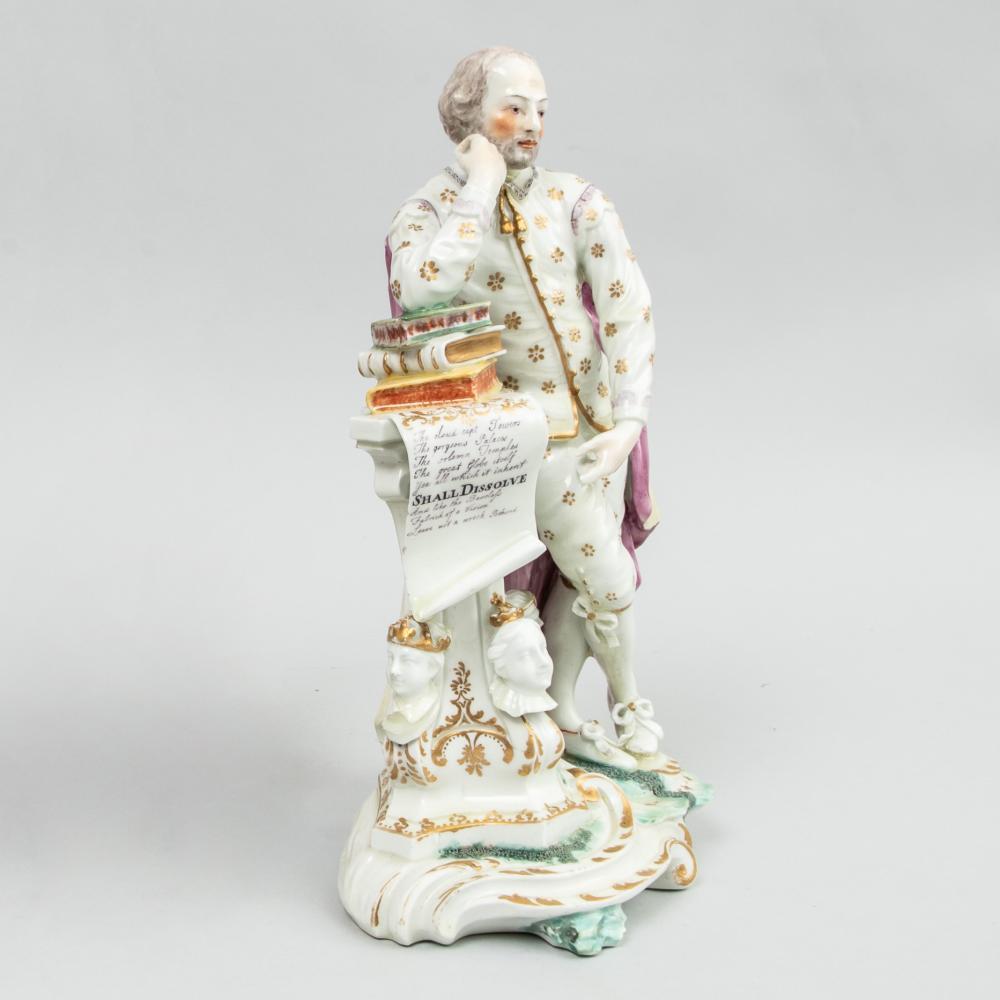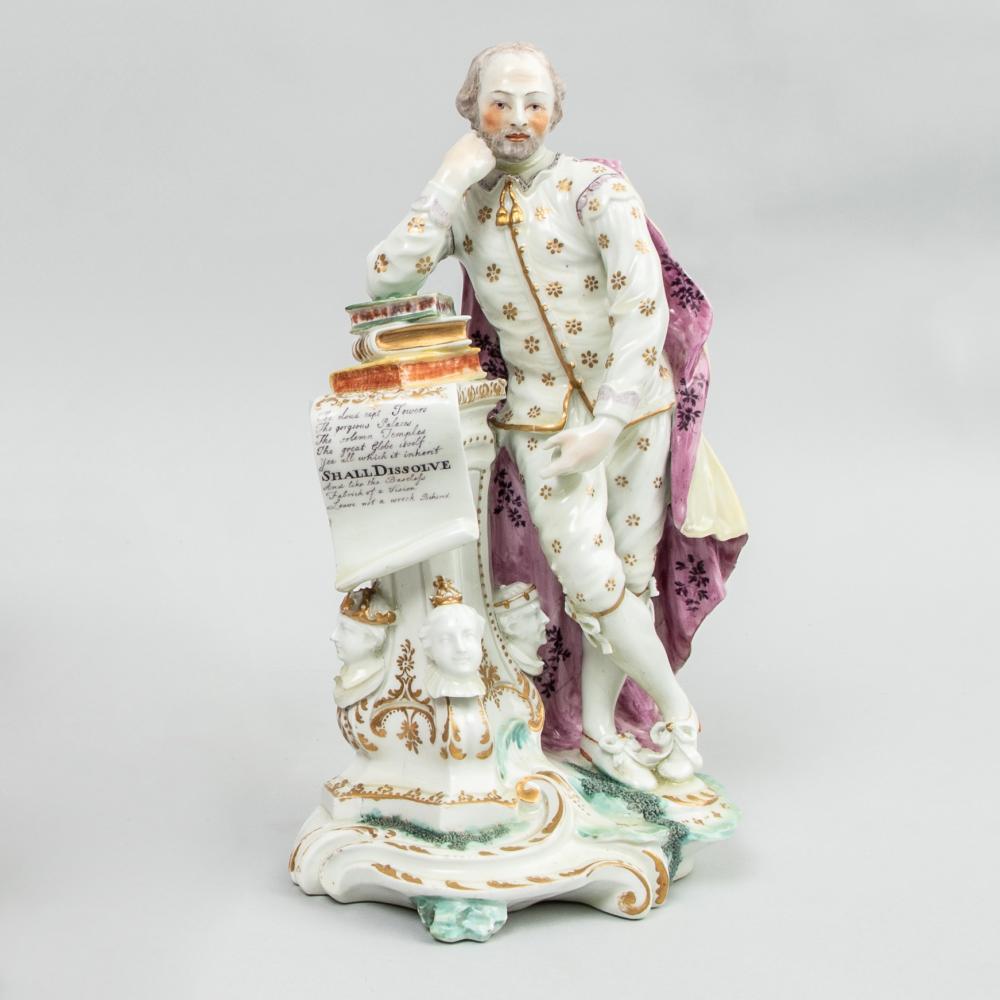 Derby Porcelain Figure of Shakespeare,
Circa 1765.
The patch mark period figure depicts Shakespeare standing with his right elbow resting on a pile of books with an open scroll which all rest upon a column with crowned heads at each corner and a purple cape across his back. All on a scroll base.
Dimensions: 11 1/4 inches high x 7 inches x 5 inches deep ( 29.5 cms x 17cm x 13cm deep).
The V & A has the same figure in their collection (Museum number:S.76-1988) although it is nowhere near as well painted and gilded and this example.
They state, "This figurine of William Shakespeare (1564-1616) is based on the life-size white marble statue by Peter Scheemakers in the monument designed by William Kent, erected in Poets' Corner in Westminster Abbey in 1740, 124 years after Shakespeare's death, sponsored by the Earl of Burlington, Dr Mead, Alexander Pope and Mr Martin.
Shakespeare is buried in Stratford upon Avon and although sometime after his death there were suggestions that his remains should be moved from Stratford to Westminster Abbey, the idea was abandoned and the monument was built. The carved heads on the pedestal of the statue are of Queen Elizabeth I, Henry V and Richard III, and Shakespeare is shown pointing to a scroll inscribed with Prospero's Act IV lines from The Tempest: The Cloud capt Tow'rs, The Gorgeous Palaces, The Solemn Temples, The Great Globe itself, Yea all which it Inherit, Shall Dissolve; And like the baseless Fabrick of a Vision, Leave not a wrack behind. The speech is perhaps better known with the words that begin the passage : 'Our revels now are ended'. On the original monument, the words are in Latin.
The Derby factory produced three versions of this figure in the late 1750s to mid-1760s, often sold as a pair with one of John Milton. There was a glazed version on a rectangular base, and one in biscuit porcelain. Its direct source was probably a reduced-sized plaster of the sculpture sold in London by John Cheere."
This is a quote from The Tempest Act 4, scene 1, 148-158. Prospero: Our revels now are ended. These our actors, As I foretold you, were all spirits, and Are melted into air, into thin air: And like the baseless fabric of this vision, The cloud-capp'd tow'rs, the gorgeous palaces, The solemn temples, the great globe itself, Yea, all which it inherit, shall dissolve, And, like this insubstantial pageant faded, Leave not a rack behind. We are such stuff As dreams are made on; and our little life Is rounded with a sleep."
Provenance: With D.M. & P. Manheim, London, 1960; Collection of Abby Rockefeller Mauzé, Collection of William Kelly Simpson.
Reference: (https://www.enotes.com/shakespeare-quotes/we-such-stuff-dreams-made) Anticipating his daughter's wedding to the Prince of Naples, Prospero has staged a short entertainment, with spirits taking the parts of Roman gods. But he abruptly cuts the fun short when he remembers some pressing business. He tries to calm the startled couple by explaining, somewhat off the point, that the "revels" (performance) they've witnessed were simply an illusion, bound sooner or later to melt into "thin air"-a phrase he coins. Prospero's metaphor applies not just to the pageant he's created on his fictional island, but also to the pageant Shakespeare presents in his Globe Theater-the "great globe itself." Dramatic illusion in turn becomes a metaphor for the "real" world outside the Globe, which is equally fleeting. Towers, palaces, temples, the Globe theater, the Earth-all will crumble and dissolve, leaving not even a wisp of cloud (a "rack") behind. Prospero's "pageant" is the innermost Chinese box: a play within a play (The Tempest) within a play (the so-called "real" world). Merrily, merrily, merrily, merrily, life is but a dream, andpeople are the "stuff" dreams are "made on" (built of)-just as characters might be called the "stuff' plays are "built on." "Our little life" is like a brief dream in some divine mind, "rounded with a sleep"-that is, either "surrounded" by sleep or "rounded off" (completed) by sleep. Prospero seems to mean that when we die, we awake from the dream of life into true reality-or at least into a truer dream. The stuff of dreams seems to derive from this passage, but it only superficially resembles Prospero's pronouncement. "The stuff of dreams" as we use it today refers to a scenario one can only fantasize-something devoutly to be wished. Prospero's "stuff" refers to the materials that go into creating an illusion, not to the object of a wish. Take note that Prospero says "made on," not "made of," despite Humphrey Bogart's famous last line in the 1941 film The Maltese Falcon: "The stuff that dreams are made of." (Bogart suggested the line to director John Huston, but neither seems to have brushed up his Shakespeare.) Film buffs may think "made of" is the authentic phrase, but they're only dreaming.
Dimensions
29.5 cms x 17cm x 13cm deep
Condition report
In great condition with just the tip of his second finger invisibly repaired.