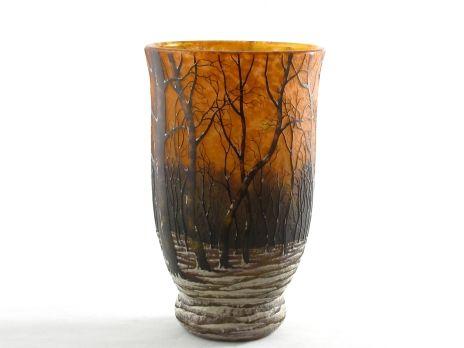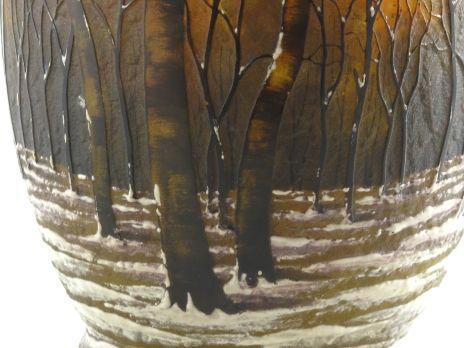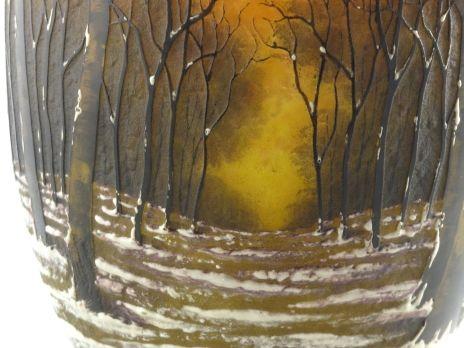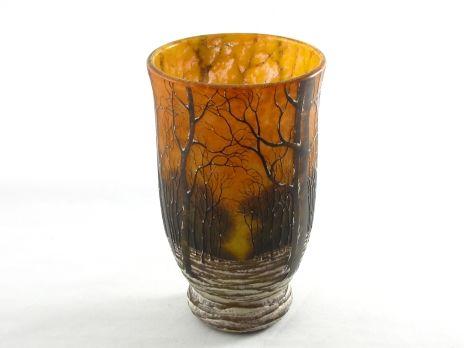 Daum Winter landscape vase. A beautiful Art Nouveau cameo glass vase highlighted with enamel showing a Winter Woodland scene of Silver Birch trees highlighted with snow. The evening sunset effect created by the layer of yellow/orange glass gives the scene a dramatic effect. The winter landscape is one of the most sought after landscape decors. The en grisaille technique is used to great effect to show the distant background of trees in the shadows. The piece is signed in black enamel to the underside of the base - Daum Nancy and with the Cross of Lorraine. It was made in France c 1900. This vase has a beautiful and unusual shape with an everted rim. It is a stunning piece.
A vase with similar decoration is shown in Daum Frères: Maîtres Verriers, 1892-1935, by Katharina Büttiker-Weber, Zurich: Galerie Katharina Büttiker, 1986, cat. no 27.
History
The Daum Glassworks was established in Nancy, France in 1875 and is still making glass today albeit of a very different style. The brothers Antonin and Michel were the main family members involved in the major development of the Company. The Company employed major designers including Jacques Gruber, Amalric Walter, Henri Bergé, and in more recent times Philippe Stark and Salvador Dali. They developed and patented many techniques in glassmaking and were always at the forefront of design and manufacturing. In 1900 at the Exposition Universelle they were awarded a Grand Prix medal and quickly became one of the major makers in the Art Nouveau movement .
Date c 1900
Condition - Excellent original condition. No nicks, chips or repolishing. Expected light wear to base
Dimensions - Approximate height 18 cm and width 11 cm at its widest point
Dimensions
Approximate height 18 cm and width 11 cm at its widest point
Condition report
Excellent original condition. Light wear to the underside of the base