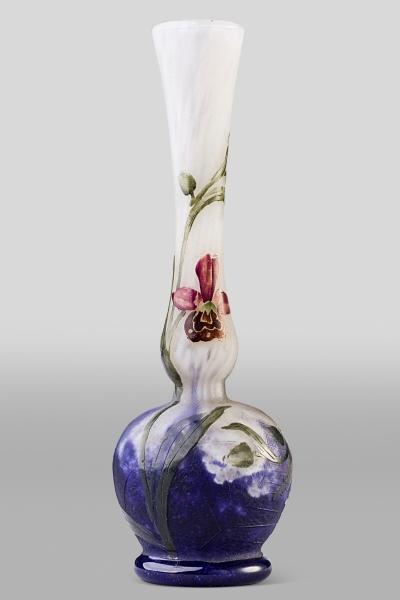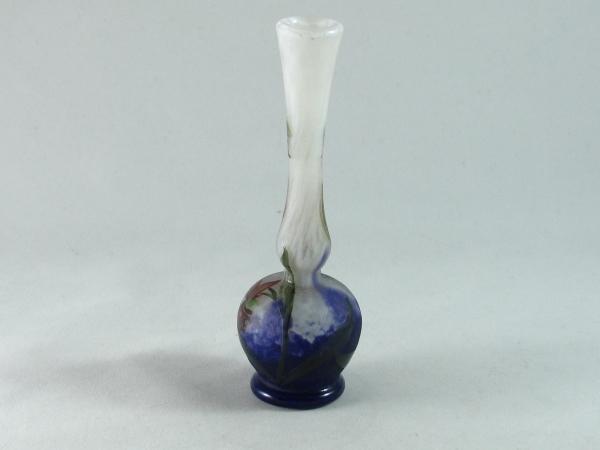 About the dealer
About the object
Daum – A beautiful, very finely acid etched and enamelled solifleur vase decorated with Bee Orchids (Ophrys Abeille) and Spiders webs. The spiders webs are extremely finely acid cutback and continue up the neck of the vase. Produced circa 1900.
Signed in cameo Daum Nancy and with the cross of Lorraine. The enamelling of the Orchids is particularly fine and would have taken at least 3 coats of enamel to achieve this quality. The base of the vase is covered with acid etched spiders webs – again exceptionally fine hand finished work.
This is a stunning piece and a very fine example of the master craftsmanship of Daum. Excellent original condition
History
The Daum Glassworks was established in Nancy, France in 1875 and is still making glass today albeit of a very different style. The family were originally Lawyers not glassmakers. Jean Daum the father of Antonin and Auguste originally took over the glassworks as part payment of a debt.
Auguste (also a lawyer) joined his Father shortly afterwards and started to develop and expand the business. Auguste and Antonin and later Michel were the main family members involved in the major development of the Company.
The Company employed major designers including Jacques Gruber, Amalric Walter, Henri Bergé, and in more recent times Philippe Stark and Salvador Dali. They developed and patented many techniques in glassmaking and were always at the forefront of design and manufacturing.
In 1900 at the Exposition Universelle they were awarded a Grand Prix medal and quickly became one of the major makers in the Art Nouveau movement.
More information regarding Daum can be found in the Artists Section
Date – 1900
Dimensions
Approx 14 cm tall
Condition report
Excellent original condition