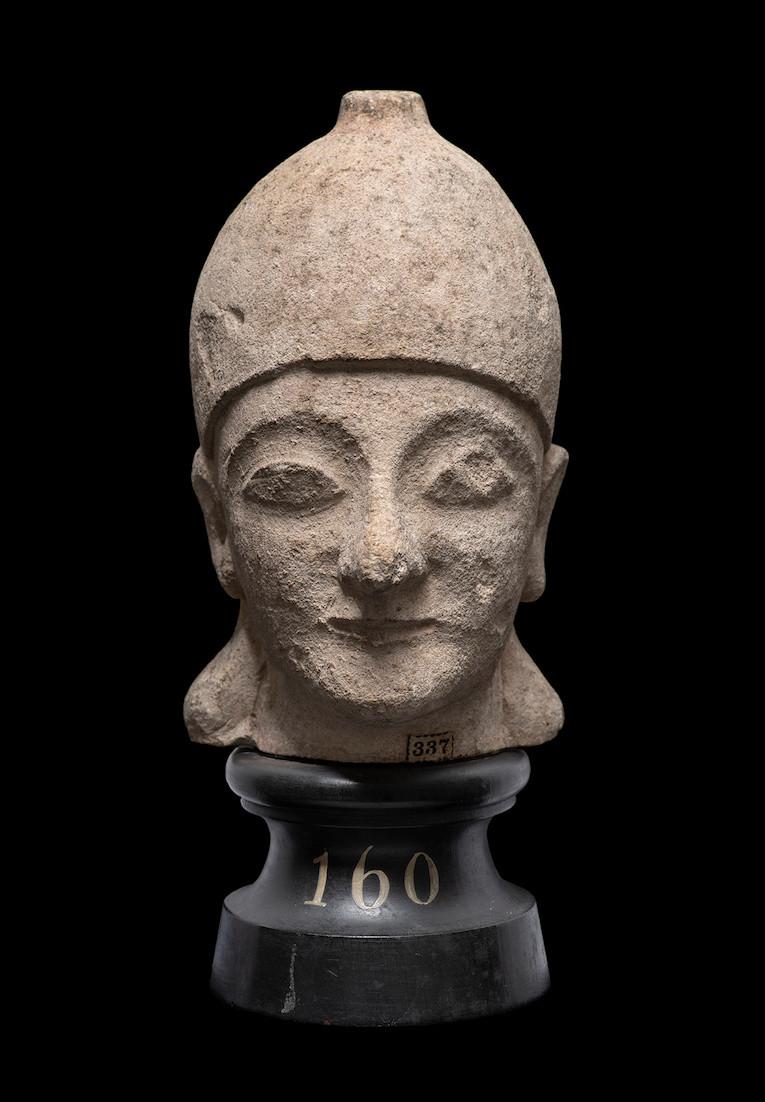 Price on application
The BADA Standard
Since 1918, BADA has been the leading association for the antiques and fine art trade
Members are elected for their knowledge, integrity and quality of stock
Our clients are protected by BADA's code of conduct
Our dealers' membership is reviewed and renewed annually
Bada.org is a non-profit site: clients deal directly with members and they pay no hidden fees
Click here for more information on the BADA Standard
Cypriot male head
Late Cypro-Archaic - early Cypro-Classical Period
First half of the 5th century BC
Limestone
The male head of a priest or votary has sharply defined archaic features, including almond-shaped eyes beneath finely arched eyebrows, thin lips which turn up at the corners, and a pointed chin. He wears a conical helmet with a small bobble at the apex. The back is carved flat. Traces of original red paint to the lips and helmet, the right eye and eyebrow lightly outlined in black.
The old wood turned and ebonised base inscribed in paint '160'. Old circular paper label to the base 'LIMESTONE HEAD 700-600 BC Found in temple Golgoi Cyprus From Cesnola Coll. M. Mus.' This covers '337' handwritten in red. '337' repeated handwritten in red to underside of head. Also a small paper label '337' to the neck. '220' in black paint to the back of the neck and the underside of the neck. A silver Sotheby's label '217 also to the wood base. Minor chips with some damage to the left eye and to the cheek below.

Heads such as this are believed to have been votive offerings, and represent the individual donor or the deity whose protection and approval was being sought. They were presented as offerings at divine sanctuaries and temples. The present head claims to have been found at the Temple at Golgoi; possibly the most famous of Cypriot temple precincts.
Luigi Palma di Cesnola excavated around the area of Golgoi from 1867-1870, in part with the hopes of finding the ancient temple of Aphrodite (the island of Cyprus being the mythical birthplace of the goddess of love, and indeed the city's namesake, Golgos, was the son of Aphrodite and Adonis).
In 1870 he found what he was looking for and began to unearth statues of gods, goddesses, priests and heroes. The excavation was privately funded, and subsequently most of the finds ended up in his own collection and were exhibited at the Metropolitan Museum, New York.
Provenance
Luigi Palma di Cesnola (1832-1904); first American consul to Cyprus, 1865-1876
Metropolitan Museum of Art, New York, USA; acquired from the above December 1872
Cyprus Museum of Jacksonville, North Carolina, USA, acc.no.220
Old collection label under base reads 'LIMESTONE HEAD 700-600 BC. Found in temple Golgoi Cyprus from Cesnola Coll. Met. Mus.'
Exhibitions
Metropolitan Museum of Art, New York, USA, 1873-1928
Publications
Louis P. Di Cesnola, A Descriptive Atlas of the Cesnola Collection of Cypriote Antiquities in the Metropolitan Museum of Art, New York, Vol.I (Boston, 1885), pl.LIII, no.337
Sotheby's, New York, Antiquities and Islamic Art, 18th June 1991, lot 217
Takey Crist, The Cyprus Museum (Nicosia, 2005), p.12
Dimensions
Height 14cm, height including stand 19.5cm
The BADA Standard
Since 1918, BADA has been the leading association for the antiques and fine art trade
Members are elected for their knowledge, integrity and quality of stock
Our clients are protected by BADA's code of conduct
Our dealers' membership is reviewed and renewed annually
Bada.org is a non-profit site: clients deal directly with members and they pay no hidden fees
Click here for more information on the BADA Standard