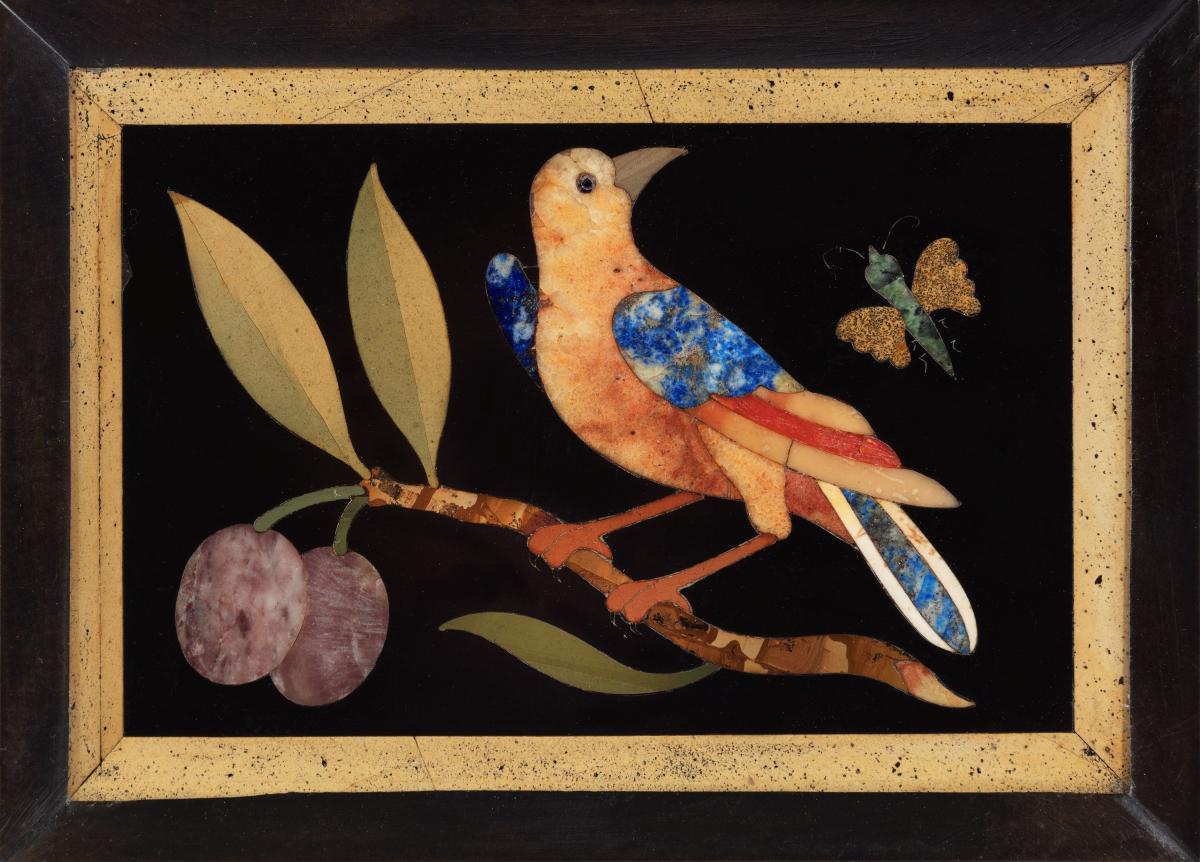 ITALY, circa 1650
14 x smaller panels depicting birds and flowers:
Height: 3.75 inches (9.5cm)
Width: 5.25 inches (13cm)
Depth: 0.75 inches (2cm)
Large central panel depicting a parrot:
Height: 12 inches (30cm)
Width: 9.5 inches (24cm)
Depth: 1 inch (2.3cm)
Provenance: The Earls of Fitzwilliam, at Wentworth Woodhouse, until 1949. Private Collection, UK.
A collection of twenty three pietra dura panels depicting birds and flowers. With a large central panel depicting a parrot; fourteen smaller panels depicting a variety of birds and flowers; and the remaining eight panels depicting birds and flowers and ranging in size: the widest being 4.25 inches (11cm) in height by 10.5 inches (26.5cm) wide; and the tallest being 7.75 inches (19.5cm) high by 3.75 inches (9.5cm) wide.
Comparators: A close parallel is the plaque depicting a parrot on the branch of a pear tree which is the Opificio delle Pietre Dure (http://www.opificiodellepietredure.it/), a public institute of the Italian Ministry for Cultural Heritage in Florence (see image below). This panel was illustrated in two books by Anna Maria Guisti: 'Il Museo dell'Opificio delle pietre dure a Firenze' (Electa, 1978, fig. 109) and 'Pietre Dure and the Art of Florentine Inlay' (Thames and Hudson, 2005, p.151). The caption reads 'Formella con papagallo su albero di pero. Commesso di alberese, lapislazzuli, breccia antica, verde antico et calcedonio di Volterra su fondo di marmo nero profilature de diaspro bianco di Caselli 26 x 18 cm in 469 n.48 inv 1789'.
Pietra Dura panels like these were often incorporated in cabinets, but the Rastatt Favorite Palace retains an extraordinary room where the panels were framed and inset in the walls: The Florentine Room (Florentiner Kabinett) at Rastatt Favorite Palace (Schloss Favorite Rastatt) on the outskirts of Rastatt-Förch in Baden-Württemberg, Germany, is still in its original condition when it was built as a Baroque summer residence and hunting palace for the young Margravine Sibylla Augusta of Baden-Baden, between 1710 and 1727. 758 framed pietra dura panels cover the walls; crafted from marble, granite and semiprecious stones (see image below).
A selection of framed pietra dura panels on display at Rastatt Favorite Palace (Schloss Favorite Rastatt) in the Florentine Room (Florentiner Kabinett)
During the late Renaissance period, works of Pietra Dura were incorporated into the great treasury collections of Europe, including the Habsburg emperors and archdukes whose collections are housed in the Kunstkammer in Vienna; and the Schatzkammer in Munich, the Treasury of the Munich Residence, founded in 1565 by Duke Albrecht V.
Opificio delle Pietre Dure: In 1588, Ferdinando I de' Medici, Grand Duke of Tuscany, established a court laboratory which specialised in semi-precious mosaics and inlays. This institution, which remained active for around three centuries, was the core of the Opificio delle Pietre Dure, which still has its seat in the original location chosen in 1798 for the laboratories formerly housed in the Uffizi.
The so-called 'Florentine brand' dates back to the late 16th Century, and consisted of a mosaic technique which used natural colours and precious stones, cut in sections and matched to form a larger image. 'Stone painting' was the term used to define Florentine mosaics, as artisans used the technique used to represent a wide range of subjects. Flowers and plants were frequently depicted alongside fruit and birds.
From the early years of the 17th Century, the laboratory also contributed to the monumental project of the Chapel of the Prince. The mausoleum of the Medici family erected in 1604 by Ferdinando 1, who had planned to entirely decorate it with semi-precious stones. The incredible commitment of the laboratory is documented in the Museum with several works and projects, connected with different phases of an activity that covered several centuries.
Bibliography: Anna Maria Massinelli, 'Hardstones: The Gilbert Collection', Philip Wilson Publishers, London, 2000.
Wentworth Woodhouse
Wentworth Woodhouse: Wentworth Woodhouse is a Grade I listed country house in the village of Wentworth in South Yorkshire. It is probably the largest private residence in the United Kingdom and has the longest country house façade in Europe. The original Jacobean house was rebuilt by Thomas Watson-Wentworth, 1st Marquess of Rockingham (1693–1750), and vastly expanded by his son, Charles Watson-Wentworth, the 2nd Marquess of Rockingham, who was twice Prime Minister, and who established Wentworth Woodhouse as a Whig centre of influence. In the 18th Century, the house was inherited by the Earls Fitzwilliam who owned it until 1979. It is most likely that the panels were brought back from Italy following a Grand Tour of Europe, a custom undertaken mainly by upper class young men, which flourished from about 1660, until the 1840s. We know that Charles Watson-Wentworth carried out an extended Grand Tour between 1746 to 1750, with sojourns in Geneva and Italy. William Fitzwilliam, 3rd Earl Fitzwilliam (1719–1756) went on a Grand Tour to Italy and Germany in 1740; and William Fitzwilliam, 4th Earl Fitzwilliam (1748–1833), who inherited Wentworth Woodhouse from Charles Watson-Wentworth on 1 July 1782 embarked on his Grand Tour to France and Switzerland with a clergyman, Thomas Crofts, nominated by Dr Edward Barnard, headmaster of Eton in October 1764, returning early in 1766. In December 1766 he continued his Grand Tour, and spent May 1767 until the Summer of 1768 in Italy. He returned to England for the last time in January 1769, after travelling from Naples over the Alps, through Switzerland, Mannheim and Paris.
Dimensions
14 x smaller panels depicting birds and flowers: Height: 9.5cm; Width: 13cm; Depth: 2cm; Large central panel depicting a parrot: Height: 30cm; Width: 24cm; Depth: 2.3cm
Open Monday-Friday 9.30-1, 2-5.30; Please telephone for weekend and evening opening