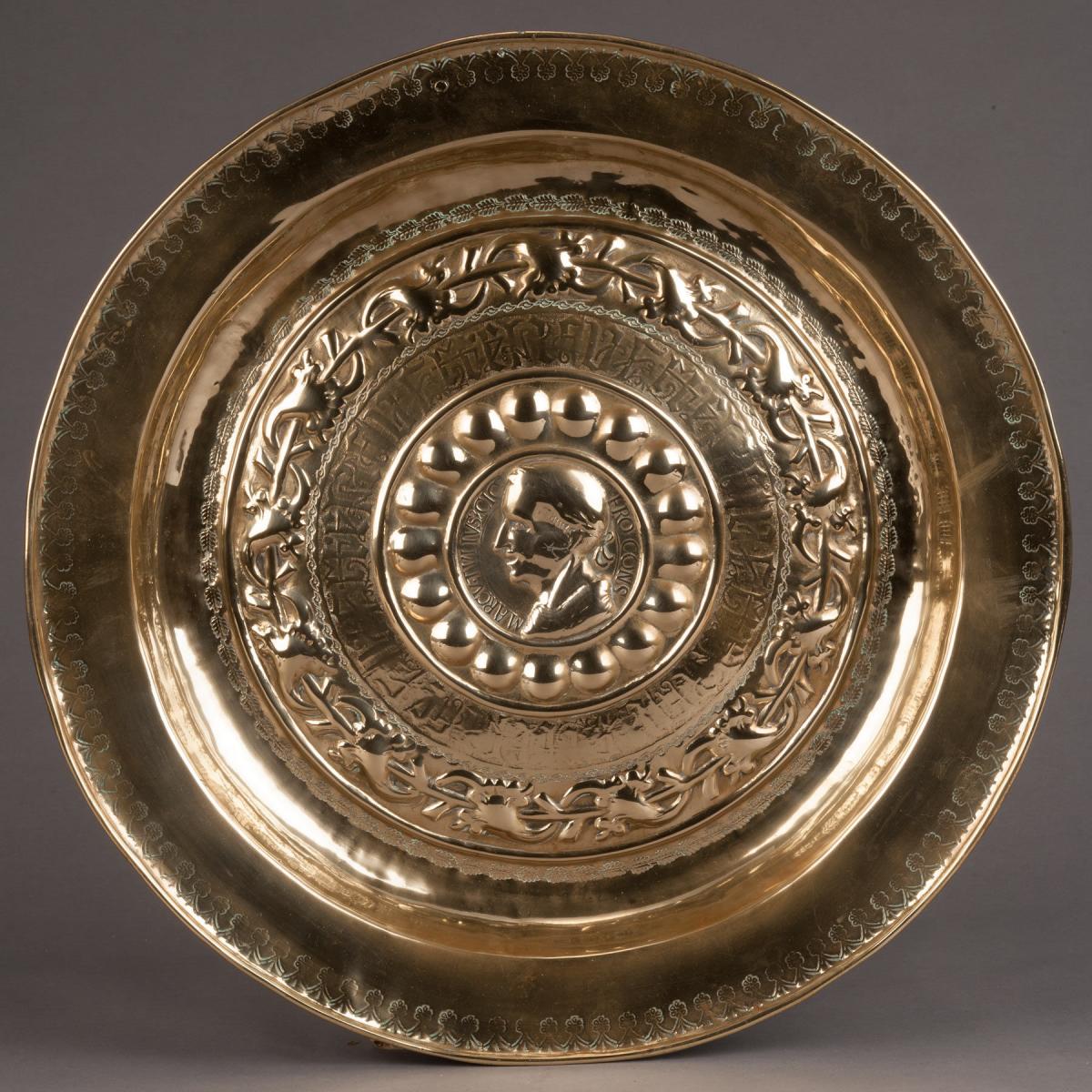 Price
£2250.00
The BADA Standard
Since 1918, BADA has been the leading association for the antiques and fine art trade
Members are elected for their knowledge, integrity and quality of stock
Our clients are protected by BADA's code of conduct
Our dealers' membership is reviewed and renewed annually
Bada.org is a non-profit site: clients deal directly with members and they pay no hidden fees
Click here for more information on the BADA Standard
A Northern European hammered brass dish, German or Flemish, dating from 1550-1600, centred with a head of Cicero, (106-43 BC), the Roman statesman, lawyer, scholar, and writer, here surrounded by an inscription.
20.5 inches dia.
The subject matter usually found at the centre of these dishes fell into one of three categories: scenes from classical antiquity, themes from the Old or New Testaments, or allegorical figures personifying vices and virtues.
A similar basin with exactly this design at its centre is in the collection of the V & A dated to circa 1500 (Museum No. M.126-1937) and we have a second example within our own stock, (Search number 2135).
Primarily used in conjunction with a ewer and basin for ablutions before meals (essential before the 17th century and the arrival of the fork for eating) these dishes were often used as alms dishes when imported into England.
The BADA Standard
Since 1918, BADA has been the leading association for the antiques and fine art trade
Members are elected for their knowledge, integrity and quality of stock
Our clients are protected by BADA's code of conduct
Our dealers' membership is reviewed and renewed annually
Bada.org is a non-profit site: clients deal directly with members and they pay no hidden fees
Click here for more information on the BADA Standard