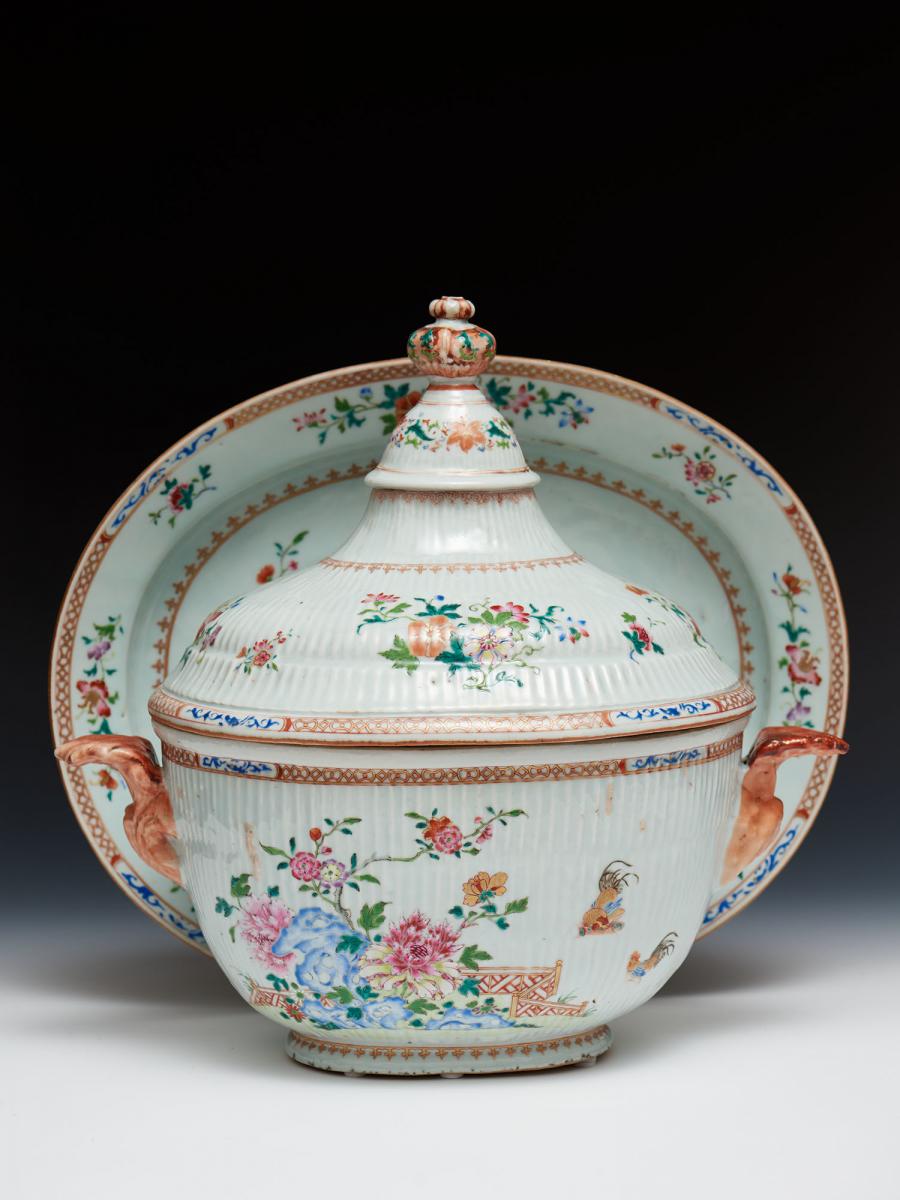 Price on application
The BADA Standard
Since 1918, BADA has been the leading association for the antiques and fine art trade
Members are elected for their knowledge, integrity and quality of stock
Our clients are protected by BADA's code of conduct
Our dealers' membership is reviewed and renewed annually
Bada.org is a non-profit site: clients deal directly with members and they pay no hidden fees
Click here for more information on the BADA Standard
Very important and rare Chinese export porcelain soup tureen and cover with ribbed body and stand of monumental size after a Meissen form decorated in opaque enamels from the famille rose (fencai) palette with flowers and roosters, c. 1750, Qianlong reign, Qing dynasty, w. stand: 37,5 cm, 14¾ in; h. tureen: 34 cm, 13½ in. 4-15192
Illustrated: Yuan to Qing Ceramics, by A. Varela Santos, 2016/2017, cat. 78.
Literature:
• Chinese Export Porcelain in North America, by J.M. Mudge, New York 1986, p. 150, cat 226 for a similar tureen from the "Society for the Preservation of New England Antiquities;
• The Choice of the Private Trader, by D.S. Howard, Minneapolis 1994, p. 116, cat. 103 for a similar tureen without the stand;
• Exposição de porcelana da Companhia das Índias, Museu da Quinta das Cruzes, Funchal, Madeira, Setembro/Outubro 1960, cat. 123 for a similar tureen but with different decoration.
◆ This piece is a perfect form copy, except for the base of the handles, of a soup tureen manufactured by Meissen in 1735/45.
非常重要且罕見的中國外銷瓷粉彩雄雞花卉紋褶壁帶蓋湯盆及托盤,器型碩大,仿德國邁森瓷器,約1750年,清乾隆,托盤寬37.5釐米,14¾英吋;湯盆高34釐米,13½英吋。
圖例:《元代至清代陶瓷》,作者阿.瓦瑞拉.桑托斯,目录 78。
參考文獻:
•《北美中國外銷瓷器》,作者J.M. Mudge,紐約1986年,參見第150頁,編號226出自"新英格蘭古董 保護協會"的近似湯盆一件;
•《私人貿易者的選擇》,作者D.S. Howard,明尼阿波利斯1994年出版,參見第116頁,編號103近 似湯盆一件,但是缺少托盤。
◆ 如果不看把手的底部的話,這件器物可稱得上是完美複製了1735-1745年間邁森製造的一件湯盆。
The BADA Standard
Since 1918, BADA has been the leading association for the antiques and fine art trade
Members are elected for their knowledge, integrity and quality of stock
Our clients are protected by BADA's code of conduct
Our dealers' membership is reviewed and renewed annually
Bada.org is a non-profit site: clients deal directly with members and they pay no hidden fees
Click here for more information on the BADA Standard