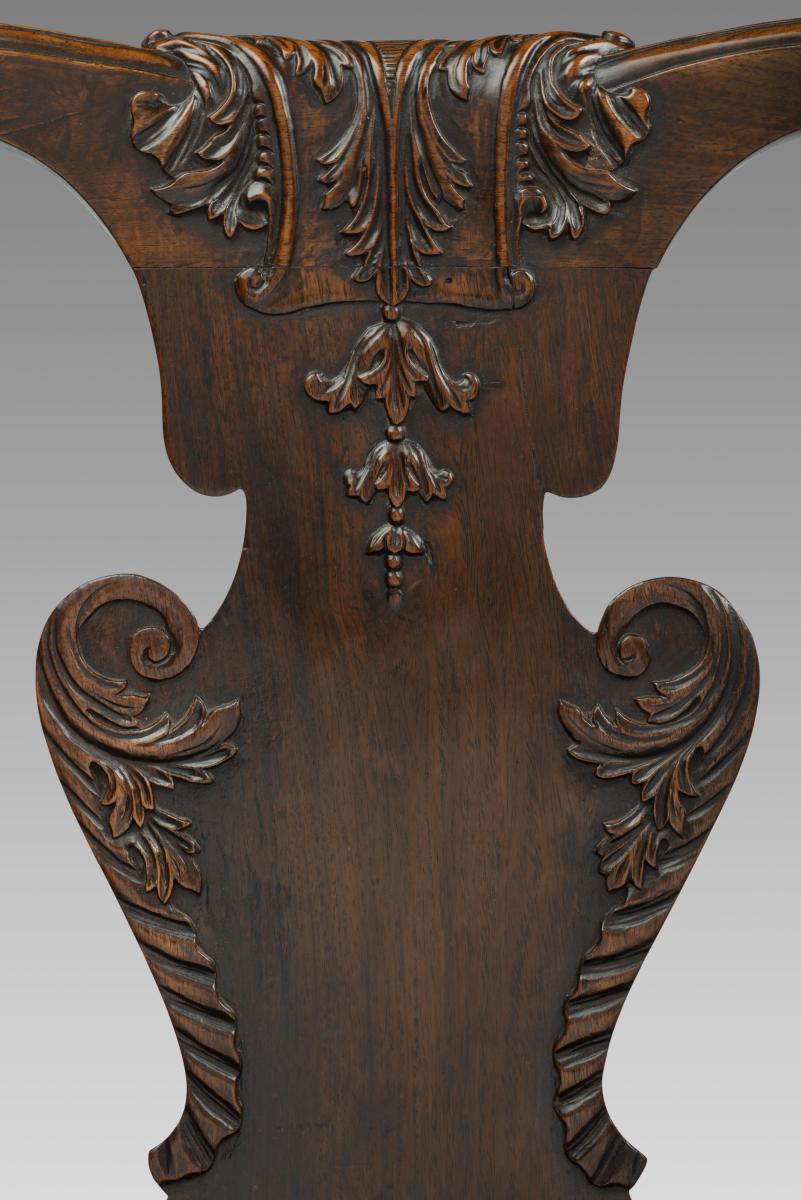 Price on application
This object includes complimentary, Insured Shipping / Delivery within the UK
The BADA Standard
Since 1918, BADA has been the leading association for the antiques and fine art trade
Members are elected for their knowledge, integrity and quality of stock
Our clients are protected by BADA's code of conduct
Our dealers' membership is reviewed and renewed annually
Bada.org is a non-profit site: clients deal directly with members and they pay no hidden fees
Click here for more information on the BADA Standard
Chinese Export Carved Huang Huali Suite of Furniture.
CHINA, CIRCA 1735-40.
Provenance:
The chairs:
(Possibly) Harry Gough (1681-1751)
Richard Gough, FSA (1735-1809)
His wife Ann Hall (1741-1833), daughter of Thomas Hall of Goldings
Her nephew Humphrey Hall (1763-1848)
(Certainly):
The pair of side chairs: sold Sotheby's London, 10th July 1998, lot 18
With Partridge Fine Arts, London, 2001
The armchair, sold Christie's, New York, 20th April 1985, lot 158
Private Collection, USA
The table:
with Martin Beazor Antiques 1992
with Jeremy Ltd., London
Private Collection, London
Sold Christie's, London, 23rd April 1998, lot 223
Private Collection USA
Exhibitions:
The side chairs: David S. Howard, A Tale of Three Cities: Canton, Shanghai and Hong Kong, Sotheby's London, 1997, illustrated p. 168, fig. 217.
Literature:
Lucy Wood, The Upholstered Furniture in the Lady Lever Art Gallery, Volume I, Yale University Press, New Haven and London; 2008, the chairs cit. pp. 436-7, the table illustrated p. 437 figs. 325 and 326.
Comprising an armchair, a pair of side chairs (marked I and IIII and marked with Chinese characters) and a harlequin table.
Each chair with a hooped back and vase shaped splat carved with scrolled acanthus leaves and pendant berried husks to the centre and further foliate carving to the splat over inverted central berried husks, with a drop-in compass seat; the cabriole front legs with ears carved with gadrooned S-scrolls, the knees with carved lion's mask with copious manes, erect ears and acanthus leaf beards, raised on paw and ball feet, the raked back legs with pad feet. The armchair with open serpentine arms, dished on top and with hooked ends, with a secondary round-section, S-bent support behind the main support. The table with a rounded rectangular triple-hinged top enclosing a plain surface, a green baize-lined playing-surface with dished counter and candle wells, and a writing-surface with spring-fitted rising section, revealing five pigeon-holes above five small drawers and a book rest, on gateleg cabriole legs headed by lion masks, terminating in paw-and-ball feet on castors.
Chinese export furniture brought together English design with Chinese woods and construction methods. Huang Huali is denser than woods such as walnut and mahogany, used in English-made chairs at this time. The chairs originate from an important group of Huang Huali chairs made in China in the eighteenth century for export to England. They are based on designs produced in England during the late 1730s. An English set of the exact design was owned and advertised by the New York English furniture dealers Devenish. A similar set of two armchairs and four chairs in the Lady Lever Art Gallery is discussed by Lucy Wood. She writes: '…the extant 'Chinese' chairs of this model appear to come from more than one set. A further thirteen (of possibly fifteen) plain chairs and one armchair are known – four of the plain chairs with recorded Roman numerals, including IIII as on one of the Lady Lever chairs, which implies the creation of at least two sets. Moreover, other examples are known with fixed caned seats, which presumably were made for a third set.'…'It is unusual for the English prototype for Chinese-export furniture to be so clearly identifiable – though another instance occurs with a group of chairs …attributed to Giles Grendey.' ('The Upholstered Furniture in the Lady Lever Art Gallery', Volume I, p.429 - 440). The long set of chairs referred to by Lucy Wood were probably the set sold by Mallett at Masterpiece in 2013 which are now in a private museum in China.
An identical set of chairs feature in a painting of William Gough 1st Bt. (1708-1774) and his family by William Verelst, dated 1741 although it is uncertain whether the chairs are English or Chinese. The Gough family were merchants who traded with India and China, which provides a credible theoretical link between the English and Chinese models. The direct comparison between the English and Chinese chairs of this design can be seen with the two side chairs published in the catalogue of The Gerstenfeld Collection, with the English walnut model on the left and the Chinese one made in rosewood on the right. (Edward Lennox-Boyd ed., Masterpieces of English Furniture: The Gerstenfeld Collection, London, 1998, p. 80, pls. 58-59). Another (English) walnut model can be seen in The Metropolitan Museum of Art. An armchair matching this model was sold at Bonham's London, on 20 November 2013 (lot 47).
Crossman wrote: 'Perhaps the chairs most directly copied from a known English prototype are two superb side chairs, part of a larger set (and also known in other examples) in the Milhender collection.' 'The chairs are the epitome of Chippendale style with their finely carved hairy paw feet, elaborately conceived knees with boldly carved cartouches of lions' masks, and ornately designed backs with splats. Since identical English chairs are known, it is possible the Chinese versions were copied either from a design or a chair which had made its way to the Orient.' ('The Decorative Arts of the China Trade' p. 231-233)
Lucy Wood suggests that this model of chair may have been en-suite with a harlequin table. (Lucy Wood, The Upholstered Furniture in the Lady Lever Art Gallery, p.437, figs. 325 and 326). Such multi-purpose tables were known as 'harlequin' after the character known in the 18th century Commedia dell'Arte for being the master of disguises.A design for a harlequin table of this form is pictured on the trade card of Thomas Potter (d.1782), cabinetmaker of High Holborn. The mechanism is similar to tables shown in engraved illustrations of furniture published in London in the 1730s and signed Potter. An English table of this model can be found at Temple Newsam House, Leeds. That table is illustrated in G. Gilbert, Furniture at Temple Newsam House and Lotherton Hall, vol. iii., Leeds, 1998, pp.658-660. By 1750, the design was listed as one of the pieces which could be submitted for entry into the trade guild of Wrights and Coopers in Aberdeen.
This table is very similar to an example at Petworth House and Park, West Sussex (NT 485434). Another of similar design is in the collection at Harvard Art Museums (Object No. 1943.1579) and a table of comparable form, with less ornate carving to the legs was sold at Sotheby's, 5th June, 2007.
The date period of the first examples of these tables being brought to Europe can be established to within a few years from old bills and inventories. Tove Clemmensen writes in Furniture History of a similar table which was brought by Captain Zacharias Allewelt on the ship Kongen af Denmark (The King of Denmark) which sailed on 23 January 1736 and returned to Copenhagen on 20 August 1737. Described as 'A Chinese table which can be arranged in three ways, made in rosewood, and a good and ingenious piece of workmanship, 80 rix-dollars,' Allewelt sold the table to King Christian VI and his signature is on the bill. Clemmensen describes the mechanics of the table: 'A button underneath releases one of the legs which can be swung out and support a table leaf. By rotating a wooden block above the table leg, its height cam be regulated according to the number of leaves in use. The table can be converted into either a square table with a smooth top, or a card table with blue velvet and four circular spaces for candlesticks and four oval depressions for counters, or a writing desk with the same velvet surface. Behind the desk flap there is a sloping book rest. This is attached to a "harlequin fitting" consisting of a cabinet of drawers and pigeon-holes, hidden in the body of the table. The cabinet pops up at the touch of a spring.' ('Some Furniture Made in China in the English Style Exported from Canton to Denmark 1735, 1737 and 1738', Furniture History, 1985 p. 175-176). The table was first recorded at Frederiksborg Castle 1860-61 and then moved to Fredensborg Castle where it remains today.
Dimensions
Armchair:
Height: 40.5 inches (103cm) Width: 29 inches (73.5cm) Depth: 18 inches (46cm)
Side chairs:
Height: 39.5 inches (100cm) (2) Width: 22.5 inches (57cm) (2) Depth: 16.5 inches (42cm) (2)
Table:
Height: 30.5 inches (77.5cm) Width: 30 inches (76cm) Depth: 15.75 inches (40cm) (closed)
Dimensions
Armchair: H: 103cm W: 73.5cm D: 46cm Side chairs: H: 100cm (2) W: 57cm (2) D: 42cm (2) Table: H: 77.5cm W: 76cm
Price on application
This object includes complimentary, Insured Shipping / Delivery within the UK
Stock number
6845/6893/6894
Open Monday-Friday 9.30-1, 2-5.30; Please telephone for weekend and evening opening
The BADA Standard
Since 1918, BADA has been the leading association for the antiques and fine art trade
Members are elected for their knowledge, integrity and quality of stock
Our clients are protected by BADA's code of conduct
Our dealers' membership is reviewed and renewed annually
Bada.org is a non-profit site: clients deal directly with members and they pay no hidden fees
Click here for more information on the BADA Standard