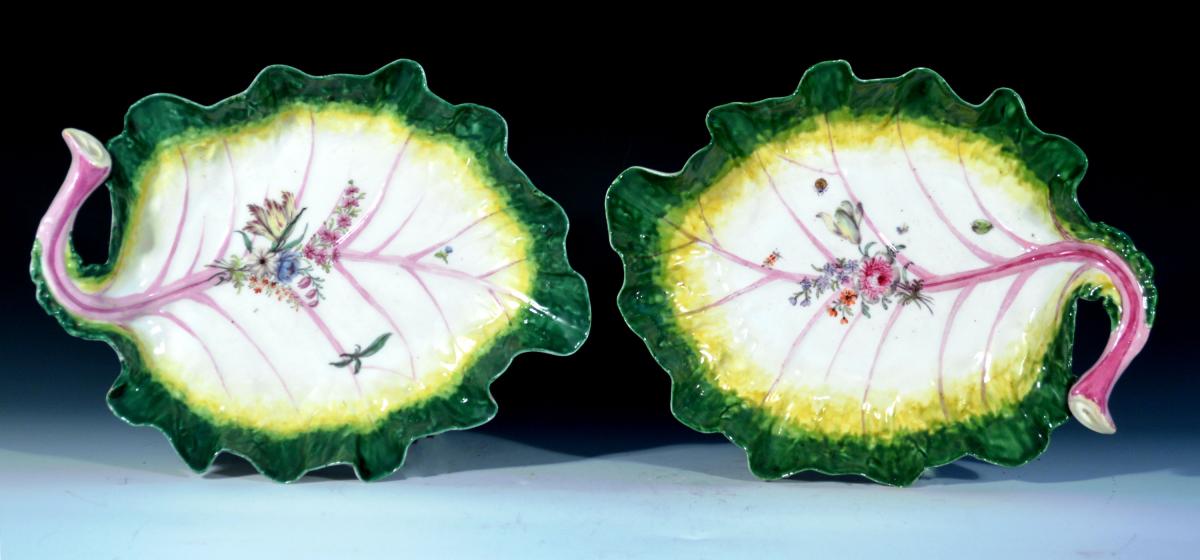 Pair of Chelsea Porcelain Trompe L'oeil Leaf Dishes,
Red Anchor Period,
Circa 1755
The large deep porcelain dishes are modelled in the form of a leaf with a scalloped raised dark green border with a yellow interior and purple veining. Across the center of each is a floral bouquet and scattered leaves..
Dimensions: 9 1/2 inches x 7 inches x 2 inches
Reference: Chelsea Porcelain at Williamsburg, John Austin, Pages 96-97, #87 for illustration of a similar pair but without the flower painting. The author mentions that this shape of leaf dish was used both as an underdish for tromp l'oeil tureens such as rabbit, cauliflower, melon and rose forms and also as part of dessert services. He quotes a description from the Chelsea porcelain sale on the sixth day, lot 42, in 1755 described as "scollop'd compotiers green leaves."
As my pair has additional flower painting which would be obscured by a tureen, it would make sense that they were made to be part of a dessert service rather than an underdish.
Dimensions
23.5 cm x 17.78 cm
Condition report
Good with a tiny chip to one edge- see photo.