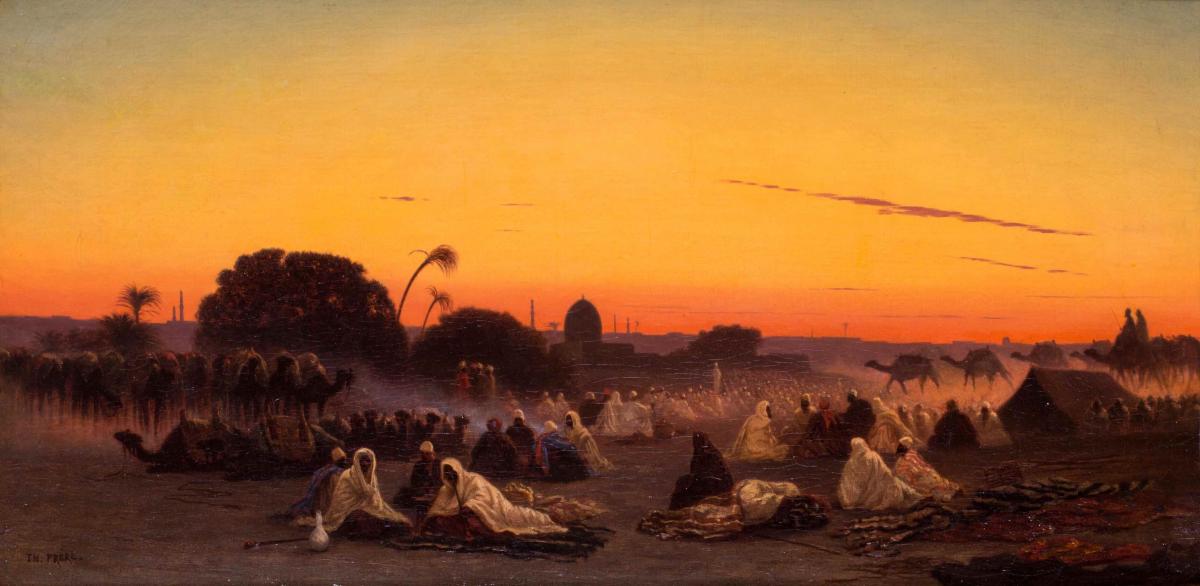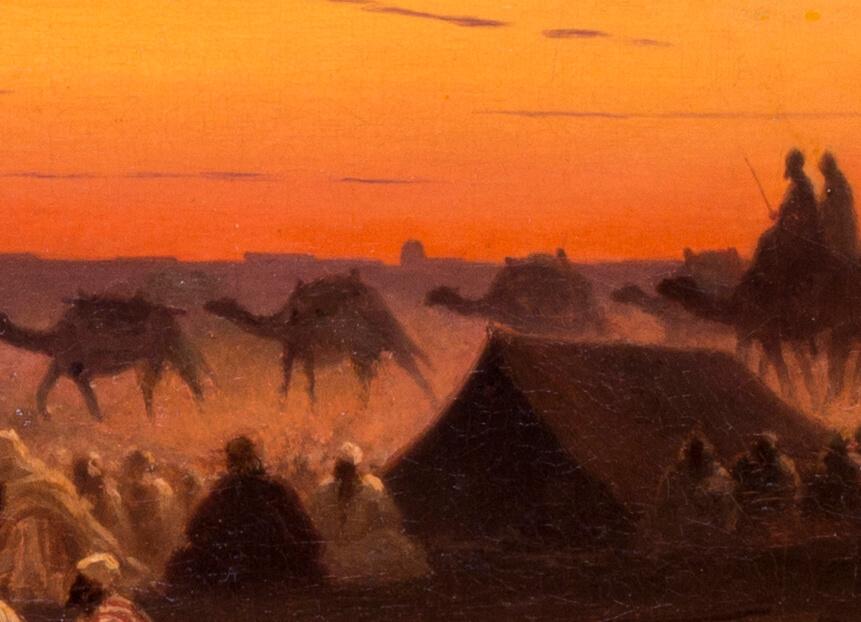 Price
£30000.00
The BADA Standard
Since 1918, BADA has been the leading association for the antiques and fine art trade
Members are elected for their knowledge, integrity and quality of stock
Our clients are protected by BADA's code of conduct
Our dealers' membership is reviewed and renewed annually
Bada.org is a non-profit site: clients deal directly with members and they pay no hidden fees
Click here for more information on the BADA Standard
Charles Theodore Frere (French, 1814-1888).
La Halte De La Caravane.
Oil on canvas.
Signed `TH FRERE' (lower left).
12 x 24 in. (30.5 x 61 cm.).
Charles-Théodore Frère was the older brother of Pierre-Édouard Frère, an established genre painter who had studied under Paul Delaroche. Théodore began studying under Jean-Léon Cogniet and Camille Roqueplan. Shortly after beginning his studies, he left Paris and travelled through the countryside of Normandy, Alsace, and Auvergne finding some inspiration in nature.
Frère was interested in more than depictions of his home country, and between 1836 and 1838, Frère departed on his first journey to Algeria. Visions of the Algerian landscape and people would be present in nearly every one of the works he exhibited at the Salon until 1850. Clarence Cook, in his book Art and Artists of Our Time (1888), notes that:
Frère does not tell us just what moved him, it is like enough that he was attracted by some pictures of Oriental scenery in the Salon that contained his picture; but, however that may have been, he says only that he was strongly drawn by the sun, and that in the search for it he went to Algeria.
During Frère's time, Algeria was just beginning to be more fully explored and the government began encouraging artists to travel to the French colony by offering scholarships, differingt from the Prix de Rome, allowing them to experiment with painting in the near East.
Frère began contributing to the movement known as Orientalism, the depiction of cultures from the near and far East, highlighting their cultural practices, daily life, architectural, and brilliant sunlight with an uninhibited sense of veracity, or what may be termed as "ethnography".
He spent several years in Egypt especially, traveling down the Nile numerous times, and eventually establishing his own studio in Cairo. From 1855 he began to exhibit only Oriental themes at the Salon, including landscapes, cityscapes, and interiors, continuing to do so for the next three decades.
During Frère's first trip to Algeria he produced several large paintings for the king of Württemberg. In 1841 he sent two paintings to the Salon which were later purchased by Louis-Phillipe, a power-seeking individual who would have certainly felt a fondness for images that portrayed France's cultural and colonial domination over another culture.
In 1869 he made his final visit to the eastern Mediterranean, travelling in the party of the Empress Eugénie during her voyage to the Orient, and executing by her order an album of watercolours.
Throughout his life he would have an extraordinary number of works accepted into the Salon, showing that he was not only a prolific painter, but that his works were very much admired by Salon jurors eager to represent this new Orientalism craze at the Salon.
He also became an Officier de l'Ordre du Medjidieh de Turquie and a member of the Société des Artistes Français. He continued exhibiting regularly at the Salon until 1887. He died on March 24, 1888.
Dimensions
12 x 24 in. (30.5 x 61 cm.)
The BADA Standard
Since 1918, BADA has been the leading association for the antiques and fine art trade
Members are elected for their knowledge, integrity and quality of stock
Our clients are protected by BADA's code of conduct
Our dealers' membership is reviewed and renewed annually
Bada.org is a non-profit site: clients deal directly with members and they pay no hidden fees
Click here for more information on the BADA Standard