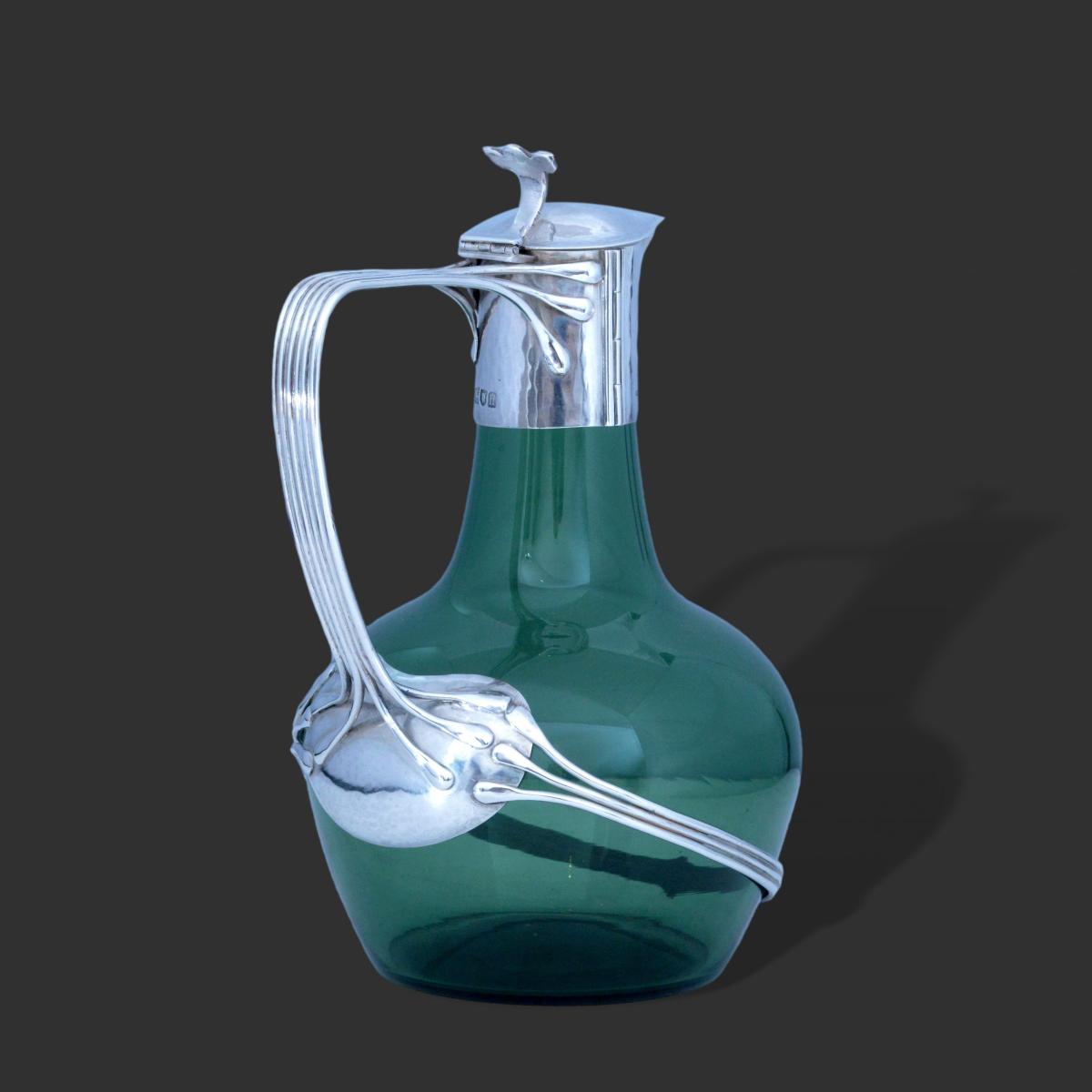 Price on application
The BADA Standard
Since 1918, BADA has been the leading association for the antiques and fine art trade
Members are elected for their knowledge, integrity and quality of stock
Our clients are protected by BADA's code of conduct
Our dealers' membership is reviewed and renewed annually
Bada.org is a non-profit site: clients deal directly with members and they pay no hidden fees
Click here for more information on the BADA Standard
I am delighted to have for sale this iconic Charles Ashbee for the Guild of Handicraft silver claret jug, with original Powell glass. As far as I am aware this is the only Ashbee claret jug, with original glass, on the market for over twenty five years.
These claret jugs with wirework surrounds are considered amongst Ashbee's finest and rarest work. Similar examples are held by the Victoria and Albert Museum (see this link) and Boston Museum of Fine Arts at this link. The Boston Museum writes the following with which I fully concur:
"Ashbee-an influential designer, socialist, and reformer-produced radical designs for metalwork which, in their abstract simplicity, have become synonymous with the emergence of Modernism. This decanter, one of a series, is considered a classic of early-twentieth-century design with an austere, linear quality to the characteristic, looping wirework."
The design is also recorded in Ashbee's 1909 book "Modern English Silver", plate 20, about which he says "… The shape is taken from an Elizabethan sack-bottle found when digging the foundations of the Magpie and Stump [Ashbee's home] in Chelsea."
This particular claret jug is unusual in three respects. Firstly, it is not what Ashbee called a "claret bottle" (or decanter) as other known designs are, with cork stopper. This example has a hinged lid with feather thumb mount. Additionally, the wirework handle is more angular than most, and the wires surrounding and holding the front of the bottle are a set of three not two. Together, to my eye, these differences create a cleaner lined, more sculptural, less art nouveau, form; exemplifying Ashbee, the radical modernist designer.
The claret jug is fully hallmarked and part marked for 1903. Condition is excellent and original.
Price: PoA
Maker: Guild of Handicraft Limited
Designer: Charles Ashbee
Date: 1903
Marks: GofH Ltd, London, "h"
Material: Sterling Silver, Powell glass
Condition: Excellent
Size: 22 cm high,
Weight: NM
The BADA Standard
Since 1918, BADA has been the leading association for the antiques and fine art trade
Members are elected for their knowledge, integrity and quality of stock
Our clients are protected by BADA's code of conduct
Our dealers' membership is reviewed and renewed annually
Bada.org is a non-profit site: clients deal directly with members and they pay no hidden fees
Click here for more information on the BADA Standard