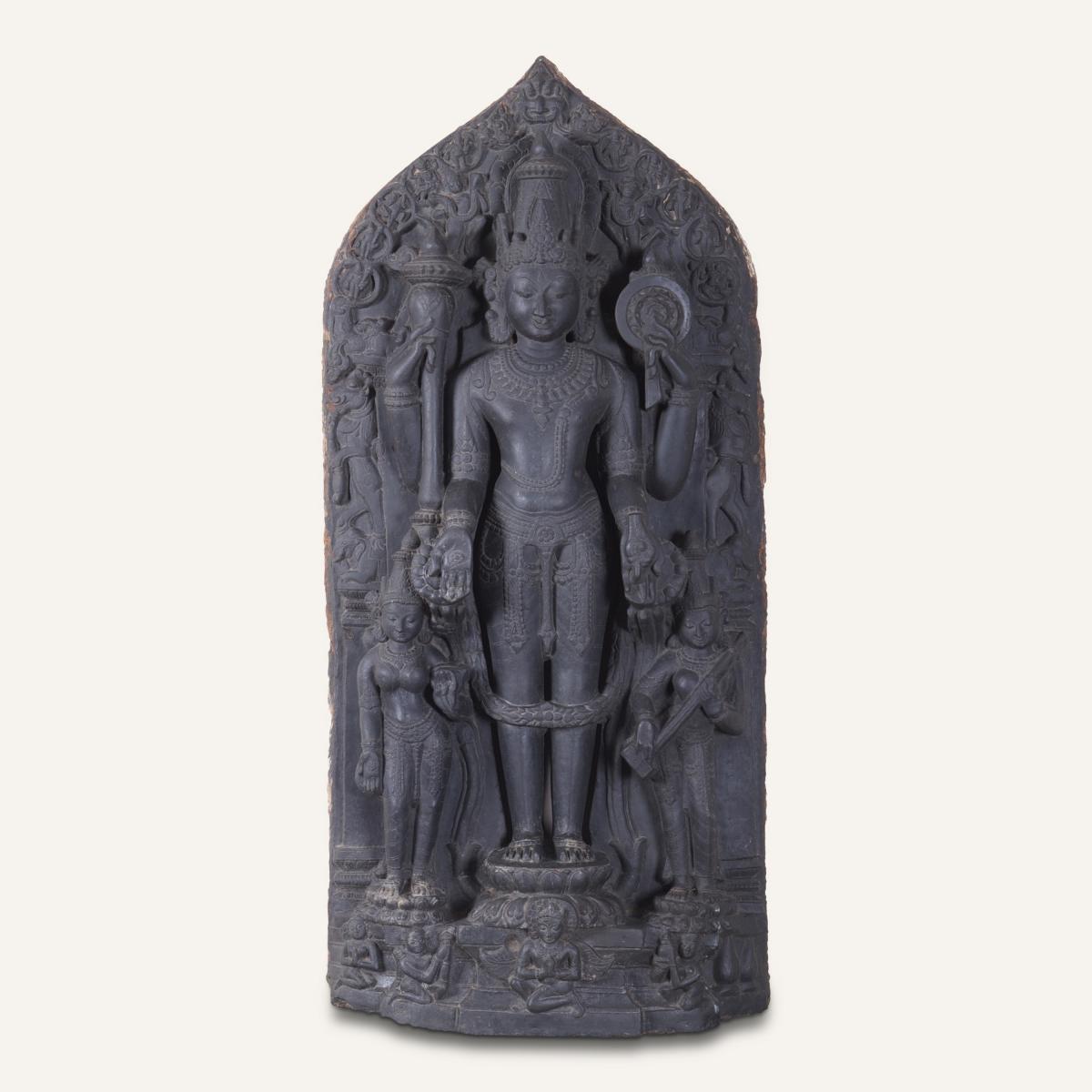 Price on application
The BADA Standard
Since 1918, BADA has been the leading association for the antiques and fine art trade
Members are elected for their knowledge, integrity and quality of stock
Our clients are protected by BADA's code of conduct
Our dealers' membership is reviewed and renewed annually
Bada.org is a non-profit site: clients deal directly with members and they pay no hidden fees
Click here for more information on the BADA Standard
A CARVED BLACK STONE STELE OF VISHNU.
North Eastern India.
Pala Period, 11th or 12th Century.
A carved figure of Vishnu standing in samapadasana, holding a lotus, mace chakra and conch, dressed in a short striated dhoti and embellished with various necklaces, and bracelets. The serene countenance has a bow-shaped mouth and elongated eyes, surmounted by a tall conical headdress. Vishnu is flanked by Bhudevi holding a lotus and Shridevi playing the vina, and surrounded by celestial garland bearers, a pair of yalis and roundels depicting the ten avatars of Vishnu, surmounted by a kirttimukha. Each figure stands on a double lotus base, the whole supported by an integrated base fronted by Garuda. Presented on a modern black-painted wooden stand.
The Pala were an imperial dynasty from Bengal, East India, who ruled between the 8th and 12th centuries - at the height of their power, they ruled an Empire that stretched across the Indian subcontinent. The Pala rulers were Buddhists and their reign saw the development of a distinctive style of Buddhist sculpture and architecture, which had impact across Asia, influencing the art of Burma, Nepal, Tibet, Indonesia, and Java. During the 11th and 12th centuries Hinduism gained dominance in the region, and the distinctive Pala style of sculpture was applied to Hindu subjects, a development that can be seen with the present work.
Vishnu is one of the most important gods in the Hindu cannon and is worshipped by all Hindu sects either directly or as one of his ten avatars, shown in this work in the roundels that frame the stele. Much of his importance relates to his role in the Hindu trinity as the maintainer or preserver of life, counterpoised by Brahma the creator and Shiva the destroyer. As the preserver, Vishnu is a benevolent and compassionate god, an idea present here in his serene and gentle expression. Vishnu is often accompanied by Shridevi and Bhudevi, his two consorts, who are both considered incarnations of the goddess Lakshmi. His mount is the Garuda, the mythical, bird-like creature depicted at his feet in the present work.
Height (including base): 35 ½" (90cm); Width: 14" (36cm); Depth: 5" (13cm).
Provenance: Sotheby's New York, 17 June 1993 Lot no. 107.
Private Collection.
Christie's New York, 9 October 2013. Lot no. 686.
The BADA Standard
Since 1918, BADA has been the leading association for the antiques and fine art trade
Members are elected for their knowledge, integrity and quality of stock
Our clients are protected by BADA's code of conduct
Our dealers' membership is reviewed and renewed annually
Bada.org is a non-profit site: clients deal directly with members and they pay no hidden fees
Click here for more information on the BADA Standard