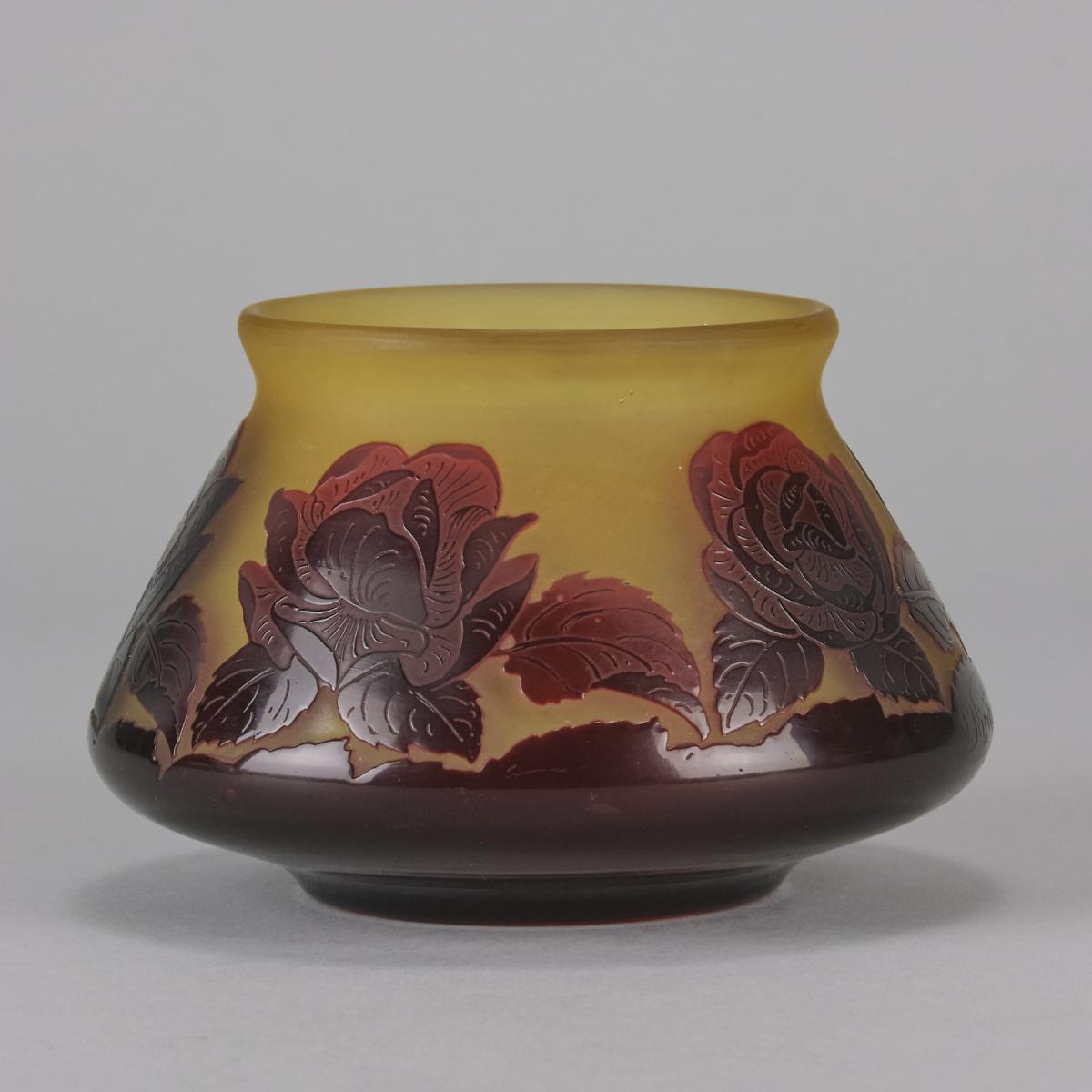 Price
£1350.00
The BADA Standard
Since 1918, BADA has been the leading association for the antiques and fine art trade
Members are elected for their knowledge, integrity and quality of stock
Our clients are protected by BADA's code of conduct
Our dealers' membership is reviewed and renewed annually
Bada.org is a non-profit site: clients deal directly with members and they pay no hidden fees
Click here for more information on the BADA Standard
A beautiful early 20th Century cameo glass vase acid cut and etched with a deep red floral decoration against a yellow background. Exhibiting very fine hand finised surface detail and vibrant colour, signed P. Nicolas in cameo.
ADDITIONAL INFORMATION
Height: 9 cm.
Width: 14 cm.
Condition: Excellent Original Condition.
Circa: 1920.
Materials: Acid Cut Cameo Glass.
SKU: 6521.
ABOUT
Emile Gallé ~ French, 1846 – 1904 is considered a driving force behind the Art Nouveau movement and one of the most outstanding glass artists of his time. His naturalistic designs and innovative techniques greatly contributed to the development of the art of glass-making and to the Art Nouveau Style.
Emile lived during an age of technological, scientific, and political explosion. He travelled extensively in Europe and witnessed techniques that would greatly influence his work such as cameo and enamelling. He began producing fine pottery, furniture and jewellery before setting up his own glass studio in 1873 and taking over his father's factory 4 years later.
After being inspired by the glass works at the 1878 International Exhibition in Paris, particularly cameo works, Gallé made his mark as a true artist in glass at the 1884 Union Centrale des Arts Décoratifs in Paris where he showed 300 pieces of great artistic variety as well as technical expertise. He returned to the International Exhibition in Paris in 1889 to present his own new types of glass. The pieces featured new vase shapes, extraordinary new colours, carved cameo and pate de verre work. The event was a breakthrough for him and the Art Nouveau style in general, with his pieces beginning to be widely imitated (notably by the likes of the Daum brothers.)
Paul Nicholas ~ French (1875-1952) born in Lorraine became chief designer at Gallé in around 1895 when he was barely 20. He was clearly Emile Gallé's favoured protégée, but when Gallé died 9 years later he left the business to his son-in-law and Nicolas was left as 'just another employee'. He continued to design for Gallé for a further 10 years, before war intervened - having spent 4 hard years away at war Nicolas clearly did not relish returning to 'Gallé establishments' and the old management. So he went elsewhere.
St Louis had been and still is one of the great old glass houses of France; they had gone to the Paris exhibition in 1900 expecting to be crowned king of glass, only to be completely out-classed by the cameo glass of the 'upstart' Emile Gallé. In the early 1920s they were still trying to get their own back. Paul Nicolas cut a deal with St Louis –he would make cameo glass for them using their facilities and then also he could use their facilities to make cameo glass for himself too. This was before the days of 'studio art glass' if you had a glass kiln you were a major sized business, not a one-man-band. The pieces Nicolas made for St Louis were signed a number of ways, but quite soon they settled on 'D'Argental' (the brand name they had established for their own previous, unsuccessful attempts at Cameo glass). Nicolas sneakily added a cross of Lorraine to the mark to indicate when he personally made a piece. When he made Cameo for himself pieces were signed 'P. Nicolas'.
Production at St Louis clearly had its limitations, the crystal glass they used, had a more limited colour palate than he was used to at Gallé and the extra toughness of the crystal glass meant internal polishing was effectively impossible. But using crystal did mean the cameo and wheel cutting could be much finer.
The BADA Standard
Since 1918, BADA has been the leading association for the antiques and fine art trade
Members are elected for their knowledge, integrity and quality of stock
Our clients are protected by BADA's code of conduct
Our dealers' membership is reviewed and renewed annually
Bada.org is a non-profit site: clients deal directly with members and they pay no hidden fees
Click here for more information on the BADA Standard