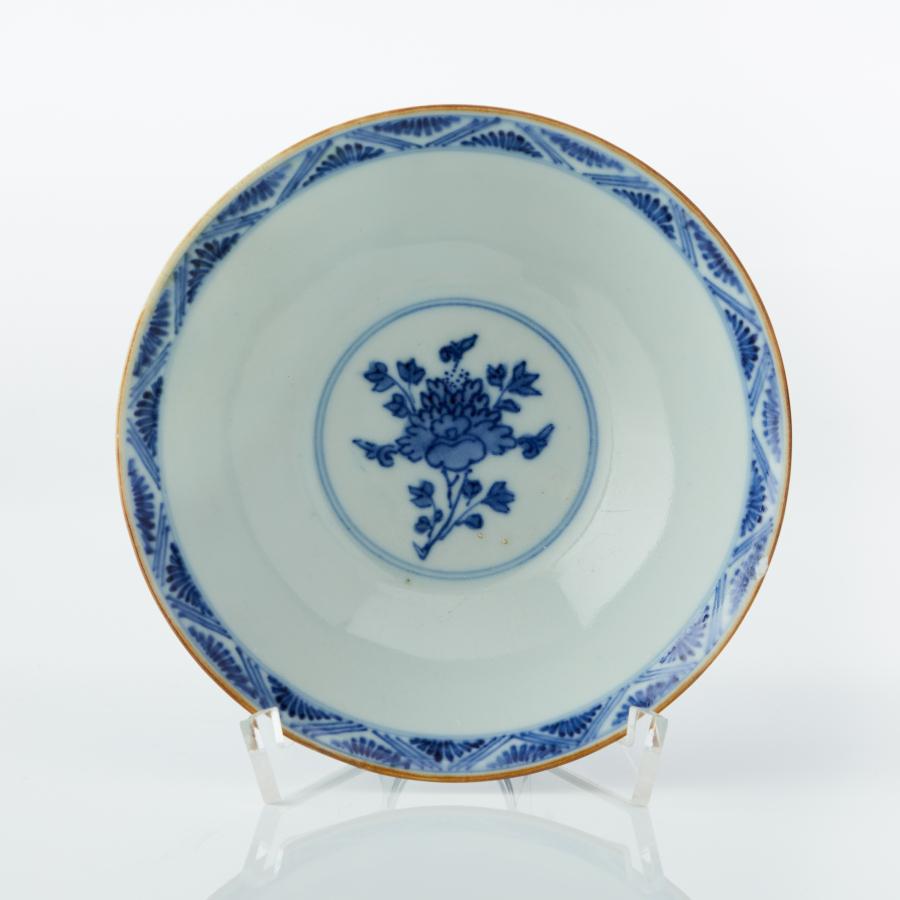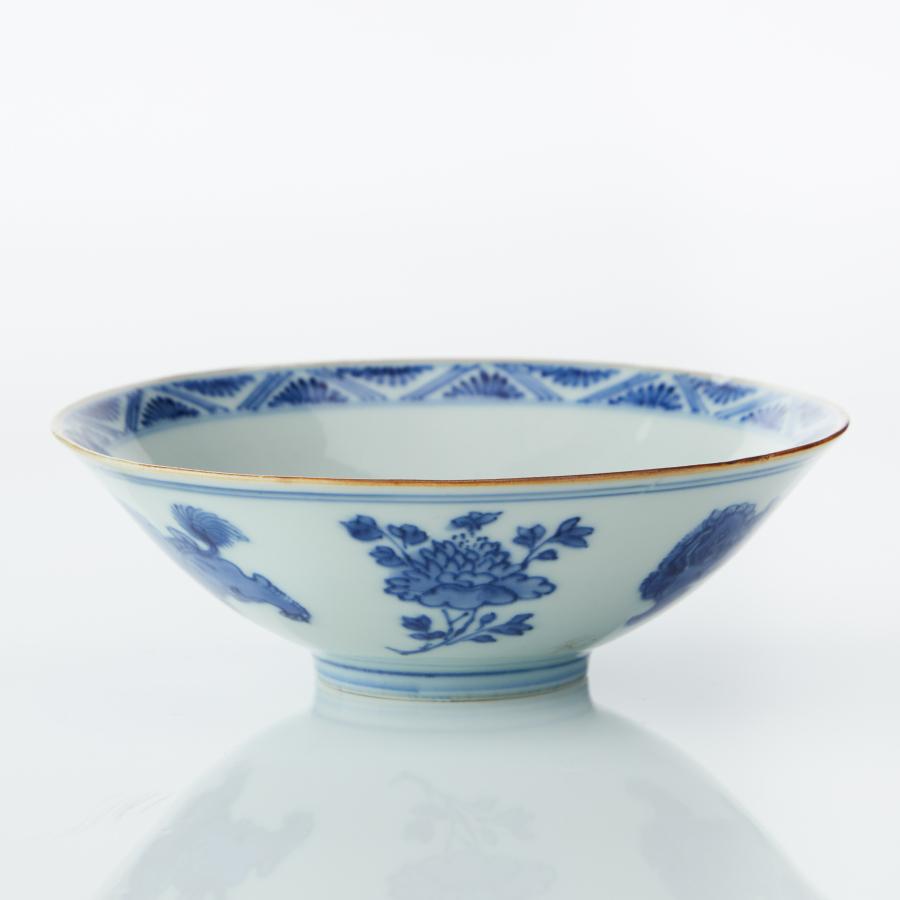 Price on application
The BADA Standard
Since 1918, BADA has been the leading association for the antiques and fine art trade
Members are elected for their knowledge, integrity and quality of stock
Our clients are protected by BADA's code of conduct
Our dealers' membership is reviewed and renewed annually
Bada.org is a non-profit site: clients deal directly with members and they pay no hidden fees
Click here for more information on the BADA Standard
A Fine Chinese Blue and White 'Lion' Bowl.
Of unusually small size and wide conical form, the sides sloping from a short straight foot ring to a gently everted rim, decorated in bright shades of underglaze blue, painted to the exterior with three gambollling Fo lions alternating with three large peony blooms, further decorated to the interior with a single peony bloom to the well, and a diamond pattern border around the rim, the outer rim dressed in a brown iron-oxide glaze, the glazed base with an apocryphal six-character mark of Jiajing and a collector's mark incised on the body.
Period: Shunzhi (1644‑1661).

Footnote: The mythical dog is sometimes associated with feng shui, and is often called Fu Dog. Fu means 'happiness' in Chinese. The Chinese, however, refer to them as Rui Shi ('auspicious lions') or simply Shi (lions). The Fo lion (or Dog of Fo) is an emblem of valor and energy, and is often found in pairs guarding important buildings. They are sacred to Buddhism: Manjusri, the Bodhisattva of Wisdom, is depicted riding a Fo lion to represent the use of wisdom to tame the mind. The peony is one of the flowers of the four seasons, representing Spring. It symbolises wealth, and honour in the sense of 'high rank', having an official position or high social status.
For a dish with similar decoration from the Shunzhi period, see 'Seventeenth Century Chinese Porcelain from the Butler Family Collection (1990), p. 118, pl. 70.
A similar bowl is illustrated in 'The Palace Museum's Collection of Blue and White Porcelains from Kangxi Period of Qing Dynasty' (The Forbidden City Publishing House, 2016), pp. 226-7, pl. 101.
For a similar design on a bowl in doucai enamels see, Kangxi Porcelain Wares from the Shanghai Museum Collection, 1998, pl. 176, p. 269.

During the turbulent times of the transition from the Ming to the Qing dynasty porcelain continued to be made. Objects with apocryphal marks of earlier Ming emperors are to be found on Shunzhi (1644-1661) and Kangxi (1662-1722) period porcelain. It is believed that these marks were put on to show appreciation of the earlier periods, not done with intent to deceive, besides the shapes and types of design often clearly belong to the second half of the 17th century.
Dimensions
Diameter: 13 cm; 5 ins.
The BADA Standard
Since 1918, BADA has been the leading association for the antiques and fine art trade
Members are elected for their knowledge, integrity and quality of stock
Our clients are protected by BADA's code of conduct
Our dealers' membership is reviewed and renewed annually
Bada.org is a non-profit site: clients deal directly with members and they pay no hidden fees
Click here for more information on the BADA Standard