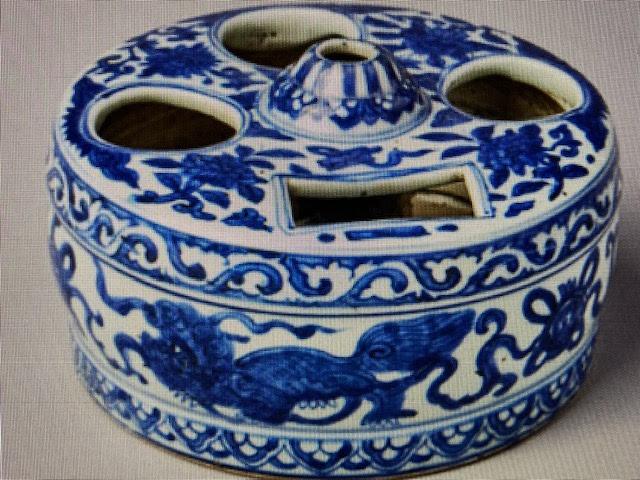 Price on application
The BADA Standard
Since 1918, BADA has been the leading association for the antiques and fine art trade
Members are elected for their knowledge, integrity and quality of stock
Our clients are protected by BADA's code of conduct
Our dealers' membership is reviewed and renewed annually
Bada.org is a non-profit site: clients deal directly with members and they pay no hidden fees
Click here for more information on the BADA Standard
Chinese Ming Blue and White Scholar's Brush Stand.
The brush and ink-stick stand, drum-shaped, with five openings on the top with raised central dome, the rounded walls decorated in vibrant shades of cobalt blue with 3 lion-dogs with bushy tails chasing a beribboned ball between two broad bands: one at the foot with overlapping petals, the one above with a wave pattern, the top with four different flowering sprays, the base glazed and with the four character mark 'Wan fu yu t'ung' (May countless happy events come together) in underglaze blue.
Period: Jiajing (1522-1566) / Wanli (1573-1620).
Provenance: The private collection of Dr Gustaf Hilleström (1911-1994).
Included in the Exhibition of Ming Blue-and-White, Museum of Far Eastern Antiquities, Stockholm, 1964, no. 70, pp. 63. See below for illustrations of exhibition catalogue with illustration of brush stand and description dating the stand to the Wanli period.
Footnote: The Ming scholar Wen Zhenheng records in his writing, Changwu Ji ( Notes on Superfluous Things) that drum-shaped brush pots were made to hold ink sticks and brushes. It would appear to have been designed to hold three brushes pointing with their tips straight upwards in the circular apertures, as illustrated in one painting of the famous 15th century neo-confucianist philosopher Wang Yangming (see Fong Wen, Images of the Mind, Princeton, 1984, p.351); the rectangular aperture being intended to take the ink stick. This type of porcelain brush pot is rare and few appear to have been made, perhaps due to their poor design for the intended purpose: the depth of the stand would make it difficult to keep the brushes upright and ink sticks would be difficult to retrieve, as they shortened with use.
Another example, this one Jiajing mark and period, is illustrated in J.Harrison-Hall, Ming Ceramics in the British Museum, London, 2001, p.229, no.9:31., a similar one with phoenix between decorative borders from the Jiajing period is illustrated by G. Tsang and H. Moss, Arts from the Scholar's Studio, Oriental Ceramic Society, Hong Kong 1986, pp. 226-7, no. 212; and one with a lotus pond scene dated to the Jiajing period is in The Complete Collection of Treasures of the Palace Museum - 35 - Blue and White Porcelain with Underglaze Red, Hong Kong, 2000, pl. 114; and another with a band of egrets Oriental Ceramic Society, Research Display of Chinese Sixteenth Century Ceramics, British Museum, London, 1994, no.44 (illustrated p.6)
For this type of drum brush stand, they either have the mark of the period which appears in most cases to be Jiajing or a four character mark as ours. Based on the composition and style of painting in the example of the Jiajing brush stand illustrated in Harrison-Hall which is marked Jiajing (1522-1566) and of the period and the one in the Palace Collection there is a strong possibility that our brush stand is of the Jiajing period rather than Wanli as stated in the 1964 exhibition. However, there is an interesting example in Tokyo National Museum: Asia House 1977. p94, no52 decorated in red and gold kinrande style and this is dated by inscription to the first year of the reign of Wanli, 1573.
Dimensions
Diameter: c. 13.5 cm
The BADA Standard
Since 1918, BADA has been the leading association for the antiques and fine art trade
Members are elected for their knowledge, integrity and quality of stock
Our clients are protected by BADA's code of conduct
Our dealers' membership is reviewed and renewed annually
Bada.org is a non-profit site: clients deal directly with members and they pay no hidden fees
Click here for more information on the BADA Standard