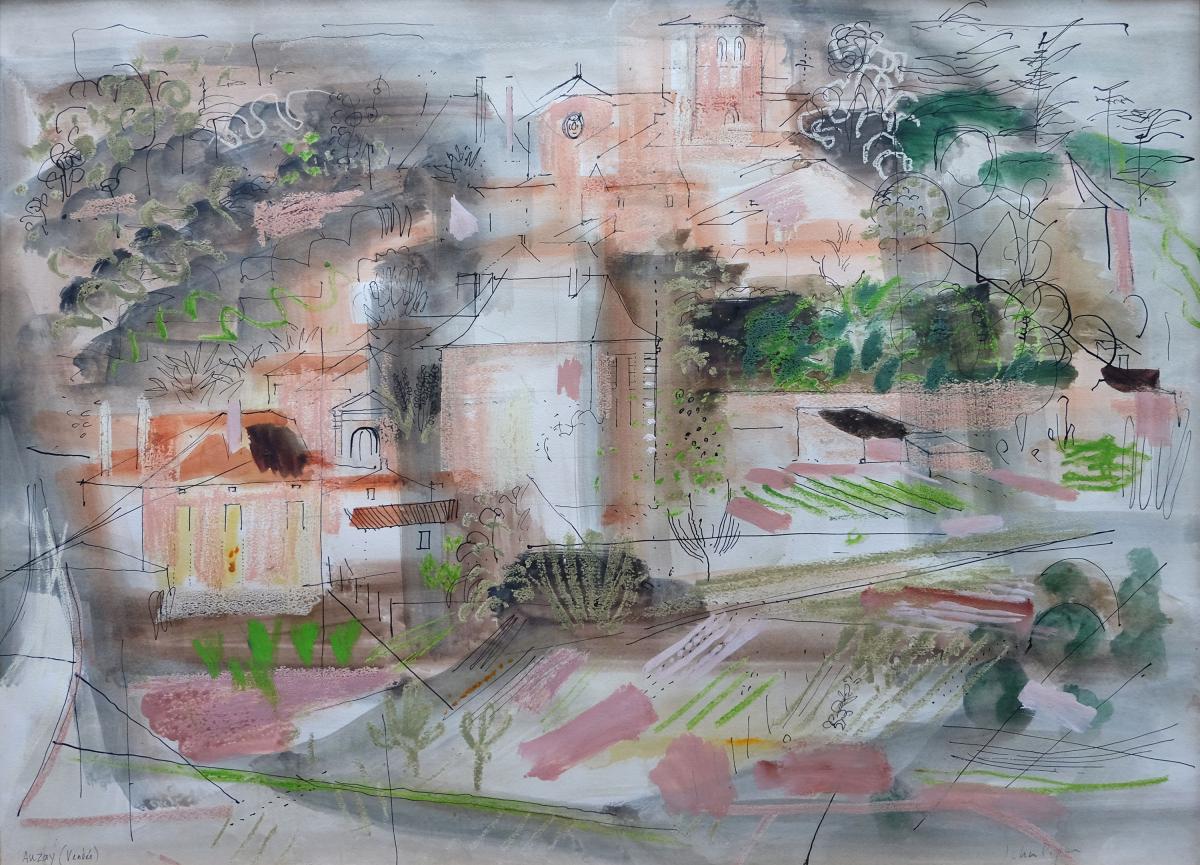 Price on application
The BADA Standard
Since 1918, BADA has been the leading association for the antiques and fine art trade
Members are elected for their knowledge, integrity and quality of stock
Our clients are protected by BADA's code of conduct
Our dealers' membership is reviewed and renewed annually
Bada.org is a non-profit site: clients deal directly with members and they pay no hidden fees
Click here for more information on the BADA Standard
Auzay, Vendée, France
Mixed media on paper: 55 x 74 cm
Signed
by John Piper (1903 – 1992)
John Piper was born in 1903 in Epsom, Surrey, the son of a solicitor. He is best known for his romantic landscapes of various aspects of Britain during the 20th century but during his lengthy career he was also a printmaker, illustrator, and designer for stained glass, the theatre, and opera.
Piper attended Epsom College as a child and spent many hours exploring the surrounding countryside, sketching, and painting. On leaving school he wanted to pursue a career as an artist but his father persuaded him to join the family firm with a view to becoming a solicitor. This he did for several years but on failing his law exams he was allowed to study firstly at Richmond School of Art, followed by the Royal College of Art in London (1928 – 29).
In the early 1930s Piper exhibited with the London Group, and became secretary of the Severn and Fife Society, which included Henry Moore, Ivon Hitchens, Ben Nicholson, and Paul Nash. He also made several trips to Paris where he befriended Alexander Calder, Jean Arp, Constantin Brancusi, and Jean Helion. Influenced by these avant garde artists John Piper's work of the late 1930s reflected the trend for abstraction but by the end of the decade he had returned to a more naturalistic style.
During the Second World War John Piper was appointed Official War Artist (1940 – 42) to capture the effects of the War on the British landscape and cityscape. One of his most powerful images of this period was his painting of the bombed ruins of Coventry Cathedral, which has been described as the British Guernica. He subsequently helped design the replacement stained glass windows for the rebuilt Coventry Cathedral, as well as those for other smaller churches after the War.
As part of the recording the many aspects of England which were disappearing during the war years, the Sitwell family commissioned him to paint an extensive series of paintings of Renishaw Hall, Derbyshire, and its surroundings, which have become the largest private collection of John Piper's paintings in Britain. He also illustrated the autobiography of Sir Osbert Sitwell, Left hand, Right hand. In addition, his profound interest and love of the English landscape led him to collaborate with Sir John Betjeman in the 1950s, illustrating the Shell Guides to Britain.
John Piper also designed extensively for the theatre, and opera productions, most notably for many of Sir Benjamin Britten's operas performed at Glyndebourne Opera, The Royal Opera House, La Fenice in Venice, and the Aldeburgh Festival.
After a very successful, diverse, and prolific career, John Piper died in 1992. Many retrospective exhibitions have since been held; at Tate Britain, the Dulwich Picture Gallery, the Imperial War Museum, and the Museum of Reading. The Tate Gallery holds a large collection of his works.
Condition report
Very Good
The BADA Standard
Since 1918, BADA has been the leading association for the antiques and fine art trade
Members are elected for their knowledge, integrity and quality of stock
Our clients are protected by BADA's code of conduct
Our dealers' membership is reviewed and renewed annually
Bada.org is a non-profit site: clients deal directly with members and they pay no hidden fees
Click here for more information on the BADA Standard