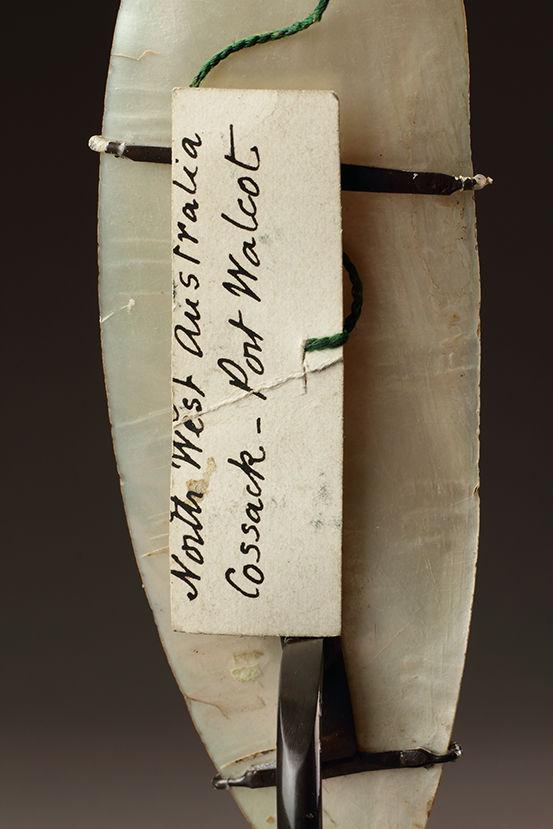 Price on application
The BADA Standard
Since 1918, BADA has been the leading association for the antiques and fine art trade
Members are elected for their knowledge, integrity and quality of stock
Our clients are protected by BADA's code of conduct
Our dealers' membership is reviewed and renewed annually
Bada.org is a non-profit site: clients deal directly with members and they pay no hidden fees
Click here for more information on the BADA Standard
An Australian Central Desert Aboriginal Rain Makers Pearl Shell Ornament 'Ringili' decorated with engraved lines worn smooth from use
A label attached reading: 'North West Australia Cossack – Port Walcot'
19th Century
Size:
14.5cm high, 4cm wide - 5¾ ins high, 1½ ins wide
cf: C.P. Mountford; 'Nomads of the Australian Desert' plate, 306, for a very similar ornament
Originally only the Aborigines of the Dampier Archipelago in the extreme north west of Australia made these engraved pearl ornaments and they were used as pubic ornaments by partly initiated boys.
After initiation, when the shells were no longer required, the youths traded them to neighbouring tribes and as the shell ornaments moved further and further away from their source they became magical objects such as the 'ringili' shells used in the rain making ceremonies among the people of the central desert over 1000 miles away.
During rituals the 'ringili' decreases in size as the edge is ground on a rough stone to release the life essence of rain. Remnants of the line decoration remain, but the surface is reduced and becomes soft to the touch as in this example.
At the start of the ceremony native tobacco is chewed and the liquid spat onto a grinding stone. Having the same odour as rain it combines with droplets of spittle containing ground pearl shell which is the rain's life essence.
This forms the ucleus of the small clouds when spat by the rain maker into the air. Once started, the clouds will grow larger under the influence of the chanting of special songs.
When this happens the essence of the grass mixed with ground pearl shell and some of the rain makers blood will cause the clouds to 'stick' so closely together that the rain will fall.
The rain maker will touch the pearl shell 'ringili' to individual clumps of mulga grass, which in their whiteness of colour and habit of growing apart, resemble fresh clouds and this ensures that the clouds once formed will run together quickly.
The swinging of the pearl shell on its string will beckon the rain to the place of ceremony and at the conclusion of the ritual, the rain maker hangs it on a low bush so that it can swing freely in the wind beckoning the rain.
Dimensions
14.5cm high, 4cm wide
The BADA Standard
Since 1918, BADA has been the leading association for the antiques and fine art trade
Members are elected for their knowledge, integrity and quality of stock
Our clients are protected by BADA's code of conduct
Our dealers' membership is reviewed and renewed annually
Bada.org is a non-profit site: clients deal directly with members and they pay no hidden fees
Click here for more information on the BADA Standard