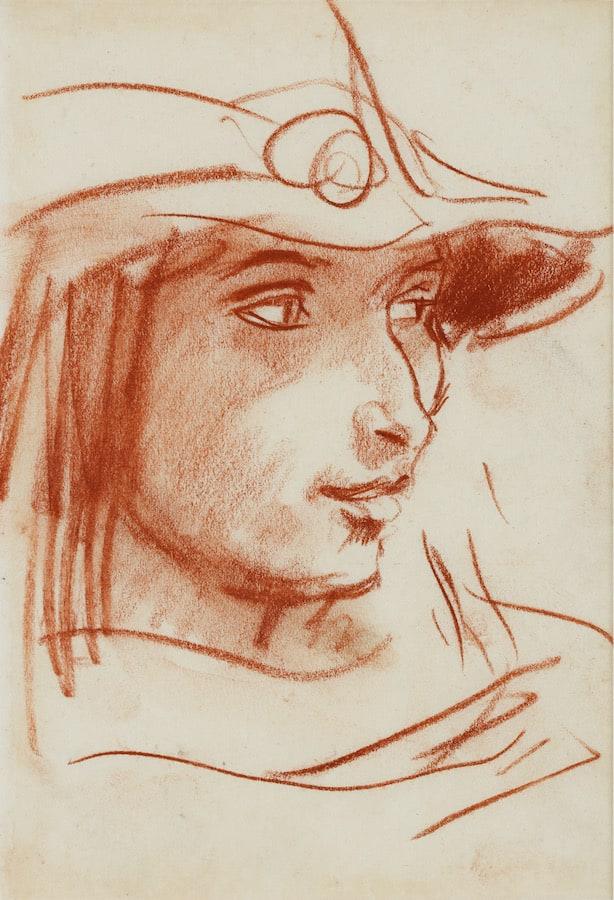 Price on application
The BADA Standard
Since 1918, BADA has been the leading association for the antiques and fine art trade
Members are elected for their knowledge, integrity and quality of stock
Our clients are protected by BADA's code of conduct
Our dealers' membership is reviewed and renewed annually
Bada.org is a non-profit site: clients deal directly with members and they pay no hidden fees
Click here for more information on the BADA Standard
Augustus John, OM, RA (1878-1961)
Dorelia wearing a hat
Red chalk
17.5 x 12 cm.; 6 7/8 x 4 ¾ inches
Frame size 46 x 31.5 cm.; 18 ¼ x 12 ½ inches
Provenance
Private collection, U.K.
John first met Dorelia McNeill in 1903, and she lived with him and his wife Ida in a ménage à trois from 1904-7. After Ida died in 1907 Dorelia and John had two daughters, and she was central to his work until 1914 and the outbreak of WWI.
This previously unpublished work dates from 1904-6 and the superb fluid and decisive lines reveal John as a draughtsman of the highest ability. His finest work came about as a result of repeated studies of the same sitters.
He drew Dorelia around this time wearing a wide selection of headgear, including a number of hats with broad brims, and at least five other drawings in dark red chalk and charcoal are known, including one in the Fitzwilliam Museum (PD.159-1961) and another at Cartwright Hall, Bradford Art Galleries and Museums (Inv. 1912-041).
The whole series give the impression of having been drawn at speed (see 'Themes and Variations: The Drawings of Augustus John 1901-1931', National Museums and Galleries of Wales, 1996, p. 36).
I am grateful to Rebecca John for her comments on the drawing.
Dimensions
Frame size 46 x 31.5 cm.; 18 ¼ x 12 ½ inches
The BADA Standard
Since 1918, BADA has been the leading association for the antiques and fine art trade
Members are elected for their knowledge, integrity and quality of stock
Our clients are protected by BADA's code of conduct
Our dealers' membership is reviewed and renewed annually
Bada.org is a non-profit site: clients deal directly with members and they pay no hidden fees
Click here for more information on the BADA Standard